Hunting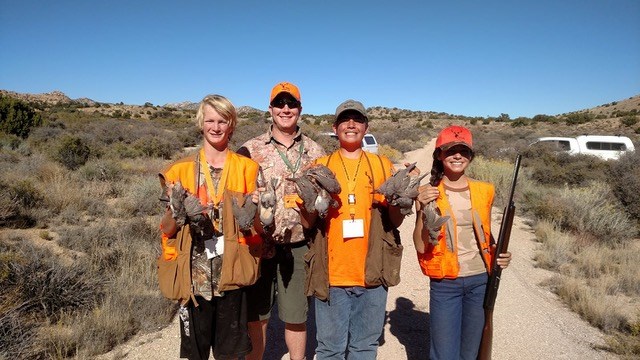 Non-lead ammunition is required for all hunting in Calfornia including in Mojave National Preserve.

Non-permitted game cameras are considered abandoned property and will be removed per 36 CFR 2.22.
Hunting is permitted in accordance with California Department of Fish & Game (DFG) regulations. A California Hunting License is required; additional permits and tags may apply. Please be prepared to present your hunting license and/or tags if requested by an NPS park ranger or state game warden..
Firearms
The discharge of firearms is allowed only while legally hunting. Target shooting or "plinking" is prohibited. All firearms transported within the preserve must be unloaded, cased, and broken down, except during lawful hunting activities. No shooting is permitted within ½ mile of dwellings, hiking trails, campgrounds, information centers, Kelso Dunes, Fort Piute, or any other public gathering areas.

Firearms are not permitted inside federal buildings.
For more information about designated Safe Areas (San Bernardino Country ordinance), private property, wilderness access, and dates of specific hunting seasons, click here.
For more information about firearm laws and policies within National Park Service sites in general, click here.

Youth Quail Hunt
The Mojave National Preserve is open to junior hunting license holders to hunt quail on October 7-8, 2023. For more information on this year's junior quail hunt contact wildlife biologist Neal Darby

Hunting Information Booth October 7 & 8, 2023
Join park staff to learn about hunting in the Preserve and share your own hunting stories. This information booth will be set up at the Hole-In-The-Wall Visitor Center from 9 am - 3 pm Saturday October 7th, and 8 am to 12:00 noon on Sunday October 8th.
Last updated: July 26, 2023