Camping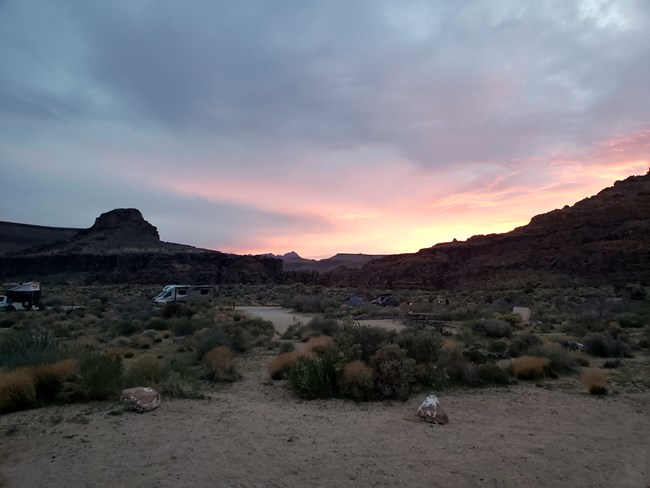 Mojave National Preserve is a camper's paradise. Developed campgrounds, roadside camping, and backpacking offer opportunities for individuals and groups of diverse ages, interests, and skills. Careful planning and knowledge of camping guidelines and regulations will help ensure an enjoyable and safe experience for you, future visitors, and the fragile desert environment...
Click here (PDF, 540 KB) for printable information about camping in Mojave National Preserve.
Campgrounds Mid Hills and Hole in the Wall Camgrounds are Closed
Two developed, "family" campgrounds—the Mid Hills Campground and Hole-in-the-Wall Campground—are available year-round, equipped with vault toilets, trash receptacles, fire rings and picnic tables.
more...
Group Camping - Black Canyon Equestrian and Group Camp is Closed
Group size limits are in place for camping in campgrounds or in the backcountry. The Black Canyon Equestrian & Group Campground, however, can accomodate most groups, while permits may be required for backcountry use.
more...
Primitive Camping Group Size Limit of 9
Primitive vehicle camping is permitted in areas that have been traditionally used for this purpose. By reusing existing sites, you help protect the desert from further damage.
more...

Backpacking
Backpackers will enjoy sweeping views, solitude, nearly 700,000 acres of designated wilderness, and a truly dark nighttime canopy of countless stars.
more...
Camping with Horses Black Canyon Equestrian Campground Closed
Horses (and their riders) are welcome at Mojave National Preserve! Enjoy the Black Canyon Equestrian & Group Campground, or head-out into open country.
more...
Last updated: September 30, 2020