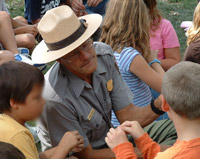 For Kids - Visiting The Park
Kids who visit the Missouri National Recreational River (MNRR) are in for a treat! Here are some activities kids will love:
Recreational activities abound here. They include hiking, fishing, canoeing, boating, and picnicking, just to name a few.
Touch tables and interactive activities are available at the

Lewis and Clark Visitor Center

and at the visitor center at

Ponca State Park.

The river provides lots of things to see and areas to explore. Keep your eyes wide open for bald eagles, beavers or endangered terns and plovers nesting on sandbars.

Become a MNRR Junior Ranger Now!
Want to become a Junior Ranger at Missouri National Recreational River in 2012! We offer 3 different Junior Ranger programs for different age levels. Click here to learn how to begin the program at the park or at home.
Junior Ranger Puzzles - Missouri National Recreational River
Our ranger staff has put together some fun puzzles for you! Click on the name to download a PDF copy.
National Park Service Web Rangers
If you don't get a chance to visit the Missouri National Recreational River, don't despair! The National Park Service has put together a Web Ranger program for kids to complete online. The program helps kids explore many of the famous and not-so-famous parks, and gives kids an appreciation for the scenic beauty and historical significance of the parks. Please click here to participate in the Web Ranger program.
Online Junior Ranger Programs
Many parks in the National Park System have gone high-tech lately, and have added Junior Ranger programs online. Go to nps.gov and search for your nearest or favorite parks.
Each park site has a different badge with a different design, so many kids become collectors while learning about the parks.
Journey Westward with the Lewis & Clark Expedition
Make important decisions along the way in this online activity from the National Geographic Society.