Be A Junior Ranger

How do I become a Junior Ranger at Missouri National Recreational River?
Visit Park Headquarters located at 508 E 2nd Street, Yankton, South Dakota from 8:00 a.m. to 4:30 p.m. Monday through Friday (closed on Federal holidays) to pick up the booklet. Booklets are also available at Ponca State Park located 88090 East Spur 26, Ponca, Nebraska.

Once you complete the booklet, please return back to Park Headquarters to talk to a National Park Service Ranger and to receive a badge and be sworn in to become a Missouri National Recreational River Junior Ranger.

Not Available to Visit?
To receive a hard-copy or electronic PDF version, please email thomas_downs@nps.gov to request your booklet.
For off-site visitors, please return or mail to Park Headquarters to receive a badge and become an official Missouri National Recreational River Junior Ranger.
Mail your completed program to:
Missouri National Recreational River
c/o Division of Interpretation
508 East 2nd Street
Yankton, SD 57078

Jump Start Activities
Listed below are some activities direct from our paper booklet for you to begin your journey. Have fun and good luck!
Fish and Wildlife
The waters and adjacent lands of the Missouri National Recreational River host an exceptional abundance and biodiversity of species, including 704 species of plants and 424 fish and wildlife species. Looking for wildlife sign or tracks can be easy and fun anywhere within this National Park Unit.
Making Tracks
When you are out on a hiking trail along the Missouri National Recreational River you may discover that others have been on the same path. They leave tracks in the mud or the sand. Use the clues listed below to help you decide whose tracks are whose. Good luck!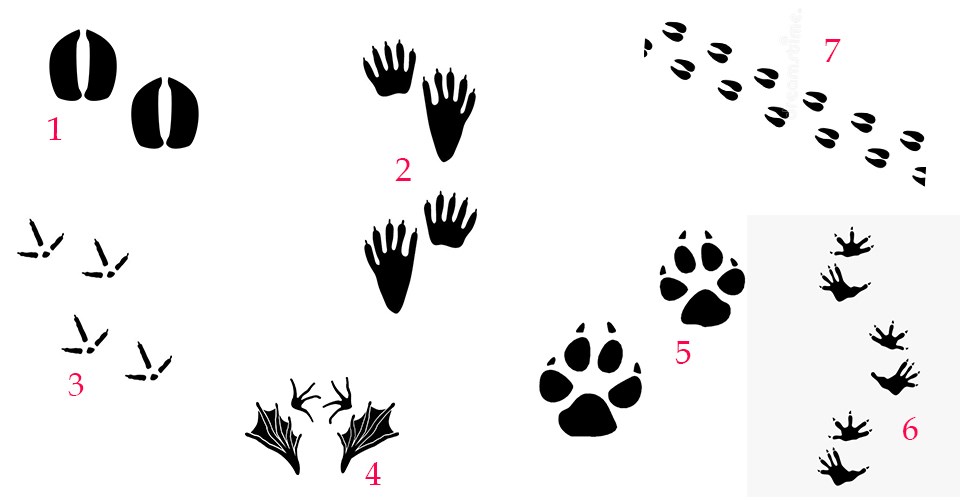 Clues
1. I once roamed in large herds on the prairie and provided food and shelter to the American Indian tribes.

2. I wear a little black mask and my eyes gleam at night. My bushy, striped tail makes a very nice hat.

3. My three-pronged track tells you I am a bird, but my gobble is a sure give away that I am nearby.

4. I am an amphibian and can take over a pond with my call and my size.

5. I am from the canine family and like to howl or yelp at night.

6. I am a marsupial with a thumb-like appendage. Night time is my favorite part of the day.

7. I have a white tail and like to munch on trees and plants in the woods.
1. American Bison
2. Racoon
3. Turkey
4. American Bull Frog
5. Coyote
6. Opossum
7. White-tailed Deer
For more virtual Junior Ranger activities, see the listings below:
Last updated: March 23, 2023