The Science Museum of Minnesota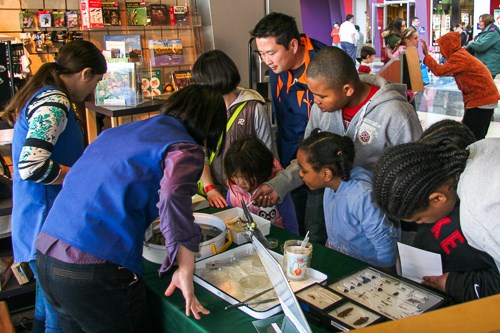 Introduction
Visitors can view both permanent and traveling interactive exhibits or attend movies covering a wide range of topics in the Museum's Omnitheater. Subjects include paleontology, physical sciences, technology, adventure, and culture.
With great views of the Mississippi River just across Shepard Road, the museum also teaches about water and river issues. Visit the Mississippi River Gallery to learn about plants and animals that live in and around the Mississippi River, the river's history and prehistory, and see if you can successfully guide a towboat and barge down the river.
In addition to its many exhibits, the museum also produces large-screen documentary movies, conducts research and publishes papers, and teaches adult technology courses, among many other offerings.
Incorporated in 1907 as the St. Paul Institute of Science and Letters, the museum rapidly expanded forcing a move from its first location in the St. Paul Auditorium to the Merriam Mansion on Capitol Hill. Quickly outgrowing this location, the museum moved to a new building at 30 East Tenth Street where it remained until moving to its present location in a new 370,000 square foot building. During its history the Museum's staff and collections have grown in size and prominence and now serves over a million visitors each year, including organized groups and schools.
The Mississippi National River and Recreation Area has its Mississippi River Visitor Center in the museum's lobby.
Activities
Besides the usual activities one finds in museums, visitors can walk down an outside staircase (in warmer months) that wraps around the building and descends down to Warner Road. Crossing the road, walkers can take paved trails downriver or upriver for a closeup view of this magnificent river. Hiking upriver brings one to the City House, a historic grain elevator. In summer, a food truck serves food at the City House.
History & Culture, Museum, NPS Passport Program, Visitor Center
Hours, Directions, and Contact Information
Sites Nearby
Mississippi River Visitor Center
,
Lilydale Regional Park
,
The Brickyards
,
Harriet Island
,
Crosby Farm Regional Park
,
Indian
Mounds Regional Park
,
Bruce Vento Nature Sanctuary
Last updated: February 16, 2023