The National Parks Passport program is a great way to explore the over 400 units of the National Park Service. Purchase your passport book at the Mississippi River Visitor Center--or most national park visitor centers--and then obtain stamps for each park you visit. Passport books may also be obtained online at the Eastern National store. Stamps are available at most visitor centers, or ask a ranger where you can have your passport book stamped. Almost all parks have at least one stamp.
Stamping Station Locations:
Within the Mississippi National River and Recreation Area, you may get your passport book stamped at any of the visitor centers listed below. Hours vary, so call ahead for current information.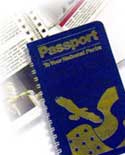 Coldwater Spring - 5601 Minnehaha Park Drive South, Ft. Snelling, MN 55111

This stamp is located in a black metal box. The code is 1988. Click here for a short explanation of the box.
(715) 262-0104 Great River Road Visitor Center has stamps for 2 parks: St. Croix National Scenic Riverway and Mississippi National River and Recreation Area.

Passports are a great way to remember visits to your national parks.