Place
Indian Mounds Regional Park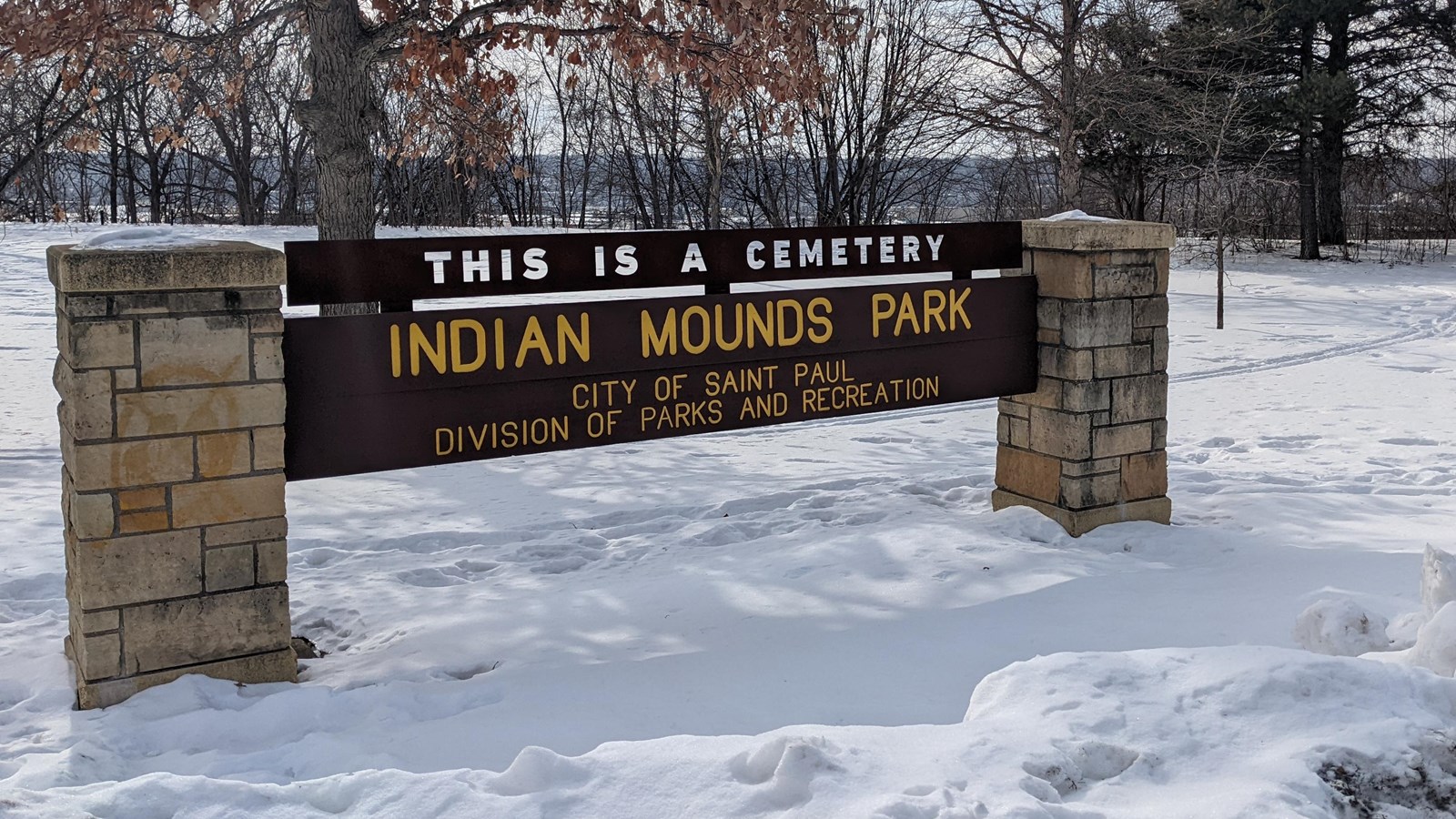 Location:
10 Mounds Blvd, Saint Paul, MN 55106
Significance:
Historical Sacred Burial Ground
Designation:
Regional Park
Accessible Rooms, Accessible Sites, Cellular Signal, Grill, Parking - Auto, Pets Allowed, Picnic Shelter/Pavilion, Picnic Table, Trash Dumpster, Wheelchair Accessible
Introduction
Much of Indian Mounds Regional Park sits on the top of a high bluff overlooking the Mississippi River and downtown Saint Paul. This is a sacred place of burial that has deep significance to the Upper Sioux Community, Lower Sioux Community, Shakopee Mdewakanton Sioux Community, Prairie Island Indian Community, Ho-Chunk Nation of Wisconsin, Iowa Tribe of Kansas and Nebraska, Sisseton-Wahpeton Oyate, and other descendants of those who are buried here.

Visit Indian Mounds Regional Park | Saint Paul Minnesota (stpaul.gov) to learn about the current Cultural Landscape Study and Messaging Plan by the City of St. Paul. This study is an initial step to update the City's practice for preservation awareness, and understanding of sites significant to American Indians.
History
Indian Mounds Regional Park was established in 1893 and is one of the oldest parks in the region. Situated atop Dayton's Bluff east of downtown St. Paul, it is a burial site for at least two American Indian cultures and is just upriver from where the first historic Kaposia village site was once located.
Anthropologists believe that the mounds were built between 1,500-2,000 years ago. In more recent times, the Dakota also used this site for their burials, where they wrapped the bones of their deceased in a bison skin before burying them. Valuable objects like knives, foods, pipes, or even horses or canoes were also placed within the mound. 
At least thirty-seven mounds once stood along the bluffs of the Mounds Park area; only six remain today.
Activities
The park has paved trails that traverse the bluffs and link into other trails. There is an outstanding view of the Mississippi River and of the St. Paul skyline. Picnic tables and a large pavilion are also available for picnicking. Reservations for the picnic shelters are handled by the Saint Paul Parks and Recreation Department at the contact information below.
Hours, Directions, and Contact Information
10 Mounds Blvd, Saint Paul, MN 55106

GPS: 44.946006, -93.054706

Call the Park Permit Office at 651-632-5111 to reserve shelters.

See the City of St. Paul website on the park for more information on how this sacred site has deep significance to living Indigioneous Peoples as a cemetery where their ancestors are buried.
Last updated: March 29, 2022