Harriet Island Regional Park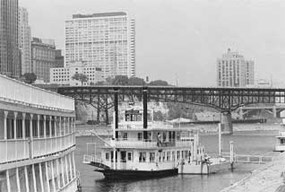 Introduction
Harriet Island Regional Park is one of Saint Paul's most popular parks and the site of many city celebrations. Located on the Mississippi River front, it's a favorite place for family get togethers under the giant cottonwoods and silver maples with its great views of downtown Saint Paul just across the river. Harriet Island is home to the Padelford Riverboats, a marina, and a public pier.
History
Harriet Island was named after pioneer school teacher Harriet Bishop. In 1900, Harriet Island was given to the citizens of St. Paul by Dr. Justus Ohage who wanted to provide St. Paul with a recreational area that would benefit the public. Over the years, Harriet Island was home to many attractions including a complete outdoor gymnasium, a center pavilion for refreshments and bands, swimming lessons, slides, water games, and St. Paul's first zoo.
From 1910-1915, Harriet Island offered a swimming beach that brought thousands of people to the cool waters of the Mississippi River in the days before air conditioning. As pollution of the river increased, as one might expect, the popularity of the beach decreased.
In the 1920s an entrance was added to Harriet Island to increase accessibility at the south end of the Wabasha Street Bridge. However, by that time the park's heyday had passed. The Harriet Island public park was unappreciated despite its central location in the Twin Cities. A wide drive (Ohage Mall) was built around the island, and some trees and shrubs were planted. Unfortunately, the onset of the depression prevented any further development.
In the early 1950s, the channel between the island and the mainland was filled, although its name still celebrates its one-time island status.
In 1969, expansion of Harriet Island was again considered. The idea was dismissed at that time because there was still a large amount of river pollution in the area, which was unappealing to visitors. With the increasing water quality, however, came renewed interest in the park and it is not only one of the most popular parks in Saint Paul, but also in the greater metropolitan area.
Hours, Directions, and Contact Information
200 Dr Justus Ohage Blvd, Saint Paul, MN 55107
GPS: 44.937010, -93.097656

Special Note on Reservations: The National Park Service does not take reservations for the pavilion or other facilties on the island. Reservations must be made through the City of Saint Paul. Contact them using the link above to get more information.
Nearby Sites
Lilydale Regional Park
,
Science Museum of Minnesota
,
Mississippi River Visitor Center
,
Indian Mounds Regional Park
,
Bruce Vento Nature Sanctuary
Last updated: February 16, 2023