Maritime Heritage Program
Maritime National Historic Landmark Nominations
National Historic Landmarks (NHLs) are nationally significant historic places designated by the Secretary of the Interior because they possess exceptional value or quality in illustrating or interpreting the heritage of the United States. Today, just over 2,500 historic places bear this national distinction. Working with citizens throughout the nation, the National Historic Landmarks Program draws upon the expertise of National Park Service staff who work to nominate new landmarks and provide assistance to existing landmarks. All NHLs are added to the National Register of Historic Places if they are not already listed there.
National Historic Landmarks are often identified through theme studies, such as the study begun in 1988, "The Maritime Heritage of the United States." Theme studies help identify properties for nomination as NHLs by providing a comparative analysis of properties associated with a specific area of American history, such as maritime history. In order to make the case for national significance, a theme study provides necessary national historic context so that national significance may be judged for a number of related properties. Today, theme studies typically present an in-depth statement about a topic's national significance, and may identify sites potentially eligible for nomination. Older theme studies, such as the maritime heritage study, assembled existing nominations into a group rather than creating a new context statement. Older nominations are often much shorter than those produced today; however, many older nominations provide useful basic contextual information.
"The Maritime Heritage of the United States" theme study assembled National Historic Landmark nominations under eleven categories (see below). The pages listed below include links to these nominations, as well as to nominations for maritime properties that have been designated National Historic Landmarks since 1988. There is a separate context statement for lightships (which are included on the list of large vessels) and for lighthouses.
Nearly 250 properties related to the maritime history of the United States are currently National Historic Landmarks. These include vessels, light stations, life-saving stations, World War II sites, canals, homes of famous individuals, marine hospitals, drydocks, canneries, port towns, and more. The nominations for these maritime NHLs can be accessed by clicking on the categories listed below.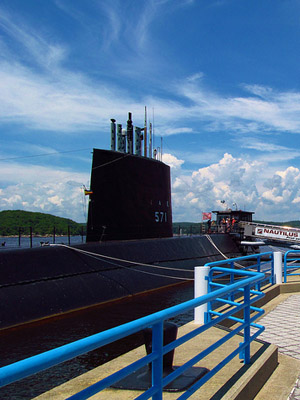 The USS Nautilus in Groton, CT, was designated an NHL in 1982. Photo by Stephanie Fish. Permission for NPS use granted via entry in the 2013 National Historic Landmark Photo Contest.
Lighthouses and Light Stations
Naval Facilities, Bases, and Shipyards
People, Labor, and Philanthropy