Cave Sing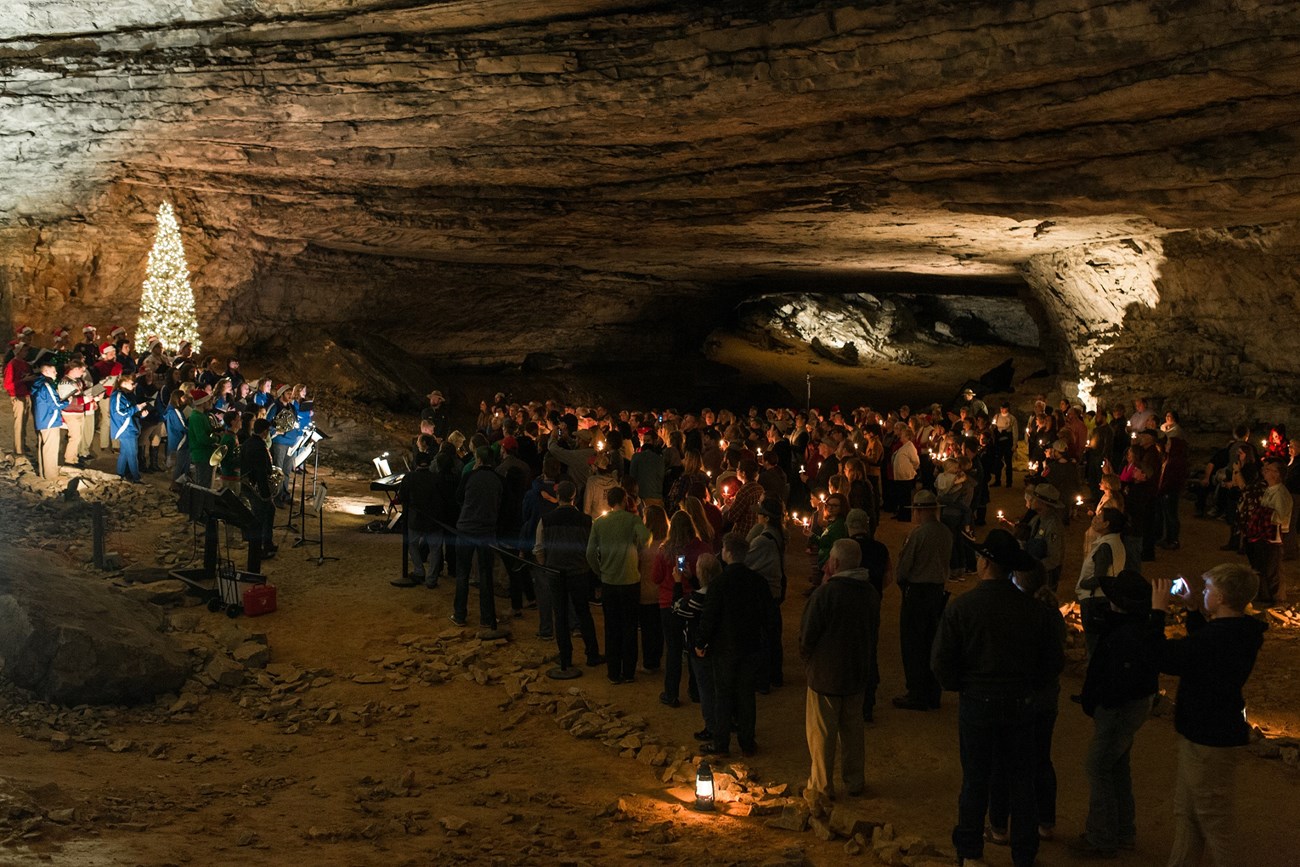 Cave Sing 2023
Event Details
Event dates, times, and details will be updated in Fall 2023.

The Cave Sing traditionally takes place inside the cave on the first Sunday in December. Each year, a different muscial group performs holiday music inside the cave for our audience.

Cave Sing participants typically meet behind the park visitor center and depart for the Historic Entrance. Participants must walk approximately 0.75 miles (1.2 km), round trip, to reach the performance area. The access trail includes a steep outdoor hillside to and from the cave's natural entrance with a total of 130 stairs.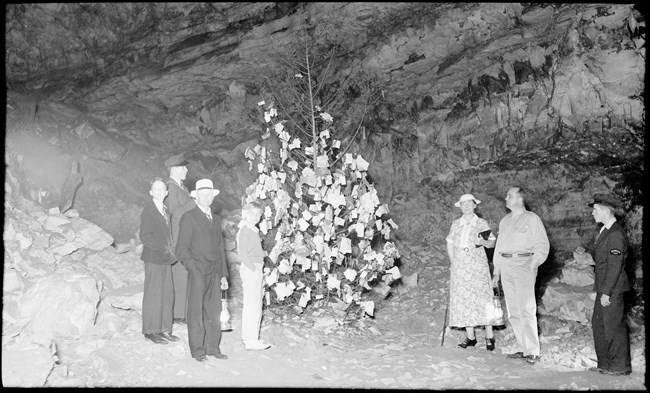 History of Cave Sing at Mammoth Cave
"...the halls of the cave rang with joyous carols and the laughter of happy children."
During the winter of 1883, a group of local residents to the Mammoth Cave area planned a Christmas celebration in the cave. The party consisted of carols, laughter, and even the hanging of the green. A ten foot pine tree was brought into the cave and stood in the Methodist Church area of the cave. Ribbons and popcorn were used for decorating the tree, while lanterns and candles were used to illuminate the surroundings.

After Christmas was over, the tree did not leave. Maybe it was left as a reminder of a happier day or simply a wonderful memory. The tree dried out, but the needles stayed in place. The tree was popular among visitors, they could leave a piece of themselves down in the cave for all the world to know they had been there. Some did this by leaving business cards behind, others simply left their name on a piece of scrap paper and nestled it on the tree's brown, crumbly needles.

As the decades passed, the old tree was moved out of sight from the cave trails where it remained until a misguided flame landed in the dry brush. The tree lit up one last time before it came to its final moment. This later became known as the only forest fire in Mammoth Cave.
The Modern Cave Sing
In 1980, the first of the modern Cave Sing events was held to celebrate the holiday season and relive the old traditions. Several musical groups preform in large rooms in the cave and visitors join in by singing carols to fill the cave passages with music. Today, the Cave Sing is a cherished tradition by area locals and park visitors alike.

Hear a sample of music preformed in the cave during the Cave Sing of 2008 below.
Music in the cave

"My Old Kentucky Home" performed in the halls of Mammoth Cave by former Cave Guide Dr. Janet Bass Smith on piano, accompanied by Klaus Kaemper (descendant of Max Kaemper) playing cello. This recording was made inside Mammoth Cave during the annual Cave Sing in 2008.

Credit / Author:

NPS/ Chuck DeCroix

Date created:

01/24/2022