Rocky- Lewis and Clark Pups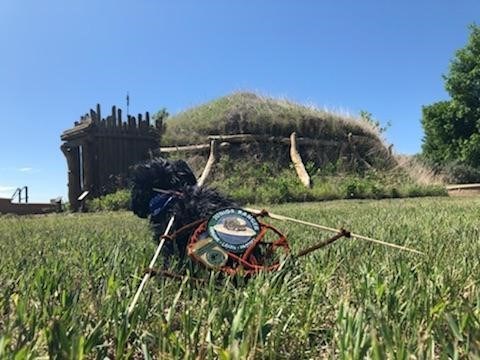 Greetings, Rocky here! I love to run, play, and sniff things! I'm going to get to do a lot of that fun stuff while I follow the Lewis and Clark National Historic Trail. I get to explore the trail because I am following the lead of my ancestor Seaman! Did you know that the Corps of Discovery included a dog?? Yep, that's my ancestor! He was a great help to the people on this special journey. He was skilled at hunting, swimming, exploring, guarding the crew and their belongings, and of course being a warm and loving friend to keep their spirits high. Plus, since us dogs have such great senses of hearing and smelling, he could even alert his human friends when someone was nearby, before they knew it! So you can see why Seaman was so important, and why he deserves to be honored! That's why I am traveling along the trail, dressed in my best blue bandana, to see what he saw and to make sure the trail stays in good condition!
What about me, you ask? Well I love to meet new friends, especially other animal friends! I bet I will run into a lot of them on this journey, because there will be wildlife near the sites I go to, and pets that bring their owners to check out the stops along the way – yay! I wonder how many animal friends Seaman got to meet on his journey? I heard he was a very outgoing dog, so I bet he met a lot of them! I'll be sure to update this blog along the way so you can read about the fun things I do! I'll be stopping at a bunch of neat places along the trail, so come back and read all about them!
Your friend,
Rocky
In honor of the 50th anniversary of the
National Trails System
five special (toy) dogs, the
Lewis and Clark Pups
, will travel in the paws of their ancestor
Seaman
, dog of
Meriwether Lewis
. The pups will travel more than 3,700 miles to complete their mission to commemorate and protect the
Lewis and Clark National Historic Trail
. They will be joined by
Seaman Jr
. who will complete his portion of the mission on the
International Space Station
.
As they make their stops they will be reporting back in on their adventures. Follow
Rocky
,
Harper
,
Dakota
,
Keelie
and
Seaman Jr
. at:
https://www.nps.gov/lecl/newfie-news.htm
Rocky- Lewis and Clark Pups
Last updated: September 20, 2021