Harper- Lewis and Clark Pups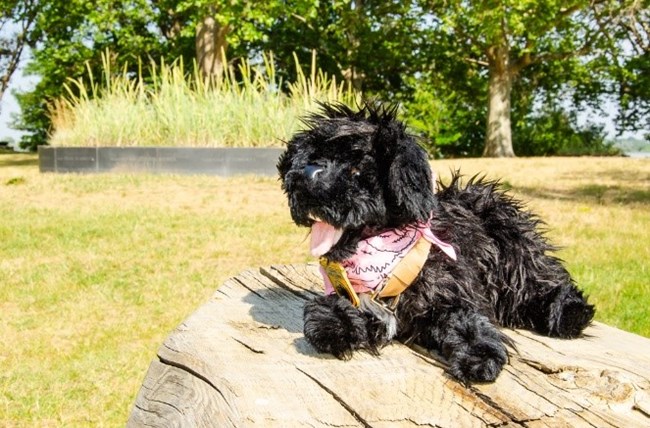 Harper here! I'm a Newfoundland (Newfie for short) puppy, with a cute pink bandana, and I get to experience a really exciting adventure. I get to travel along the Lewis and Clark National Historic Trail to commemorate my ancestor Seaman, who led the way on this trail for the Corps of Discovery 200 years ago! He was a dog that worked alongside Lewis, Clark, and many others while forging a path to the west.
Newfies are really good swimmers, so I bet he was glad to be traveling along the Missouri River. He could take a dip to cool down whenever he got too hot! I'm looking forward to seeing the water too. I love to explore and learn about geology like mountains, rivers, and waterfalls! Did you know that's why some dogs like to dig? They are trying to learn about the dirt and soil underneath the grass! I think I'd have gotten along well with Lewis and Clark because they took notes about the landforms the expedition came across on their travels and made maps using those notes. I'll take notes of my own on this blog, writing about what I see and experience during my travels. Hmm… Maybe I'll even make a map of my own when I get back home, like they did! I'll post here as I go, to tell everyone about my journey. It will be a long adventure, and I'm so excited!
Cheers,
Harper
In honor of the 50th anniversary of the
National Trails System
five special (toy) dogs, the
Lewis and Clark Pups
, will travel in the paws of their ancestor
Seaman
, dog of
Meriwether Lewis
. The pups will travel more than 3,700 miles to complete their mission to commemorate and protect the
Lewis and Clark National Historic Trail
. They will be joined by
Seaman Jr
. who will complete his portion of the mission on the
International Space Station
.
As they make their stops they will be reporting back in on their adventures. Follow
Rocky
,
Harper
,
Dakota
,
Keelie
and
Seaman Jr
. at:
https://www.nps.gov/lecl/newfie-news.htm
Harper- Lewis and Clark Pups
Last updated: September 13, 2018