Dakota- Lewis and Clark Pups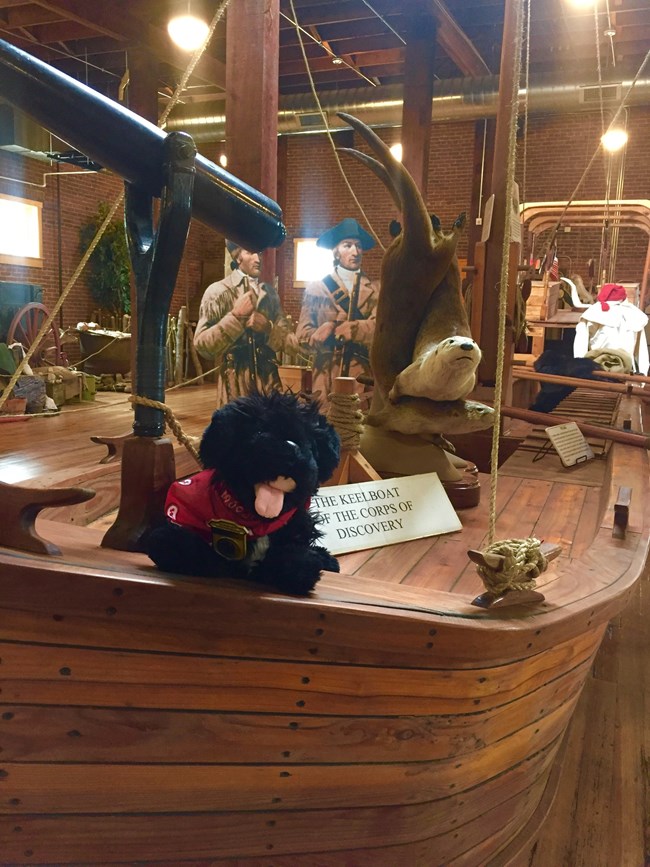 Hello world! My name is Dakota and I am a Newfoundland puppy! I'm told I am a special dog because I am a descendant of the great explorer dog Seaman. He traveled across the country with the Lewis and Clark expedition over 200 years ago. The expedition's goal was to find a water route across the country that reached all the way to the Pacific Ocean. I heard it was a long and hard journey, but also exciting and fun! They were the first group of American citizens to take this journey, so it was a big deal. To honor this legacy, I get to wear my favorite red bandana and go on an adventure of my own – following the very trail Seaman traveled!
I can't wait to travel to a bunch of awesome sites and explore the country! I'll be making stops throughout my travels to special sites like museums and monuments along the way. I love to learn about new things, so I'm hoping to gain a bunch of knowledge about the places I travel to, and become an expert on the Corps of Discovery's expedition. I admit I'm just a little bit nervous, because I've never gone on such an important journey before. But when I think about how brave Seaman was, forging a brand new trail all the way across the country, I realize I have nothing to be nervous about...I'm following a trail he and his crew already created! It's going to be a very exciting adventure and I will be writing all about it on this blog, so I can look back on my journey and so people like you can read all about it!
Until my next post,
Dakota
In honor of the 50th anniversary of the
National Trails System
five special (toy) dogs, the
Lewis and Clark Pups
, will travel in the paws of their ancestor
Seaman
, dog of
Meriwether Lewis
. The pups will travel more than 3,700 miles to complete their mission to commemorate and protect the
Lewis and Clark National Historic Trail
. They will be joined by
Seaman Jr
. who will complete his portion of the mission on the
International Space Station
.
As they make their stops they will be reporting back in on their adventures. Follow
Rocky
,
Harper
,
Dakota
,
Keelie
and
Seaman Jr
. at:
https://www.nps.gov/lecl/newfie-news.htm
Dakota- Lewis and Clark Pups
Last updated: September 13, 2018