Winter Activities
Visit our keyboard shortcuts docs for details
Duration:

4 minutes, 4 seconds
Join Ranger Amanda on an exploration of winter in the Southwest Area of Lassen Volcanic National Park. Learn what there is to do and how to come prepared for a safe and enjoyable visit.
Audio Described Version. Join Ranger Amanda on an exploration of winter in the Southwest Area of Lassen Volcanic National Park. Learn what there is to do and how to come prepared for a safe and enjoyable visit.

Duration:

4 minutes, 6 seconds
More than half of the year Lassen is blanketed in snow. Although the park highway closes to through traffic in the winter season, the Southwest and Manzanita Lake Areas remaining accessible year-round. Visit the park's year-round Kohm Yah-mah-nee Visitor Center (see hours) and enjoy the steep slopes in the Southwest Area or explore the gentler terrain in the Manzanita Lake area.
Know Before You Go
Be prepared for winter driving by carrying tire chains and keeping a full tank of gas (the nearest station is 30 miles away).

Plan on leaving your pet at home or in your vehicle, as pets are not permitted on trails or snow-covered routes (including the park highway).
Self-contained barbeques are permitted in paved parking areas. Please dispose of cold ashes in trash receptacles. Open fires and fire pans are not allowed.
Use separate tracks for hikers/snowshoers and skiers to prevent injury. Please do not walk in ski tracks.
Yield to downhill traffic - it's much easier to stop uphill!
Cell service is very limited in the park. Free WiFi is available inside the Kohm Yah-mah-nee Visitor Center.
Please keep Lassen clean by disposing of waste in the trash and recycling receptacles provided.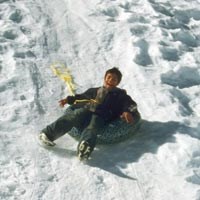 Sledding
The steep slopes in the Southwest Area of the park, near the Kohm Yah-mah-nee Visitor Center, are popular with experienced sledders. Be sure to choose a slope that is right for your group and the conditions. Sledding is the number one cause of visitor injury in the winter season. Each winter rangers treat and evacuate sledders with head and spine injuries, lacerations, and broken bones. Icy snow creates very fast sledding conditions and trees and rocks abound in this area. Eskimo Hill, located north of the park in Lassen National Forest, is also a popular sledding area.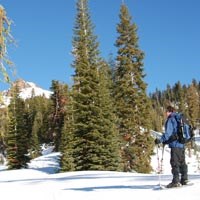 Snowshoeing
Bring your own equipment and enjoy Lassen's vast winter wonderland. If you're new to snowshoeing, considering joining a free ranger-led snowshoe walk offered on weekends in the winter; snowshoes are provided for the program only. The Manzanita Lake Area and the snow-covered Park Highway Route offer gradual climbs with limited avalanche danger, however avalanche terrain exists at the upper end of the Manzanita Creek trail near Loomis Peak. Numerous routes out of the Southwest Area offer trails of greater difficulty, many with spectacular winter views. Most of the primary snowshoe routes in the southwest area pass through frequent avalanche terrain.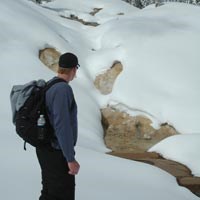 Hydrothermal Areas
Sulphur Works hydrothermal area is accessible via a two-mile round-trip route along the snow-covered park highway. The hydrothermal features are visible year-round due to the high temperatures of steam vents, mudpots and boiling springs. Visitors are encouraged to visit these special areas during the winter season, but are reminded that traveling too close to these areas has resulted in serve injuries for previous visitors. The snow surrounding hydrothermal features can look solid but my actually be a weak snow layer hiding poles of acidic boiling water. Reduce your risk of injury by maintaining a safe distance.
Camping
The
Southwest Walk-in Campground
is open year-round. Tents are allowed only in the campground area. Camping in a vehicle is permitted in the adjacent parking area with fee. Vehicles must park between the islands in the parking area to allow for snow plowing operations. Self-registration is located at the Southwest Entrance Station. Self-contained barbecues are allowed in the paved parking area. Please do not dump ashes onto the ground or on the snow, please take wet, cooled ashes back with you or dispose of properly. Fires and fire pans are not permitted.
Backcountry Camping is recommended only for experience backcountry travelers. A free backcountry permit is required and is available outside the Loomis Ranger Station in the Manzanita Lake Area or inside the Kohm Yah-mah-nee Visitor Center. Learn more about
backcountry permits
.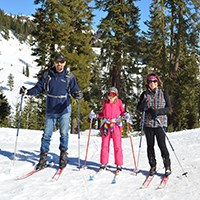 Cross-country Skiing
The snow-covered park highway is best for beginner to immediate cross-country skiers and can be accessed from the northwest or southwest entrances. Just south of the park, the
McGowan Cross-Country Ski Area
in Lassen National Forest also provides additional routes; pets are permitted on Forest Service trails and routes.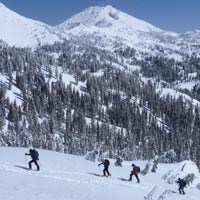 Backcountry Skiing/Snowboarding
Lassen's backcountry is recommended only for experienced backcountry skiers and snowboarders. Backcountry travel at Lassen requires entering avalanche terrain. Backcountry users should be avalanche aware, carry avalanche gear, and know how to use it. Lassen does not provide an avalanche forecast for the park. Forecasts for neighboring areas are available from Mt. Shasta Avalanche Center and Sierra Avalanche Center (Lake Tahoe area).
Last updated: February 26, 2018