Winter Activities
Choose Your Winter Adventure
The snowy winter and spring seasons offers numerous opportunities for oversnow recreation. Vehicle access is limited to one mile from the Southwest and Northwest Entrances approximately November through May. Beyond the plowed roads to the Kohm Yah-mah-nee Visitor Center and Loomis Plaza, the entire park is snow-covered.
Choose Your Destination:
The Southwest Area (6,700 - 10,457 ft) offers steep slopes and sweeping vistas just beyond the Kohm Yah-mah-nee Visitor Center, which offers the only services between November and early May.
The Manzanita Lake Area (5,800 - 7,200 ft) consists of gentle slopes and scenic lakes. It offers the easiest routes for snowshoeing and cross-country skiing in the park.
Choose Your Activity: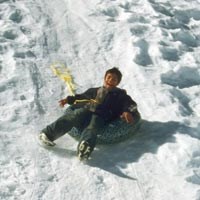 Snowplay & Sledding
The steep slopes in the Southwest Area of the park, near the Kohm Yah-mah-nee Visitor Center, are popular with experienced sledders. Be sure to choose a slope that is right for your group and the conditions. Sledding is the number one cause of visitor injury in the winter season. Each winter rangers treat and evacuate sledders with head and spine injuries, lacerations, and broken bones. Icy snow creates very fast sledding conditions and trees and rocks abound in this area. Eskimo Hill, located north of the park in Lassen National Forest, is also a popular sledding area.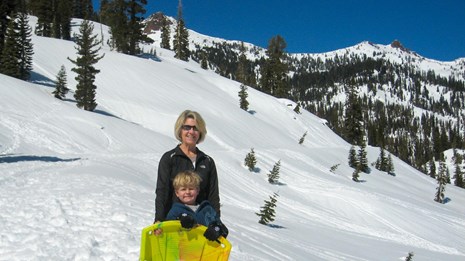 Snowplay in the Southwest Area
Enjoy the steep slopes and sweeping vistas in the snow-covered Southwest Area.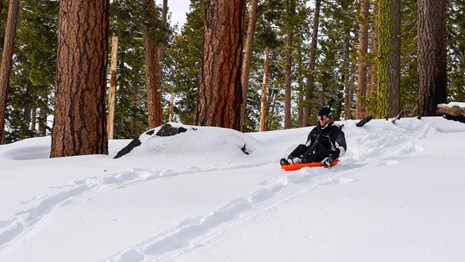 Snowplay in the Manzanita Lake Area
Enjoy snowplay on the gentle slopes near scenic lakes in the Manzanita Lake Area.
Oversnow Travel
In the snowy season, the majority of the park is snow-covered and oversnow travel is required to explore the winter wonderland.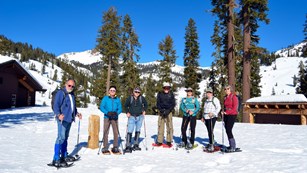 Snowshoeing
Bring your own snowshoes to enjoy winter routes in the Southwest and Manzanita Lake Areas.
Snow Camping
Southwest Campground
The Southwest Campground is not open in the 2022/2023 season due to fire hazards. Tent camping is not permmitted until the closure is lifted. In addition, tents are not permitted in the parking lot year-round. Only self-contained vehicles are permitted overnight in the adjacent visitor center parking area with fee. Learn more about winter camping at the Southwest Campground.
Backcountry Camping is recommended only for experience backcountry travelers. A backcountry permit is required and is available online through Recreation.gov. Learn more about backcountry permits.
Last updated: January 13, 2023