Stargazing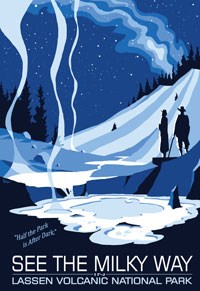 Half the park is after dark! From animals to plants and water to volcanoes, Lassen Volcanic National Park protects many different natural phenomena. One of the most spectacular is frequently overlooked -- our incredible, dark, night sky. Lassen Volcanic is one of the best places to learn about and enjoy the splendor of the night sky. Far from the light pollution of civilization, Lassen is one of the last sanctuaries of natural darkness. Whether you have yet to experience the grandeur of the Milky Way, or you are a dedicated amateur astronomer, Lassen's dark skies offer unparalleled view of the celestial wonders. Experience Lassen after dark:
Explore the night skies anywhere you have a view of the sky.
Attend a Starry Night ranger-led program, most commonly offered at Devastated Area, Manzanita Lake, or Bumpass Hell Trailhead.
Join us for Lassen's Dark Sky Festival. *There will be no on-site events in 2023.
Watch Lassen's Dark Sky video.
Stargaze in the Park
Tips for Getting Started:
Plan Ahead: Faint light from a crescent moon can make viewing fainter stars and the Milky Way more difficult. It is best to view dark skies when the moon is new or below the horizon. Check sunrise and sunset times and moon phases to ensure optimal viewing.

What to Bring: Clothes to keep warm on chilly nights; a red light to move around safely; a stargazing app, planisphere, or star chart to find your way across a starry sky; and a desire to be amazed. If you have a pair of binoculars, bring them with you as they are the second best tool to enjoy features in the night sky (after from your eyeballs).
Make Yourself Comfortable: Craning your neck up at the sky gets tiresome fast. Consider packing a blanket, reclining chair, or anything that will support a reclined view of the sky.
See More Stars: It can take 15 to 30 minutes for your eyes to adjust to darkness and see more stars. Avoid using bright lights or white lights, these can disrupt your night vision and the timer for your eyes to adjust will start over. Using a red light will be much better for preserving night vision. If you don't have a red flashlight, you can cover a white light with red cellophane to make it a dark sky friendly light.
Learn What to Look For: Websites like Sky & Telescope provide information on what to look for in the sky and how. Check ahead to see what might be visible when you plan to stargaze or take a quick tour of the road map to the stars to help you find your way around the night sky.
Where to Go
You can enjoy the dark night sky in Lassen Volcanic anywhere you can see the sky. Many campsites in the park are forested, so you may want to head to a lakeshore, a meadow, or even a parking area to get a wider view of the sky. There are very few lights in the park at night, however getting away from buildings, headlights, or even camp lights can also improve your view of the sky. Be sure to avoid areas that are wet or with uneven terrain that may pose a tripping hazard.

Roadside parking areas and lakeshores provide easy access*:
Trailhead parking areas: Bumpass Hell, Lassen Peak Trail, and Devastated Area
Visitor center parking areas: Kohm Yah-mah-nee Visitor Center and Loomis Museum
Roadside lakeshores: Lake Helen, Emerald Lake, Manzanita Lake, Summit Lake
Other roadside pullouts: Kings Creek Meadow, Chaos Jumbles, Little Hot Springs Valley overlook
*Please note that overnight camping is only allowed in campgrounds and is not permitted in pullouts or parking areas (except Kohm Yah-mah-nee Visitor Center with camping fee).
Take a Full Moon Hike
A full moon provides enough light for most visitors to hike some trails in the park at night while also enjoying Lassen's dark night skies. Be sure to bring a headlamp (ideally with a red light option) for when you do need light. Lassen Peak and Cinder Cone Trails are popular moonlight hikes for experienced hikers.
Stargaze Where You Live
Look up at Home
Sit back or lay down in your backyard on a clear night. Check the weather forecast to be sure you're not clouded out and simply watch the stars and planets move across the night sky.
Avoid using your flashlight or looking at your cell phone to allow your eyes to adjust to the darkness and to see the most stars.
Turn off your house lights to help you see the stars better. You may even want to learn more about night sky friendly lightning and how you can help contribute to preserving our dark, night sky.
In Your Town
Contact your local astronomy club or astronomical society for public events such as a "star party" where amateur astronomers share views through their telescopes.
Visit your nearest planetarium to learn more about the sky and what you can look for when stargazing.
Learn More About the Night Sky in the Lassen Area
Shasta Astronomy Club is composed of amateur astronomers and night sky enthusiasts in the Redding and the North State community. The club's emphasis is observing with telescopes and binoculars, and offering public outreach. SAC offers special events at nearby Whiskeytown National Recreation Area and participates in the Lassen Dark Sky Festival.
The Astronomical Society of Nevada is a non-profit service organization introducing the pubic to astronomy. The ASN participates in the annual Lassen Dark Sky Festival, offers public telescope viewing in the Reno area, conducts public star parties at Washoe County schools and parks, and more. Learn more about ASN programs and activities.

Schreder Planetarium is located in Redding, CA and serves students and citizens of northern California. You can enjoy a variety of programs in the domed theater, from scientific documentaries to science fiction stories.The planetarium often offers special programs during the annual Lassen Dark Sky Festival.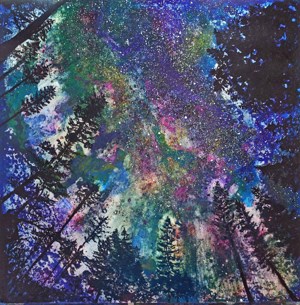 Stories in the Stars
When we look up at a dark night sky, we are essentially seeing the same sky that humans have looked upon for thousands of years. The same dark and starry sky has evoked countless myths, art, literature and music from cultures around the world.

Throughout history the night sky has shaped the beliefs and traditions of societies, from the the myths of ancient Greece and the celestially-aligned architecture of ancestral Puebloan civilizations to agricultural harvest festivals and nautical navigation records of sea voyages to new and distant lands.

The tradition of cultural astronomy continues today. When we point out the North Star to our children or sleep beneath the stars, we are keeping alive this natural affinity humans have for looking beyond our planet.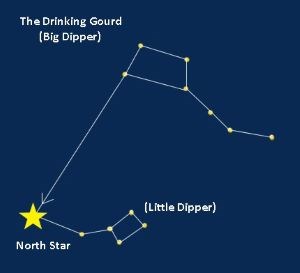 As slave lore tells it, the North Star played a key role in helping slaves to find their way—a beacon to true north and freedom. Escaping slaves could find it by locating the Big Dipper, a well-recognized asterism most visible in the night sky in late winter and spring. As the name implies, its shape resembles a dipping ladle, or drinking gourd. From the gourd's outline, the North Star could be found by extending a straight line five times the distance from the outermost star of the bowl.
Last updated: May 20, 2023