Youth Camping Grants 2012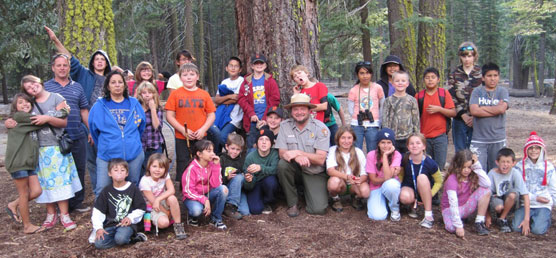 News Release Date:
April 2, 2012
Contact: Darlene Koontz, 530-595-6102
The Lassen Park Foundation recently announced it will again be offering $1,000 scholarships for schools and non-profit youth groups to spend time exploring the great outdoors at Lassen Volcanic National Park. Groups are encouraged to apply by May 1 to take advantage of the youth camping grants.

"These scholarships offered by the Lassen Park Foundation provide an opportunity for young people who would not ordinarily have a chance to experience camping to come and spend time in our wonderful park" stated Lassen Volcanic National Park Superintendent Darlene M. Koontz. "When talking with these kids you realize this opportunity can be life changing for them. Things we take for granted like building a fire, setting up a tent, and cooking outside are brand new to them and I can see in their faces and hear their reactions an amazing sense of accomplishment. It confirms that we need to seek as many ways as possible to provide these opportunities" said Koontz.

Last year, the Lassen Park Foundation awarded sixteen $1,000 grants. The foundation plans to increase the number of groups this year. The grants pay for costs such as transportation, food and equipment needed for a three to five-day camping trip to Crags Campground in Lassen Volcanic National Park. Donations to the Lassen Park Foundation help underwrite the services of a seasonal National Park Service ranger assisted by local high school interpretive interns who lead and present a variety of educational activities and programs. Programs include in-camp activities, field & trail activities, and formal programs that give a range of learning experiences such as basic camping and hiking skills, observations in nature, games of discovery, new types of outdoor recreation, and becoming a junior ranger. Discovery packs provided by the National Park Foundation give these campers an opportunity to use field guides, binoculars, art supplies and digital cameras to create images and videos of their experiences which are transferred to CDs they keep to share at home with their schoolmates, friends, and families.

To apply for a Youth Camping Grant or obtain more information about the Lassen Park Foundation call (530)378-2600, email martha@lassenparkfoundation.org , or visit www.lassenparkfoundation.org. For more information about Lassen Volcanic National Park, please visit the park website at www.nps.gov/lavo or call (530) 595-6102.


Last updated: February 28, 2015