Weather, Lake Levels and Temperature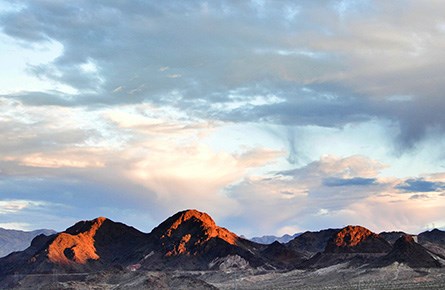 One of the many aspects of the Lake Mead National Recreation Area that continually draws visitors is its good weather. Many people come just to relax in the land of the sun. Refugees from states hit hard by winter's icy clutch often flee to this area to spend a mild winter. Sunbathers and water skiers spend summers here to toast in the 110 °F plus temperatures. The area generally has less than five inches of annual rainfall. Water temperatures may range from 45 °F to 85 °F during winter and summer respectively.
Get the latest wave heights, water temps, wind speeds and more by clicking on the above link.

The National Weather Service
Current weather information. You may also call the Las Vegas Office of the Weather Service at 702-263-9744.

National Oceanic and Atmospheric Administration
Temperature, precipitation and water temperature data from the Southern Great Basin and Mojave Desert

Bureau of Reclamation
Real-Time lake level information

---
Average minimum and maximum
temperatures throughout the year
in Boulder City, Nevada
| | | | |
| --- | --- | --- | --- |
| | Avg. Temp. | Avg. Max. Temp. | Avg. Min. Temp. |
| JANUARY | 44 | 57 | 30 |
| FEBRUARY | 48 | 62 | 35 |
| MARCH | 55 | 69 | 40 |
| APRIL | 65 | 80 | 50 |
| MAY | 74 | 89 | 58 |
| JUNE | 82 | 98 | 66 |
| JULY | 89 | 105 | 72 |
| AUGUST | 87 | 103 | 71 |
| SEPTEMBER | 80 | 97 | 63 |
| OCTOBER | 67 | 83 | 50 |
| NOVEMBER | 53 | 68 | 37 |
| DECEMBER | 46 | 59 | 32 |
Last updated: January 7, 2020