Fishing at Lake Mead National Recreation Area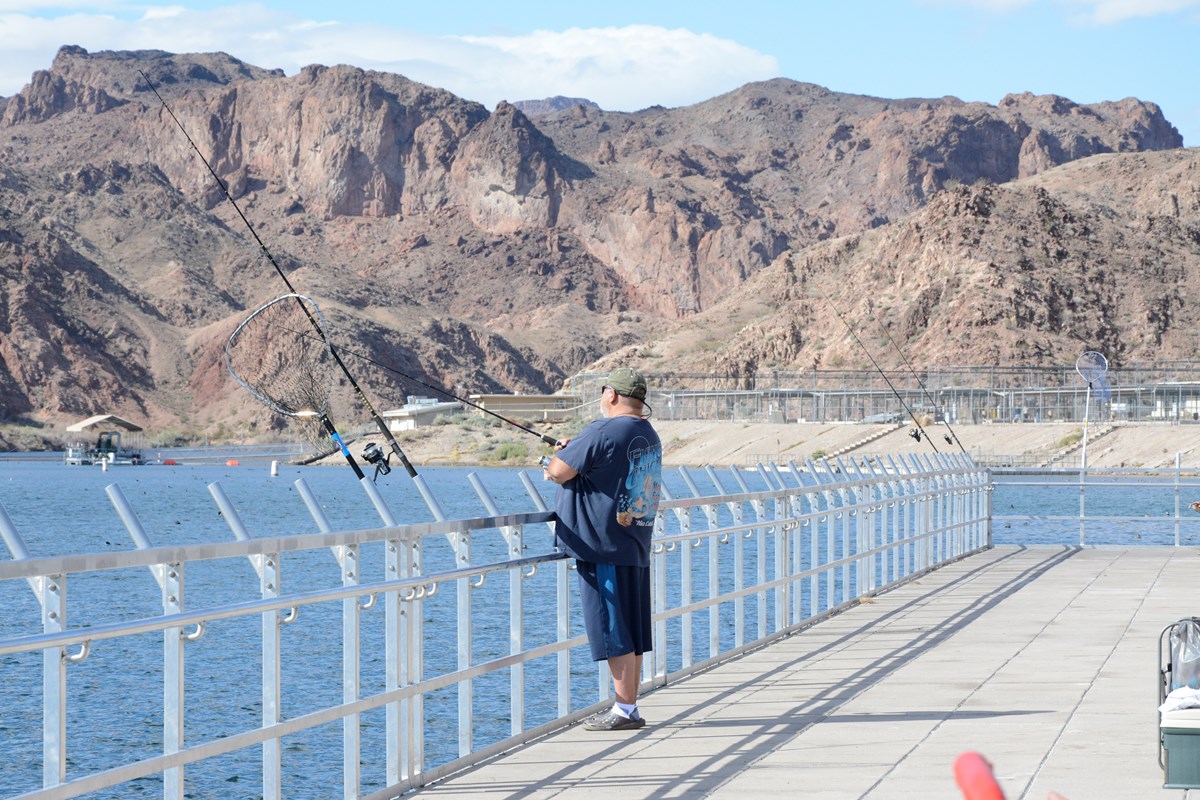 Fishing is a favorite pastime here at Lake Mead National Recreation Area. With more than 290 square miles of water surface, you can be sure to find a favorite spot to catch the big one. Popular fish include rainbow trout, catfish, sunfish, largemouth bass, striped bass, smallmouth bass and crappie. Keep in mind that our park lies within two states and each has their own specific fishing regulations. We have all the information you need below to have a fantastic fishing experience.
General Fishing Information
Fishing is allowed 24 hours a day from watercraft, shores or on the park's three fishing piers located at Hemenway Harbor on Lake Mead and at Willow Beach and Katherine Landing on Lake Mohave. Fishing is not permitted in harbors or from marinas.
To fish within the states of Nevada or Arizona, you must carry with you a valid fishing license. If your license is for Arizona, and you plan to fish from a boat or other craft on lakes Mead and Mohave, or on the shoreline of Nevada, then you must have a "use stamp" from Nevada (and vice-versa).
A trout stamp is required in addition to any other use stamps if you intend to catch trout. You may purchase licenses from the concessioner at the marinas or at local bait and tackle shops.
Largemouth bass, striped bass, channel catfish, crappie and bluegill are found in both lakes Mead and Mohave. Rainbow trout can be found in Lake Mohave. They are released from the U.S. Fish & Wildlife Service hatchery at Willow Beach every Friday.
Lake Mead has become famous for its striped bass with an occasional catch weighing in at over 40 pounds. Fishing for striped and largemouth bass is good throughout Lake Mead with crappie, bluegill, green sunfish and catfish being more prevalent in the upper Overton Arm of the lake.
Both lakes are home to two endangered fish - the razorback sucker and bonytail chub. Please throw these fish back if you accidentally catch them, and report your catch to the National Park Service by calling 702-293-8950.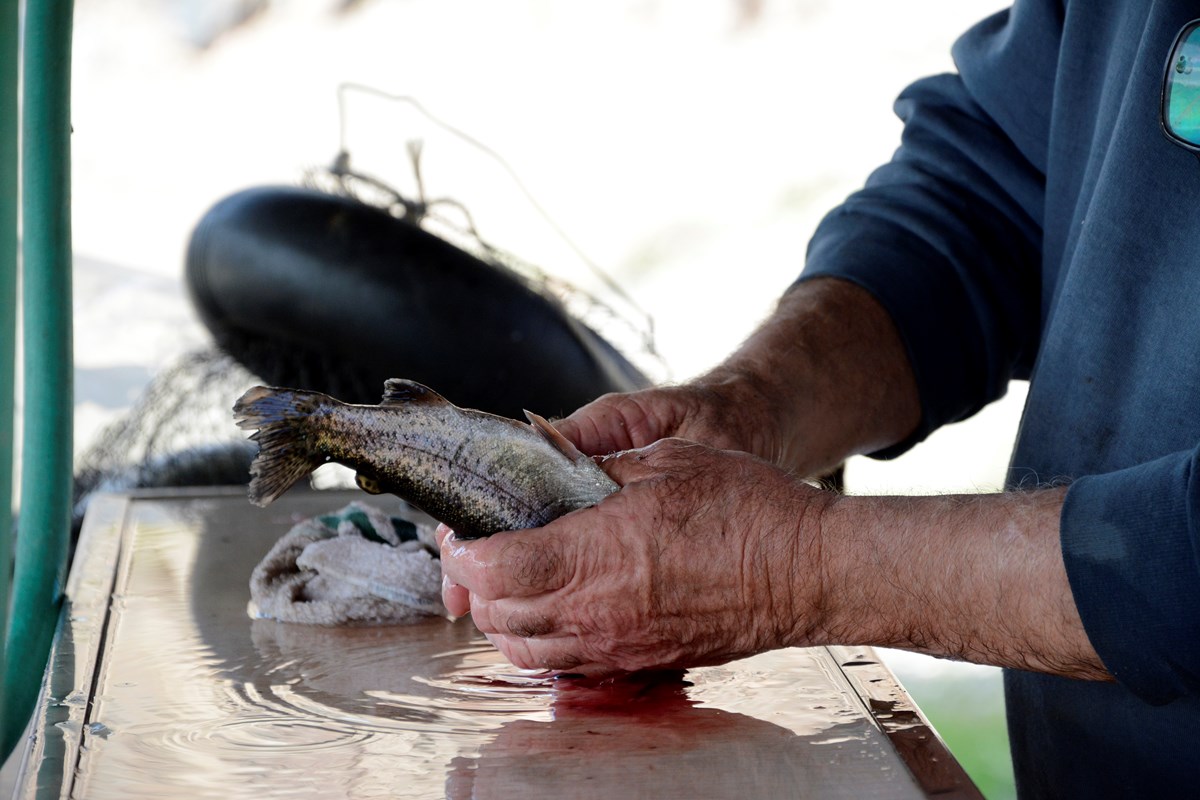 Fish cleaning stations are available at Hemenway Harbor, Las Vegas Bay, Callville Bay, Echo Bay and Temple Bar on Lake Mead and at Willow Beach, Cottonwood Cove and Katherine Landing on Lake Mohave. Please dispose of fish guts properly. Please do not place them on the ground or feed them to wild animals.
Arizona
A person may fish with two poles with the purchase of a stamp. Each line may not contain more than two hooks or two lures or two artificial flies.
Arizona Game & Fish Dept.
5325 N. Stockton Hill Rd.
Kingman, Arizona 86401
(928) 692-7700
Nevada

A person may fish with a second combination of hook, line and rod, if he/she has in their possession a "Second Rod Stamp" in addition to a fishing license.

No more than three baited hooks or fly hooks or two lures or plugs may be used attached to a single line.

The fishing rod must be closely attended when the line is in the water.

Nevada Division of Wildlife
4747 Vegas Drive
Las Vegas, Nevada 89108
(702) 486-5127
Additional Information
POSSESSION LIMITS
Please refer to the State Fishing Regulations for possession limits.
ETIQUETTE
Please clean your catch at the fish cleaning stations located at most of the marinas.
HOURS AND SEASON
Both lakes are open to 24-hour fishing year round.
JUVENILE FISHING
■ In the state of Nevada, fishing licenses are not required for children under 12 years old.
■ In the state of Arizona, fishing licenses are not required for children under 14 years old.
PROTECTED SPECIES
Several protected species of fish are found in the Colorado River System. Two of these, the razorback sucker and bonytail chub, may be found in the lakes. If these fish are caught, they should be returned to the water. Please report the catch to the National Park Service Resource Management office at (702) 293-8950.
CLOSED WATERS
■ There is no fishing within the posted boundaries of state or federal fish hatcheries.
■ There is no fishing within those areas immediately above and below Hoover Dam.
■ There is no fishing within areas designated as harbors.
Invasive Mussel Found at Lake Mead NRA
Live quagga mussels (a nuisance invasive species closely related to, and commonly referred to as zebra mussels) were discovered in Lake Mead and Lake Mohave. In order to not spread the mussel to other bodies of water, please follow the suggestions below. Effective ways boaters (including personal watercraft, canoe, and kayak users) and fisherman can ensure that their boats, vehicles, trailers and other equipment do not spread the mussels to other waters:
1. Drain the water from your motor, live well, and bilge on land before leaving the immediate area of the lake.
2. Completely inspect your vessel and trailer, removing any visible mussels, but also feel for any rough or gritty spots on the hull. These may be young mussels that can be hard to see.
3. Wash the hull, equipment, bilge and any other exposed surface with hot, soapy water or use a 5% solution of household bleach.
4. Clean and wash your trailer, truck or any other equipment that comes in contact with lake water. Mussels can live in small pockets anywhere water collects.
5. Air-dry the boat and other equipment for at least five days before launching in any other waterway. Do not reuse bait once it has been exposed to infested waters.
Last updated: September 6, 2017