Qizhjeh Vena (Lake Clark)
Qizhjeh Vena (now known as Lake Clark) is the largest lake located in Lake Clark National Park and Preserve in southwest Alaska. The most populuated town on Lake Clark today is Port Alsworth (60°11.842N, 154°19.357W).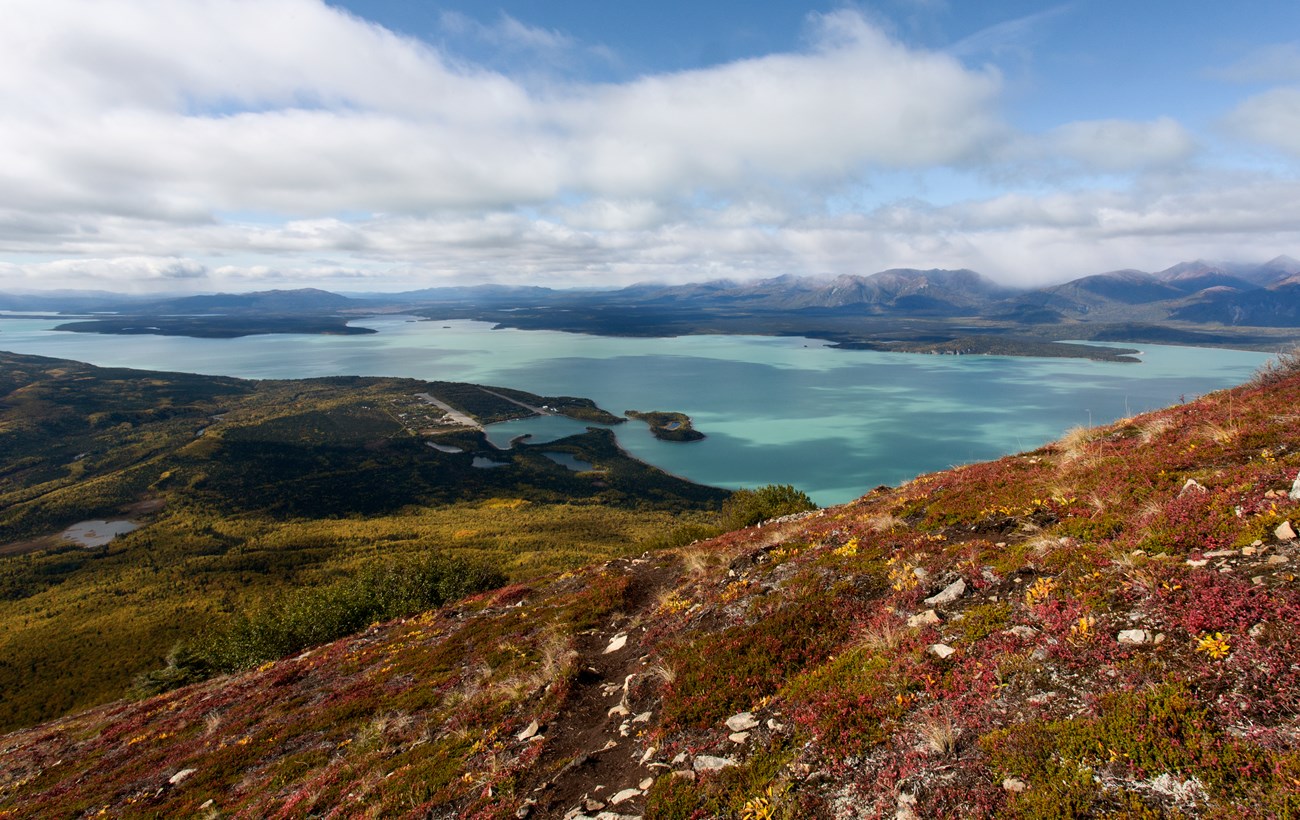 Natural History
Lake Clark was formed by glaciers more than ten thousand (10,000) years ago during the close of the last ice age. During this period of warming, glaciers and ice fields rapidly melted, carving away at the bedrock underneath. This left deep crevases in the earth creating mountains and valleys. Some of these valleys have filled with water and are now lakes.

Glacial lakes are characterized by their length and width, typically being long, narrow, deep and surrounded by mountains. As glaciers melt and receed they leave behind lakes and rivers. Many glaciers that were left behind in the last ice age still exist today in the mountains surrounding Lake Clark. Their water drains into rivers and into surrounding lakes, giving the water a turquoise color. The color comes from glacial "flour," the fine silt that stays suspended in the water.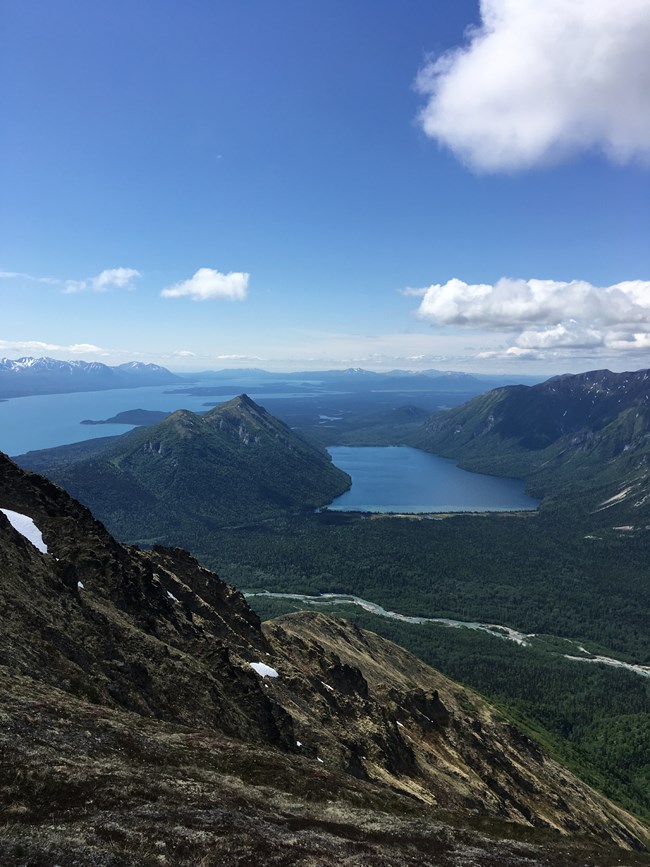 Cultural History
A Place Where People Gather
Lake Clark is rich in human history. The first human settlers came to the region shortly after the close of the ice age, more than 10,000 years ago. Early humans came to this area because of its rich resources, including salmon, caribou, moose, and edible plants. Many plants and animals are still harvested today.
One of the largest early human villages was situated on Lake Clark and was called Qizhjeh 'place people gather.' The lake was referred to as Qizhjeh Vena, 'place people gather lake.' The village of Qizhjeh was a bustling hub of human activity. For nearly 900 years, Qizhjeh thrived on the shores of Qizhjeh Vena. The resources of Qishjeh Vena supported the village's needs for food and water. The
Dena'ina
people of Qizhjeh established strong cultural connections to the land, water, and wildlife.
Qizhjeh was a sprawlling village covering more than 25 acres of land. People traveled from around the region to connect in Qizhjeh to trade. Well established routes between Qizhjeh and villages to the west, north, and east connected local communities in the region and facilitated trade.
European American settlers started to inhabit the areas around Qizhjeh in the late 1800's. In 1902 residents of Qizhjeh fell sick with a flu-measles epidemic. Survivors of the outbreak left Qizjheh for Old Nondalton, 25 miles to the southwest. Qizhjeh was completely abandoned by 1909. Today Qizhjeh, also known as historic
Kijik Village
, is a National Historic Landmark managed by Lake Clark National Park and Preserve.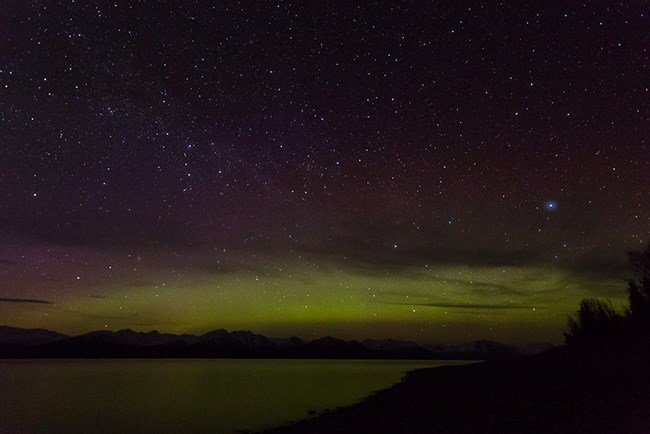 A Place People Still Gather
Qizhjeh Vena (Lake Clark) today
Today, there are still people inhabiting the area around Lake Clark. Villages like Nondalton, Port Alsworth, and privately owned cabins around the lake boast a population of around 300 (according to the 2010 census). The lake and its resources are still used by Dena'ina people today as well as non-Dena'ina people living and subsisting around the lake.

In addition to a number of people living in the area year round, Lake Clark sees an influx of visitors throughout the summer months. People from around the world come to Qizhjeh Vena to recreate in the remote intact wilderness and soak in the natural wonders.
Lake Clark Quick Facts
Elevation: 254 ft
Maximum Depth: 870 ft
Length: 41 miles
Width: range from 1-4 miles
Fish species: king salmon, pink salmon, sockeye salmon, arctic char, arctic grayling, lake trout, rainbow trout, burbot, dolly varden, northern pike
Mammals: moose, brown bear, black bear, showshoe hare, lynx, gray wolf, coyote, wolverine, arctic ground squirrel, beaver, muskrat, Dall's sheep
Some birds: willow ptarmigan, tundra swan, black-capped chickadee, house sparrow, common merganser, bufflehead, mallard
Amphibian: wood frog
Some Insects and arachnids: mosquitoes, woolly bear caterpillar, wolf spider, arctic bumblebee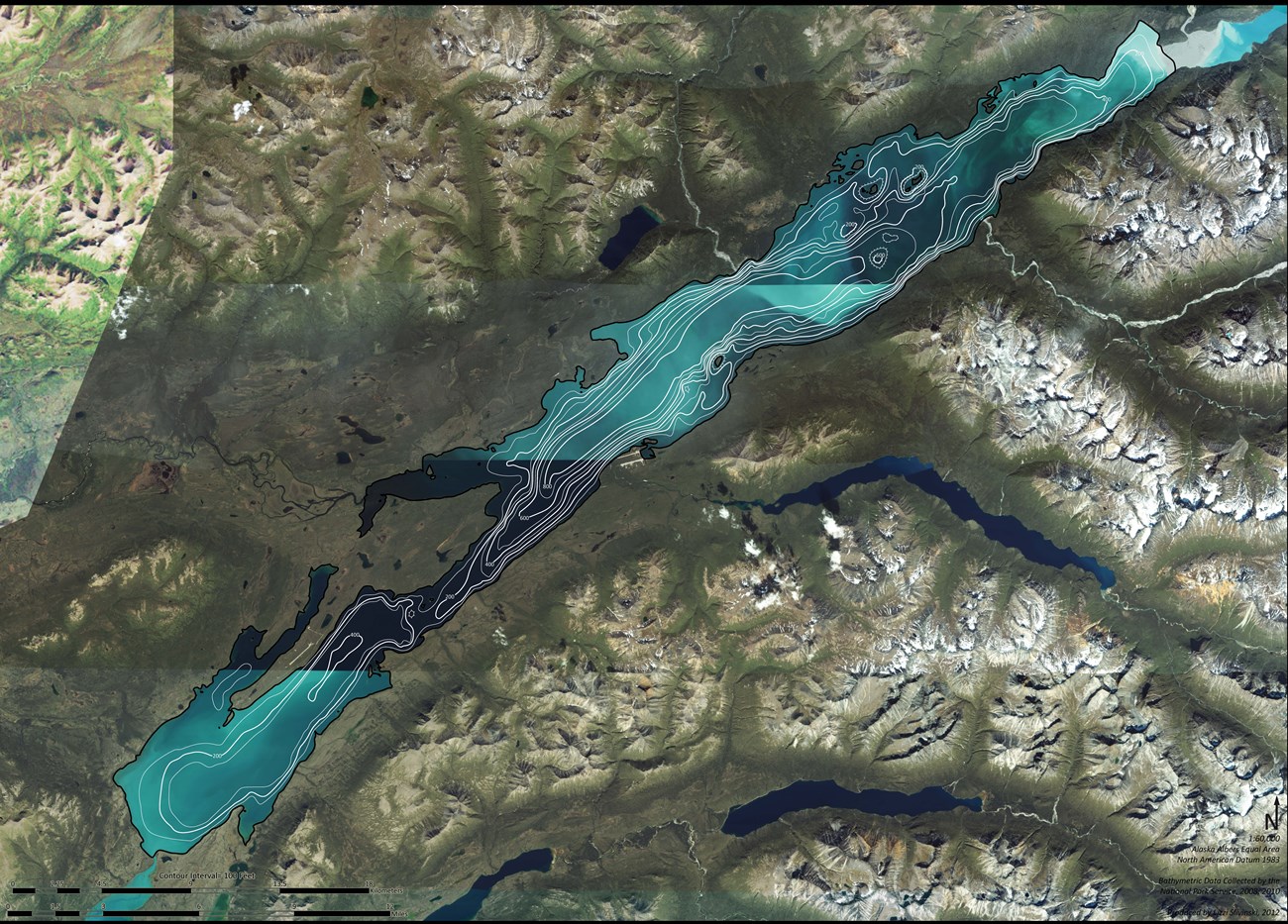 ---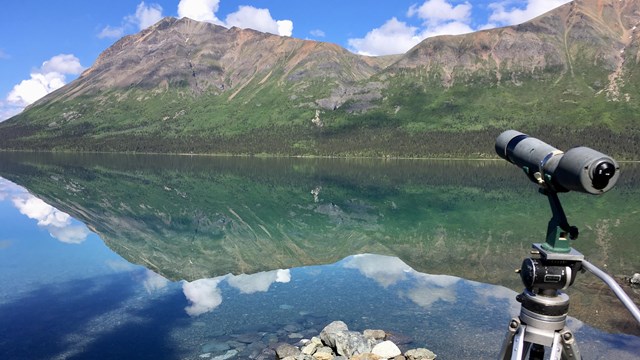 Basic Trip Planning
Find information about fees, passes, permits, reservations, operating hours and seasons, current conditions, weather, and pet policies.
Port Alsworth
Port Alsworth offers visitor services such as lodging, air taxis, guide services, gear rentals, post office, and park visitor center.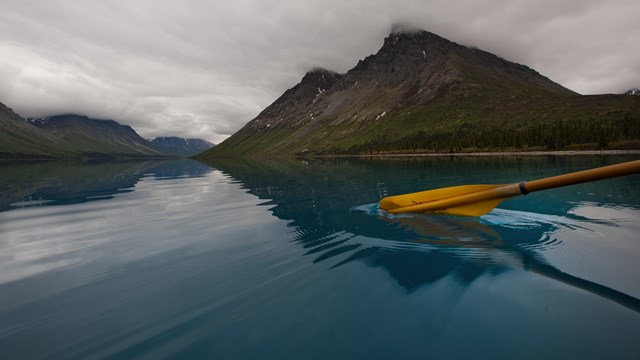 Things to Do
Wilderness adventure is easy to find in Lake Clark. These suggestions may help you figure out what you want your adventure to be.
Last updated: December 5, 2022