Sheep Camp
Visit our keyboard shortcuts docs for details
Duration:

2 minutes, 37 seconds
Using traditional log cabin construction techniques, the park's maintenance team rebuilt a backcountry shelter. This log cabin provides shelter and a connection to history for Chilkoot Trail hikers.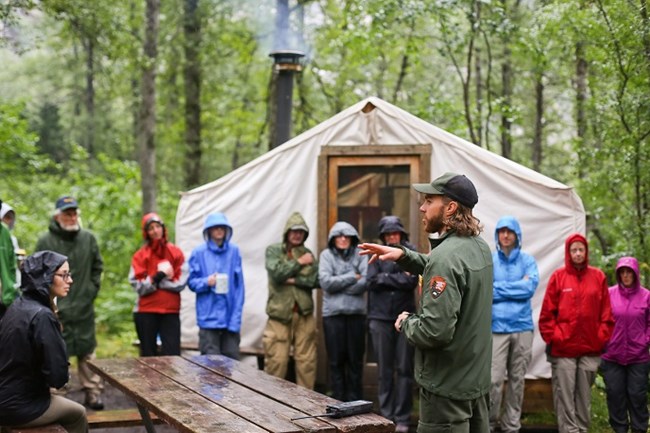 Sheep Camp is the last campground on the U.S. side of the trail before the trail summit. As a result it is a popular campsite in the peak summer months and can be fully booked. Sharing facilities and hiker etiquette are essential all long the trail.

Sheep Camp is the location of the National Park Service backcountry ranger station, a quarter mile from the campground. Each evening a ranger will gives a presentation in the campground providing an update on current trail conditions, tips for the trail, and some history of the area. Explore current weather conditions at Sheep Camp and Chilkoot Pass.

During the summer Sheep Camp also hosts presentations by the Chilkoot Trail Artists in Residence. Check with the Trail Center before you hike to see if your trip overlaps with the artists.

Learn about the history of Sheep Camp.
Location
Country: United States
Mile marker: 13
Kilometer marker: 20.9
Site elevation: 1,058 ft
Campsites: 25 sites, wooden platforms. Platforms are 10ft x 10ft, have places to tie securing lines, and can be used for multiple tents.
Warming shelter: Sheep Camp has a variety of camper shelters. There is a canvas walled tenty with a wood burning stove. A large covered, but open air picnic shelter is great for meals and the site of the evening ranger program. In 2018 the National Park Service restored a 1960s era log cabin, also with wood stove. Note: sleeping in shelters is not permitted.
Food storage: bear boxes
Toilet: 3 composting outhouses
Water source: Taiya River located a short distance from the campground
Grey water disposal: pack out all food scraps, dispose of grey water into fast moving water to practice Leave No Trace

Last updated: November 1, 2019