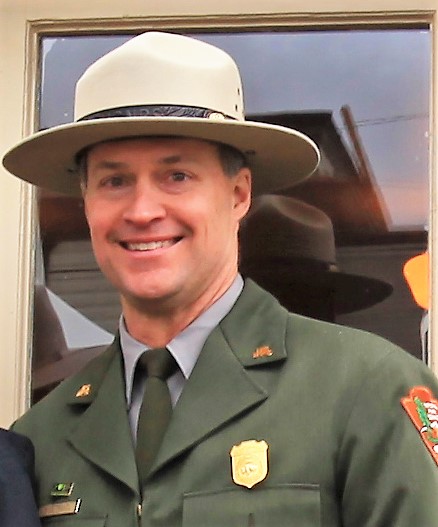 News Release Date:
March 15, 2018
Contact: Mike Tranel, 907-983-9216
Skagway — Mike Tranel, a 33-year veteran of the National Park Service (NPS), has been named superintendent of
Bighorn Canyon National Recreation Area
and group superintendent of the eastern Montana-Wyoming Group of parks by NPS Intermountain Region Director Sue Masica.
Tranel, who grew up on Wyoming and Montana ranches not far from Bighorn Canyon, will directly oversee the two-state recreation area and supervise the superintendents of three historically significant NPS units in the region:
Little Bighorn Battlefield National Monument
in Montana and
Devils Tower National Monument
and
Fort Laramie National Historic Site
in Wyoming.
He has served for the past 7 years as superintendent of Klondike Gold Rush National Historical Park in Skagway, AK. He will transfer to Bighorn Canyon in late May.
Tranel has worked for NPS parks in Alaska for the past 25 years. He recently served as acting associate director in the Alaska Regional Office. He served previously as acting superintendent at Jewel Cave National Monument in South Dakota and Cape Lookout National Seashore in North Carolina. He also has worked in Denali National Park & Preserve, Timpanogos Cave National Monument in Utah, Gulf Islands National Seashore and Ocmulgee National Monument in Georgia, where he started in the NPS in 1985 as a park interpreter. 
During his time at Klondike, Mike has led the park through several changes such as completely new museum exhibits, new welcome signs in Skagway, a "cribs" exhibit of historic buildings, a grand opening of the Jeff. Smiths Parlor Museum, and installing a locally-designed stampeder sculpture next to the historic Itjen House. Planning for the Dyea Area was finalized in 2014 with improvements such as a new trail system in the historic townsite being completed last fall. 
"Thanks to employees who care a great deal about their community, the park, and helping each other, we've been able to accomplish a lot over the past seven years," Tranel said. "I will always treasure the experience of having worked with them, the historic charm of Skagway, and the iconic Chilkoot Trail. It's been an honor and a privilege to be part of this community—the best place I've ever lived." 
"While my family and I have enjoyed living in Alaska—especially Skagway—very much and consider it home, I can't pass up an opportunity for promotion to the area in which I grew up and in which we'll be surrounded by extended family. I look forward to the new challenges in managing this group of parks, and my experience at Klondike will help a lot."
Tranel grew up one of 10 siblings near Big Horn, WY and Ashland and Broadview, MT. His first visit to a national park was a second-grade class trip to Little Bighorn.
Tranel attended St. Labre School in Ashland, graduated from Billings Central High School, and earned bachelor's and master's degrees at the University of Notre Dame and the University of Iowa, respectively.
He will move to Wyoming and Montana with his wife, Mary Tidlow, and their daughters Abigail and Olivia. Tidlow also works for the National Park Service as an architect in the NPS Park Facilities Management Division. Tranel's daughter Kelsey, who grew up in Denali, lives and works with her husband in Anchorage, AK.