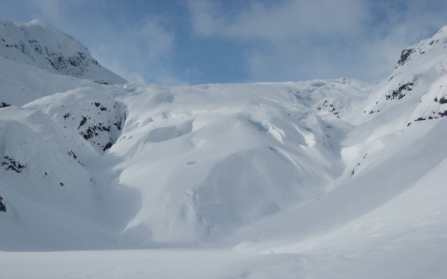 Once the road to Exit Glacier is snow-covered and closed to cars, it is accessible by fat bikes, cross-country skis, snowmobile, dog sled, and more. Winter recreation generally starts in early November and the snow can last into May. This can vary greatly from season to season, so be sure to check on current conditions before starting out.
Winter is one of the best times of year to spot moose at Exit Glacier. Enjoy viewing them from a distance, since they are likely to be stressed in this season of food scarcity.

Remember: From the first gate, Herman Leirer Road is unmaintained during the winter. Traveling beyond to the Exit Glacier Area is a further 7 miles (11.5 km). If continuing to the Exit Glacier Area, it is important to be prepared for minimal daylight and winter weather conditions.