Willow Winter Public Use Cabin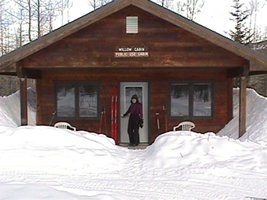 If you crave solitude, and enjoy the rigors of Alaska in the winter time, the Willow Cabin at Exit Glacier is a wonderful place to stay and experience the beauty of Kenai Fjords in the winter time!
Getting there: Willow Cabin can be reached by cross-country skis, bicycle, snowshoes, dogsled, and snowmobile, once snowmobile access has been approved for the season. The road to Exit Glacier is usually closed at the Box Canyon Gate, 1.5 miles off the Seward Highway. From there it is approximately 7 miles to the cabin, but you may have a shorter ski if the road is still open to the Forest Service or National Park Service boundary. Be sure to park at the turnoff before the gate. Keep the gate clear for access by mushers and emergency vehicles.
Reservations: Reservations are required and can be made by calling 907-422-0500. We will begin accepting reservations for cabin use on October 16 for the coming winter season. The cabin is available for use from mid-November to mid-April depending on weather and road conditions. Each reservation is limited to no more than three nights. A full day will be between different reservations. Occupancy begins and ends at noon.
Cost: $50 per night.
Cancellation Policy: Reservations must be canceled at least 10 days in advance to receive a refund or credit, unless the cabin is inaccessible due to weather. Refunds are only available for reservations made using an approved credit card. Credits may be applied to the current season only on a space available basis.
Facilities: Willow Cabin is equipped with propane heat, as well as propane fueled stove, oven, refrigerator, and lights. The cabin is fully furnished with table and chairs, a couch and bunk beds with mattresses. It has two bedrooms and sleeps up to four people. Basic cooking utensils, pots and pans, and flatware are provided. A pit toilet is located near the cabin. There is no running water - visitors need to melt snow or carry in drinking water. The park will not be providing cleaning supplies or sanitizer. No pets are allowed in the cabin.
Cabin rules and other considerations:
Pets are NOT allowed in public use cabins or on the trails at Exit Glacier. Exceptions will be made for service dogs that are individually trained to do work or perform tasks for people with disabilities.
Dogs MUST be leashed or harnessed at all times. Animals, such as moose, are stressed by cold temperatures and deep snow, and have been known to charge, run down, injure, or kill dogs.
Secure food, garbage and other scented items inside the cabin at all times. Food storage violations could result in immediate termination of the cabin permit and a fine.
Take all trash and remaining food with you when you leave.
Smoking is not permitted inside public use cabins and other government facilities. If you do smoke, keep it outside and pack out all cigarette butts along with other garbage.
Hunting and trapping are not permitted in Kenai Fjords National Park.
Turn down the heat when you leave; you can leave the heater on.
You will be responsible for bringing your own cleaning supplies and sanitizer.
Report any problems to the caretaker residing at the Alder Cabin. In their absence, report to a park rangers or contact Park Headquarters upon your return.


Last updated: October 11, 2023