Boat Tours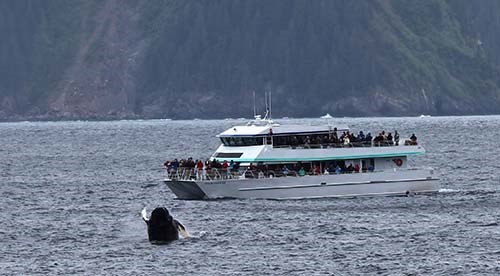 Kenai Fjords can be a challenging place to visit, with much of it only accessible from the water. The waters around Kenai Fjords and Resurrection Bay provide a unique experience, whether seeing the awe-inspiring power of a tidewater glacier and the expanse of the Gulf of Alaska or spotting any of the numerous birds and marine mammals who call these food-rich waters their summer home. A boat tour can provide all of this and more from the safety and comfort of a motorized vessel.
Boat tours depart Seward's small boat harbor daily in the summer months. It's a good idea to make reservations in advance. Several companies provide a variety of tour options, schedules, and amenities. Full-day tours that venture out to the park's tidewater glaciers are available as well as half-day tours that stay in the more protected waters of Resurrection Bay while giving you a taste of the park's wildlife and scenery.
In the summer, park rangers provide narration on many of the cruises offered by Major Marine Tours and present programs daily at Kenai Fjords Tours' day lodge located on Fox Island. During the shoulder seasons and winter months, some companies offer tours traveling the shorter routes in Resurrection Bay. The Seward Chamber of Commerce may have more information on smaller charter boats which may also be available.


Last updated: February 2, 2018