Public Use Cabins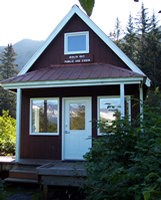 Consider staying in one of the park's three public use cabins. These cabins provide a great opportunity to stay overnight in Kenai Fjords. You can experience the solitude and enjoyment of your park, no matter the season, while still enjoying a roof over your head.
Two coastal public use cabins are available on the Kenai Fjords coast during the summer months (generally Memorial Day to Labor Day).

The Willow public use cabin may be reserved during the winter (typically mid November - mid April). Reservations are required and can be made by calling 907-422-0500. Reservations open up on October 17, 2022.
Last updated: September 14, 2022