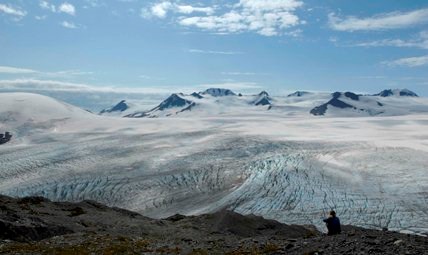 The trail is strenuous! Hikers gain approximately 1,000 feet of elevation with every mile. Allow at least 6-8 hours for the hike. Although the view from the top is well worth the effort, you need not hike all the way to the top to experience the wonders of this trail. A short hike up the trail affords impressive views of the valley floor and Exit Glacier's terminus.
View a map of the Harding Icefield Trail (367 KB)
Be prepared! Check on trail conditions before starting out - the upper portion of the trail is often covered with snow through early July and there may be avalanche danger. Be prepared for storms, high winds, intense sunlight, and sudden temperature changes. Bring warm clothes, rain gear, sturdy footwear, sunglasses, and sunscreen. Carry plenty of water (at least 2 liters per person), or bring along a filter - untreated water from streams along the trail may contain Giardia, a parasite that can cause severe abdominal distress.
Stay on the trail. Alpine vegetation is extremely fragile. Careless hikers who cut switchbacks, along with frequent summer rains, cause tremendous erosion. Volunteers help restore and maintain this trail every year. Please respect their hard work by sticking to the trail.