Good Climbing Practices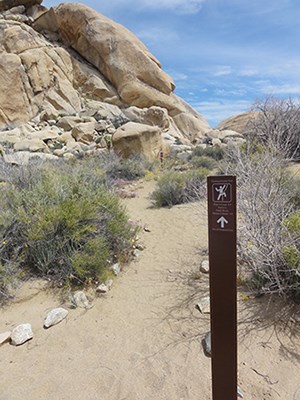 Get to know the seven Leave No Trace principles, and act in accordance with them. This page details some guidelines specific to climbing in Joshua Tree.
Stay On Defined Trails
Multiple paths to the same cliff or boulder, or "social trails," damage vegetation, destroy animal burrows, and promote the spread of exotic plants. Paths to popular climbing areas are marked with brown posts (as shown on right). Please follow these marked trails or, when not marked, the most defined trail.
Don't Bust The Crust
Biological soil crusts contain a complex community of micro-organisms that help to keep the sand in place and provide nutrients and moisture so plants can grow. Thick crusts can be seen as lumpy black areas, much like fungus. When you walk on these living soils, the micro-organisms die. So please don't "bust the crust" by creating another social trail—even if it is the shortest distance to your climb.
Climb Clean
Some of Joshua Tree's climbing areas are in designated wilderness. By law, these areas must remain "with the imprint of man's work substantially unnoticeable."
Avoid altering the rock by "nailing" or "gardening."
Never fabricate holds or change the nature of established climbs.
Do not anchor or tie-off on vegetation.
Use neutral or rock-colored stainless steel fixed anchors and corresponding hangers, rappel rings, quick links, and chains.
Be Considerate of Other Visitors
Don't disturb the natural quiet of Joshua Tree by playing loud music.
Ask for permission if you wish to climb in an occupied campsite.
Limit the size of your group and share the rock.
Never leave a top-rope unattended.
Reduce Your Impact When Bouldering
Place your crashpad carefully at the base of the boulder.
Carry your crashpad rather than dragging it.
Minimize the size of your group.
Don't cut or break tree limbs, remove lichens, or damage vegetation.
Clean off chalk holds and tick marks when you are done.
Leave Your Dog at Home
Having your pet at the crag is not encouraged. However, some people choose to roadtrip with their pets. To improve your park experience, consider leaving your pet with a local pet sitter or assigning a friend to pet sit at your campsite. There are several pet boarding houses to choose from in the local area.

If you do choose to explore the park with a pet, know these rules:
Pets must be on a maximum length 6 foot leash.
Pick up after your pet. Leave no trace.
Do not leave your pet in an unattended vehicle, even for short periods of time.
Pets are only permitted within 100 feet of a road, picnic area, or campground.
Keep in mind, 100 feet is the length of half of a 60 m climbing rope and there are very few climbing or bouldering areas and no highlines within 100 feet of a road. If your dog is at the base of a climb while your partner is bringing you up, then your dog is unattended.
Your canine companion may be a model of good behavior, but dogs are predators and their mere presence stresses wildlife. Dog waste poses the same disposal problems as human waste, and even a tied dog can destroy vegetation. These rules are set up to protect your pet, other visitors, and foremost the native wildlife.
Climbing Areas Accessible with a Dog
The following areas are within 100 feet of a road, picnic area, or campground.
Belle Campground: Castle Rock
Hidden Valley Campground
Indian Cove Area: Billboard Buttress, King Otto's Castle, Pixie Rock, and Short Wall
Quail Springs Area: Trash Can
Service Animals
The 2010 revision to Title II of the Americans with Disabilities Act (ADA) defines a "service animal" as an animal that has been individually trained to do work or perform tasks for the benefit of an individual with a disability, including a physical, sensory, psychiatric, intellectual, or other mental disability.

Animals that are not trained to perform tasks that mitigate the effects of a disability, including animals that are used to provide comfort or emotional support (e.g. therapy animals), are considered pets and not service animals.

Service animals in training and pets are subject to the park's pet regulations and are not allowed on trails or more than 100 feet (30.5m) from any road, picnic area or campground. Falsely portraying a pet as a service animal is considered fraud and is subject to federal prosecution under 36 CFR. 2.32(a)(3)(ii).

To learn more, visit our Accessibility page.
Last updated: December 18, 2018