Accessibility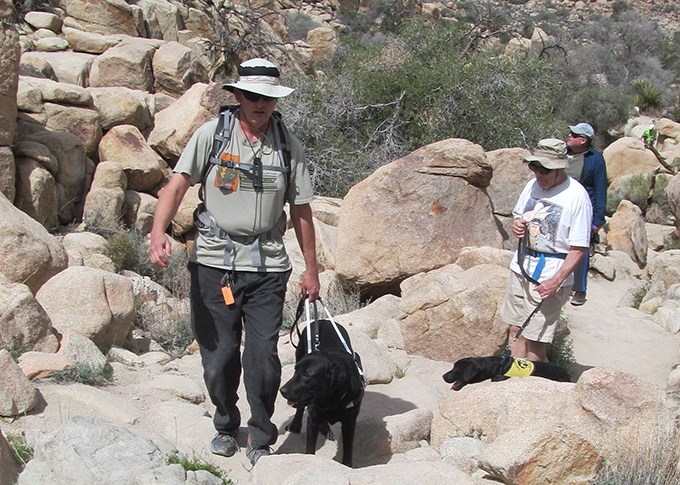 This page contains information about accessibility in Joshua Tree National Park and may help you plan your visit. If a particular service or issue is not mentioned below and you have questions, please
contact us
.
U.S citizens or permanent residents with permanent disabilities qualify for the
Interagency Access Pass
, which provides free or discounted access to over 2,000 Federal recreation sites.
Physical/Mobility Accessibility
The following facilities and destinations are ADA-compliant:
Accessible sidewalk and vegetation garden area at Oasis Visitor Center
Accessible desks at Black Rock, Cottonwood Visitor Center, Oasis Visitor Center, Joshua Tree Visitor Center
Low exhibit displays at Joshua Tree and Oasis Visitor Centers
Oasis of Mara Trail in Twentynine Palms
Keys View Overlook
Jumbo Rocks Campground: site 122
Black Rock Campground: site 61
Cottonwood Campground: amphitheater accessible from Loop A
Other Areas
Intersection Rock parking area: accessible sidewalk for access to wayside exhibits and pit toilets
Hidden Valley picnic area: accessible sidewalk for access to wayside exhibits and pit toilets
Service Animals
Definition of a Service Animal
The 2010 revision to Title II of the Americans with Disabilities Act (ADA) defines a "service animal" as an animal that has been individually trained to do work or perform tasks for the benefit of an individual with a disability, including a physical, sensory, psychiatric, intellectual, or other mental disability.

Animals that are not trained to perform tasks that mitigate the effects of a disability, including animals that are used to provide comfort or emotional support (e.g. therapy animals), are considered pets and not service animals.

Service animals in training and pets are subject to the park's pet regulations and are not allowed on trails or more than 100 feet (30.5m) from any road, picnic area or campground. Falsely portraying a pet as a service animal is considered fraud and is subject to federal prosecution under 36 CFR. 2.32(a)(3)(ii).
Things to Know
Where domestic animals and wildlife overlap there is a possibility of exchanging diseases between them. Domestic dogs have introduced disease into wildlife populations and the park's native canids (coyotes, and foxes) are vulnerable to domestic diseases such as canine distemper, parvovirus, rabies, mange, etc. Likewise it's possible for domestic dogs to acquire these diseases from wild animals.

To further prevent the spread of disease:
Service animals must always be leashed or harnessed, under control, and attended at all times. Additionally, all dogs must comply with state and county regulations regarding vaccinations and licensing.
Pet food is a wildlife attractant and should be stored accordingly. Food and food containers must never be left unattended and must be kept out of reach of wildlife.
Service animal fecal matter must be picked up and disposed of properly. Fecal matter should be disposed of in a trash receptacle or if not readily accessible (such as in the backcountry) it should be buried in a cat hole dug a minimum of 6 inches deep and a 200 feet from water sources, campsites, or trails.
Working to Improve Access for All
Joshua Tree National Park welcomes everyone and seeks to create an inclusive environment for everyone to experience. Please contact us if you have questions or concerns about accessibility.
Last updated: April 17, 2019