Keep Wildlife Wild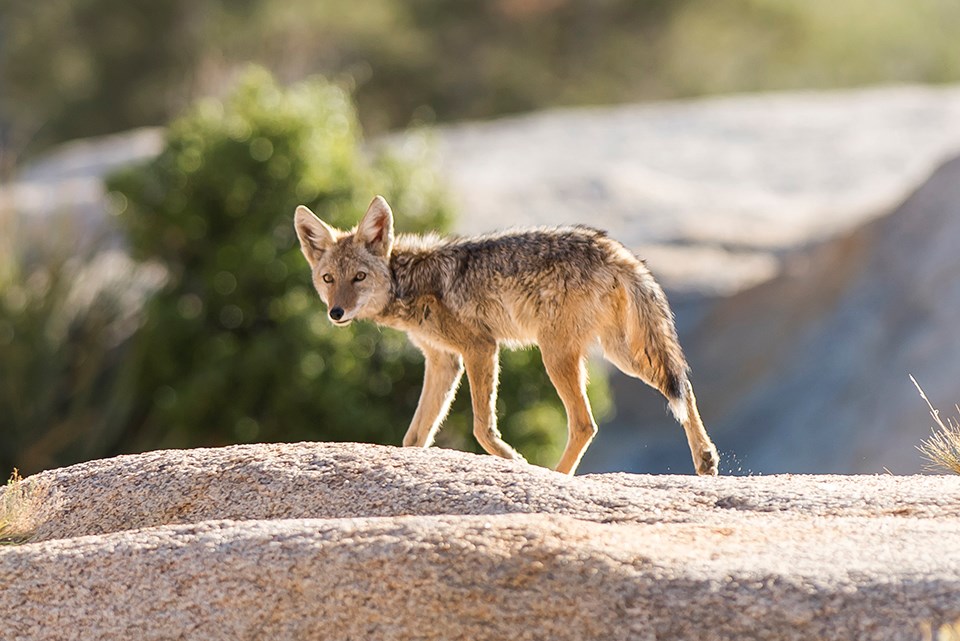 For Your Safety and Theirs
Joshua Tree National Park is a sanctuary and home for wildlife. Enjoy viewing these incredible creatures, but remember that this is their home and we are the visitors. It is illegal and harmful to people and wildlife to approach, feed, handle, capture, or harass any wild animal in the park. If you treat wildlife with respect by not approaching or feeding them, you are helping them live natural lives. By keeping wildlife wild, you are protecting their safety and yours.
Follow Leave No Trace principles to ensure your actions do not have a lasting impact on the park and its wildlife.
Find additional information about wildlife viewing at national parks by visiting Smart Wildlife Watching.
Do Not Feed Wildlife
Feeding wild animals disrupts their lives and is dangerous to people. The saying "a fed animal is a dead animal" is unfortunately very true at Joshua Tree. These animals are well adapted to desert life and do not need human food to survive.
Animals "begging" for food are more likely to be in roadways and hit by cars.
If fed regularly, animals will stop foraging for themselves and often starve to death.
Wildlife accustomed to feeding lose their fear of humans, which can lead to aggression.
Secure your food: keep edibles in your car or hard-sided container. Place all garbage in bins.
If wildlife is approaching people, contact the nearest ranger.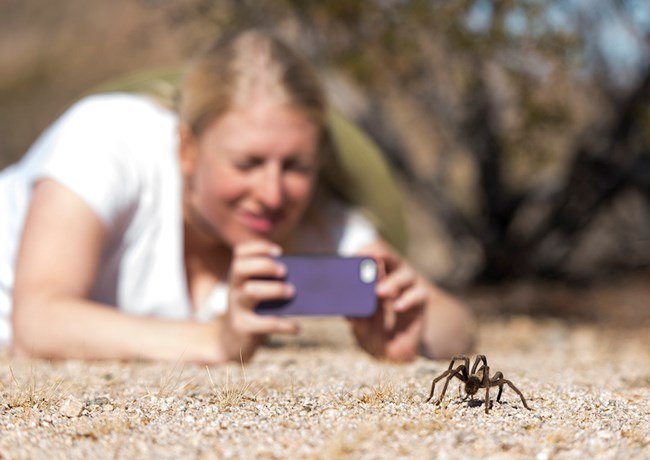 Keep Your Distance
Enjoy the rare opportunity to view a wild animal in its natural habitat, but don't get too close! Getting too close to them can stress the animal which then interferes with their natural behavior. A good rule of thumb is that you are too close to an animal if your presence causes them to move.
All wildlife in national parks are protected by federal law and violation of this can result in a fine.
Important Reminders for Viewing Wildlife at Joshua Tree National Park
The use of artificial light to view wildlife, known as spotlighting, is prohibited.
Pets must remain leashed at all times and are not permitted on trails (except the Oasis of Mara trail in Twentynine Palms).
Keep a minimum 75 feet (23 meters) distance between yourself and bighorn sheep. Increase this distance if your presence alters their behavior.
Do not touch, pick up, or harass desert tortoises. Move them from roads only if they are in imminent danger of being killed by a vehicle. Watch this short video: When and How to Move a Tortoise
If you encounter a sick or injured animal, do not approach it. Contact the nearest ranger.
Last updated: February 5, 2019