Backpacking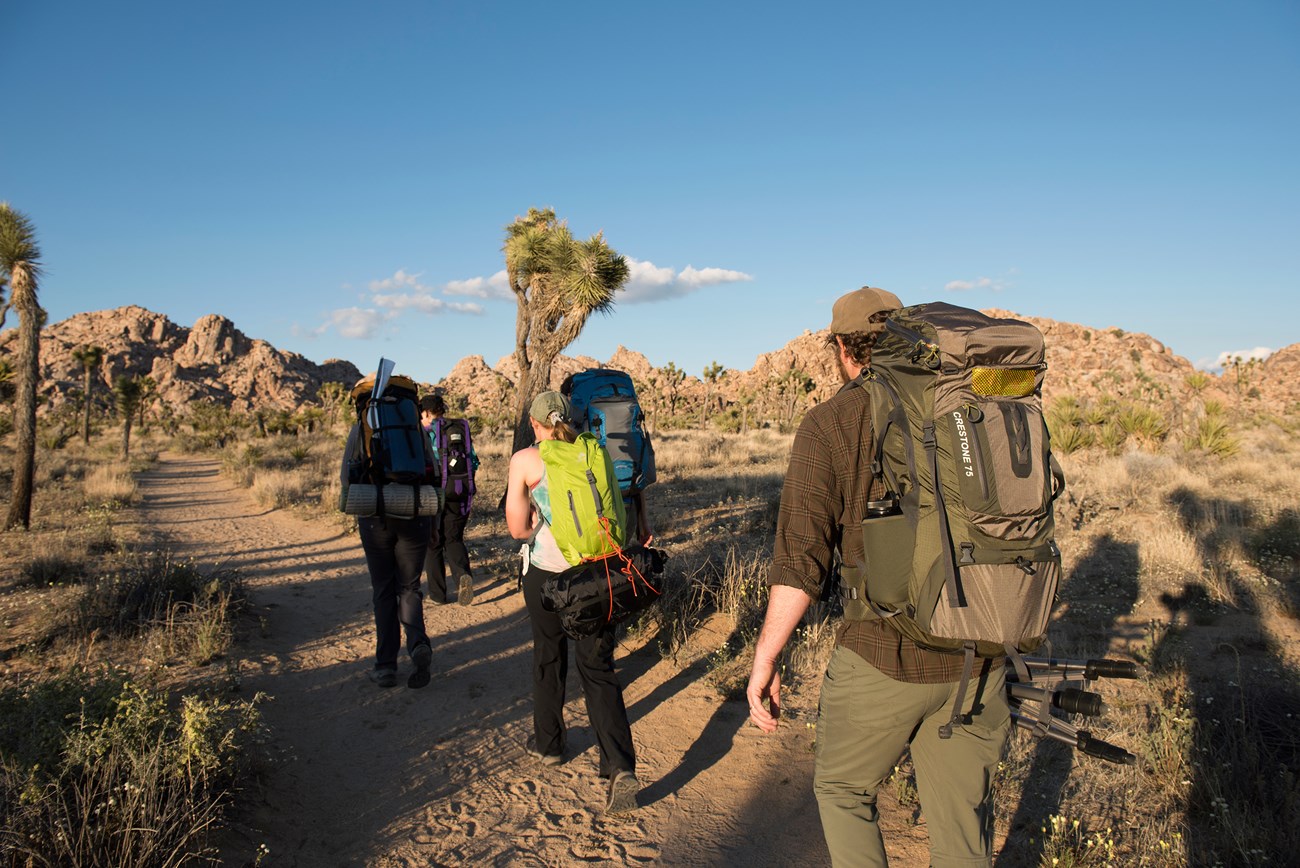 With stunning landscapes, scenic vistas, and hundreds of square miles of designated wilderness, Joshua Tree National Park offers outstanding backpacking opportunities. It gives visitors the chance to find solitude, view seldomly seen areas, and experience nature on its own terms. By observing the guidelines below, you can help protect the national park and have a safer experience. Backpacking is only recommended for those with the proper backcountry skills and gear. It not recommended for unprepared campers who could not find a site at a campground. Camping is only permitted in specified backcountry areas and designated campgrounds. Camping is not allowed at trailheads, along roadsides, and in day-use areas. If you have questions, ask a ranger or call the permit office at 760-367-5554. It is your responsibility to know and abide by park regulations.
Permits
A permit is required for all overnight stays in the backcountry. A permit costs $6 and allows for a group size of 1 to 12 people to stay up to 14 nights. Permits may be booked up to 6 months in advance. They can be acquired in one of three ways:

1. Visit Recreation.gov and book a permit online.
2. Call 1-877-444-6777 and book a permit through a Recreation.gov agent.
3. Visit the permit office at our headquarters located at 74485 National Park Dr, Twentynine Palms, CA. It is located in office building 100 near the flag pole. The permit office is open 8 am–4 pm. In person same day permits will be available up until 4 pm at the permit office. Permits may be subject to change based on demand and staff availability.

The use of yellow, self-registration permits is prohibited.
Zones
When booking a permit, you are required to camp within one of fifteen zones. For most zones, there is no limit to the number of permits available. To camp in the high-use Boy Scout zone, backpackers must camp in one of the 14 designated sites. If you do not have a permit for a zone, you are welcome to backpack through the zone, but may not camp in the zone. For all other zones, campsites must be
at least 1 mile from any backcountry trailhead
at least ½ mile from any road
and at least 200 feet from any trail
Camping is not allowed in day-use areas. To view where camping is allowed, check out the maps on the zone webpages.
Parking
Overnight backpackers may only leave their vehicles at backcountry trailheads or outside of the park. When filling out a permit, you will choose your entry and exit points from a drop-down menu of the 13 backcountry trailheads. If vehicles are left in day-use parking or left along side of the road, they will be subject to a fine and/or towing. If parking outside of the national park, you are responsible for knowing where to legally park. To avoid trailhead parking congestion, please carpool into the park.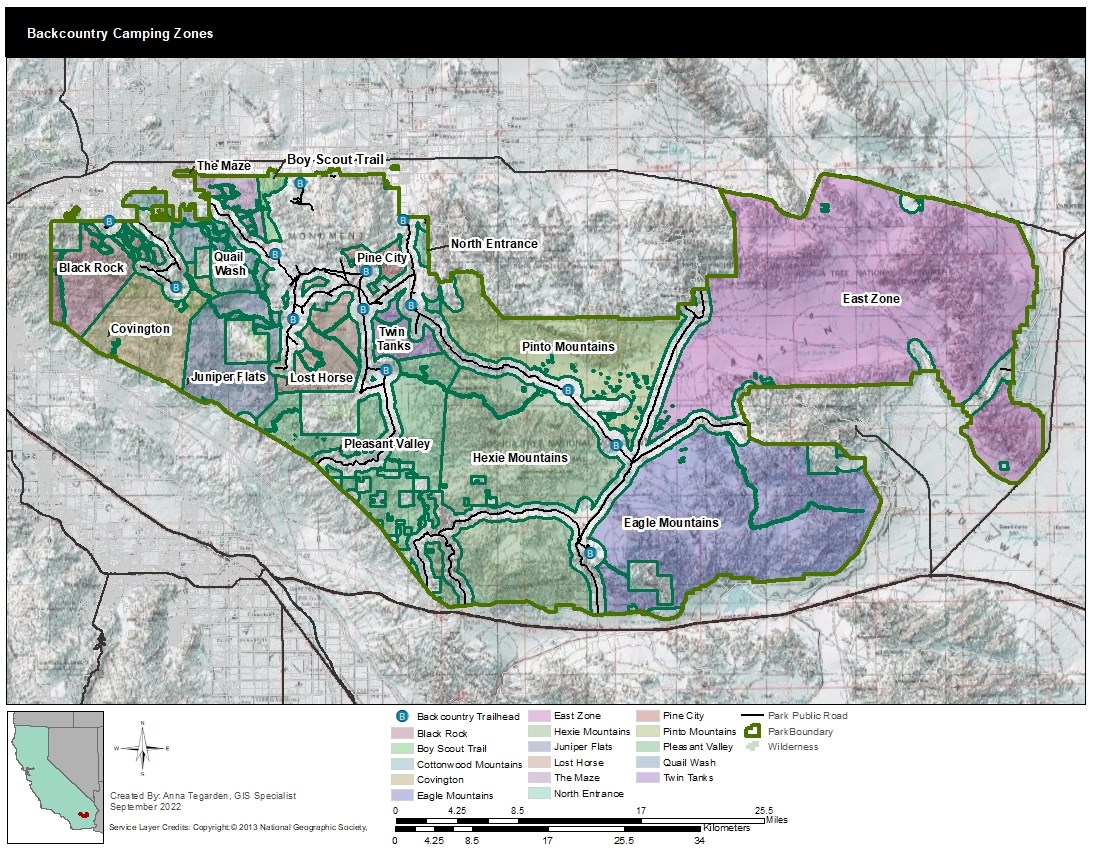 For more information and individual zone maps, please visit the zone webpages:
Rules and Regulations
No Fires
Campfires are illegal in the backcountry. Joshua Tree is susceptible to destructive wildfires. Most Joshua trees do not survive fires and have a hard time repopulating in burned areas. You are welcome to use backpacking camp stoves.
Food and Water
Bring all your own water. We recommend at least one gallon per person per day; more if you're hiking on hot days or strenuous trails. Natural water sources are rare and delicate biological resources and should not be taken from. You are welcome to cache water. If you do, please write your name, number, and date of pick up on it. Do not leave any containers behind.

If caching food, it must be in a car or hard-sided container able to withstand access from wildlife. Though we don't have bears, bear cans work well for caching food.

Secure your food at night. If you leave it out in the open, rodents, ravens, and coyotes are likely to get into it.
Travel and Camp on Durable Surfaces
Good campsites are found, not made. Do not set up your tent on vegetation. Look for previously established campsites or durable surfaces like rock slabs, hardened soils, and sandy washes. Washes (dry sandy stream beds) are great leave-no-trace spots and tend to have fewer spiky things. However, if it's summer monsoon season or there is a chance of significant rain, do not camp in washes, because they can flow with water. For more information, view our Flash Flooding webpage.

Camping in historic sites, rock shelters, and alcoves is prohibited.

Do not camp near water sources (seeps, springs, or oases).

Avoid camping near animal burrows or nesting sites.

Do not tie tents or hammocks to vegetation or Joshua trees.

If hiking off-trail, it is best to hike in washes, on game trails, and on rock slabs. Avoid stepping on plants, animal burrows, and cryptobiotic soil crusts. Cryptobiotic soil is a living soil composed of algae, fungi, and bacteria. It may appear bumpy and dark-colored. It helps prevent soil erosion and promotes nutrient rich soil and plant growth. A misplaced footstep can take years to heal.
Dispose of waste properly
Pack out all trash and left-over food.

Pack out excrement or bury it at least 6 inches deep and at least 200 feet away from water sources and campsites. Do not leave it under a rock or bury it in washes because it can get unburied when the washes flow. Pack out your toilet paper. With a dryer, less organic soil, toilet paper breaks down very slowly in the desert.
Leave What You Find
Collecting natural and cultural objects is strictly prohibited. All plants, rocks, wildlife, and historic and prehistoric materials are protected in the park including wildflowers. Leave everything just as you find it. This helps scientists and archeologist better understand the park's ecosystems and history and allows other visitors to share in the experience of discovery. Let photos, drawings, and memories be your souvenirs.
Group Size and Camping Limit
The maximum group size is limited to 12 people. If groups larger than this are separated into multiple, smaller groups, then groups must hike at least 10 minutes apart and camp at least 1 mile apart. The designated campsites in the Boy Scout zone have different capacity limits: 1-4 people, 5-8 people, and 9-12 people. You are allowed to backpack up to 14 consecutive nights in one trip.
Proof of Permit
You must carry your permit with you. It may be a printed copy or an electronic copy on your phone.
Pets
Dogs and pets are not allowed in the backcountry. This is for the protection of our animals and yours. The presence of carnivores, such as domestic dogs, impairs the feeding, travel, and reproductive cycles of animals struggling to survive in the wild. Even leashed dogs cause extra stress on wild animals and are only allowed in campgrounds and within 100 feet of designated roads.
Be Considerate of Others
Because we share park lands with people who have different recreational pursuits, a cooperative spirit is required. Loud music, excessive noise, and bright lights disturb those recreationists who wish to enjoy the dark night sky and listen to nature's sounds. Please minimize their use in the backcountry.

Please maintain a low profile when hiking and camping in groups. Taking rest breaks a short distance from the trail and breaking up into smaller camping groups will minimize the impact of your group.

Moving off-trail when you encounter horse riders (they have the right-of-way) and talking quietly will reduce the likelihood that the horses will be frightened by your presence.

Look for campsites that are out of view of trails and roads.

To learn more about low-impact backcountry travel, check out the Leave No Trace guide to deserts and canyons.
Your Safety is Your Responsibility
Arrive Prepared
Joshua Tree weather can range from blistering hot to freezing cold and can include gale-force winds, heavy rain, and snow.

On hot days, avoid hiking during the hottest part of the day, take shade breaks, and carry plenty of water. In the summertime, extreme heat poses a very serious safety risk.

The sun and its ultraviolet radiation can be very intense in Joshua Tree. Pack sun protection: hat, sunglasses, sunscreen, lip balm, and light, loose-fitting clothing that covers the skin.
The Essentials
We recommend carrying a first aid kit, map, compass, and satellite communication device with you and know how to use them. Check out our maps webpage for links to USGS topographical maps. Also, download the official NPS app. On the app, you can download detailed "offline" maps to use in the park when there's no cell phone signal.
Communication
Tell someone your plan before heading out into the backcountry. There is very little cell phone service if there's an emergency. When you register for a permit, please provide a detailed itinerary. This will help us located you in the event of an emergency.
A Rescue is Not Guaranteed
A search and rescue team may take hours or days to reach you. Plan ahead and prepare, make sound decisions, and know what to do in case of an emergency.
Questions?
Email us at jotr_backpacking_permits@nps.gov or call 760-367-5554.


Last updated: June 9, 2023