Wilderness Backpacking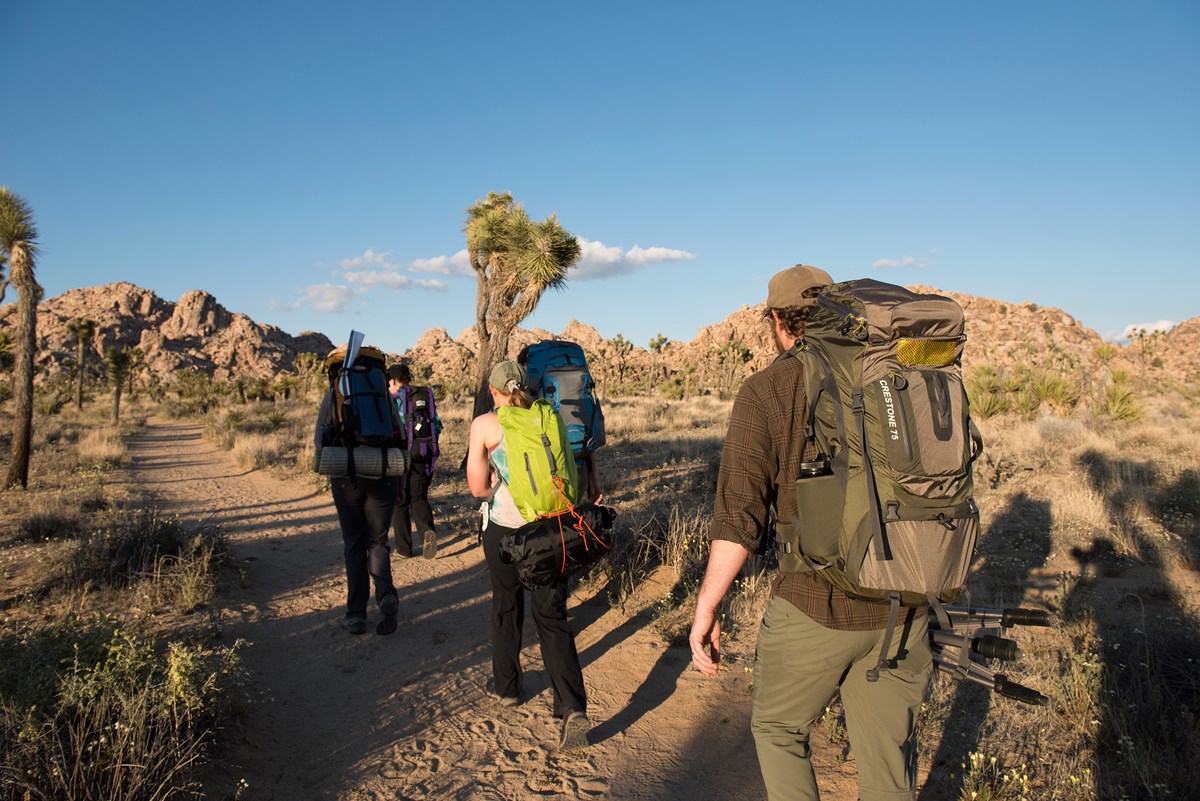 ***Attention***
We are looking to implement changes to our wilderness backpacking permit system.

The goals of the proposed changes include,
Improve the visitor experience and better protect cultural, natural, and wilderness resources.
Collect visitor use statistics from the recreation.gov system to inform future park planning and decision making.
Improve public education resulting in increased visitor safety and improved sustainable use of backcountry resources.

Some of the proposed changes include,
Permits will be obtained through Recreation.gov, by phone, and at Joshua Tree National Park headquarters.
The cost of the permit would be a flat rate of $6 per permit, and would allow for a group size of 1 to 12 people.
Permittees would be required to view and acknowledge they have read and reviewed JTNP backcountry education information and a backpacking educational video.
Establish backcountry zones. Permittees in high-use zones, like the boy scout trail, will be required to camp in designated campsites.
For at-large camping zones, permittees must be at least 1 mile from any backcountry board trailhead, at least ½ mile from any road, at least 200 feet from any trail, and out of sight of any road or trail.
We are asking the public to review the plan and provide comments and feedback on the proposed changes. For more information and submit a comment, check out our webpage on the proposed backcountry permit plan. Public comments must be submitted no later than September 9, 2022.
Where to Go?
Backcountry camping is permitted in areas that are:
1 mile (1.6 km) from roads,
500 feet from trails and water sources,
not day-use only areas.
Before setting out into the backcountry, you must first register at one of the following backcountry boards:
Covering an area of more than 792,000 acres, almost 85% of which is managed as wilderness, Joshua Tree National Park has good wilderness backpacking opportunities for those who are prepared. The safest time to backpack in the park is during the fall, winter, and spring to avoid the summer heat. Potable water is not available and backpackers should carry all of the water they will need. By observing the guidelines below, your venture into the backcountry should be safe and enjoyable. Camping is not permitted along roadsides, in day-use areas, or in non-wilderness. The only options for staying overnight in the park are to camp at a designated campground or to park at a backcountry board and to follow the park's backcountry camping guidelines. If you have questions, ask a ranger. It is your responsibility to know and abide by park regulations.
Plan and Prepare
You should carry a map and compass when venturing into the backcountry. You may purchase hiking maps at park visitor centers or order them from the Joshua Tree National Park Association, on the Internet at www.joshuatree.org.

There are 13 staging areas for backcountry camping trips in the park. Each location provides parking space for your vehicle, an information panel featuring a map of the adjacent area (please note that some areas are restricted to day use only), and the backcountry permits that are required for all overnight camping outside of park campgrounds. Leave the bottom portion of your permit in the drop box and take the top portion with you.

Plan to carry all the water you will need; at least one gallon per person per day is recommended, two in summer or if you will be hiking strenuously. Natural water sources are scarce, easily polluted, and should not be used.

Campfires are prohibited outside of government provided fire rings. They leave long-term scars on the land and can ignite destructive wildfires. Plan to use a stove or carry pre-cooked meals. "Down and dead" wood is protected in the park and cannot be collected for any purpose.
Registering
If you will be out overnight, park and register at a backcountry registration board—there are 13 within the park. An unregistered vehicle or a vehicle left overnight somewhere other than at a backcountry board is a cause for concern about the safety of the vehicle's occupants. It is also subject to citation and towing.
Name
Elevation
Features
Location
Black Rock
4,000 feet
California Riding & Hiking Trail
Black Rock Canyon
Cottonwood
3,100 feet
Lost Palms Oasis Trail
Cottonwood Spring
Covington
4,000 feet
California Riding & Hiking Trail
Upper Covington Flat
Geology Tour
4,485 feet
California Riding & Hiking Trail
1.5 miles south on Geology Tour Road
Indian Cove
2,920 feet
Boy Scout Trail
1.5 miles south on Indian Cove Road
Juniper Flats
4,340 feet
California Riding & Hiking Trail
1.1 mile south on Keys View Road
Keys West
4,000 feet
Boy Scout Trail, Willow Hole Trail
6.7 miles from West Entrance
North
Entrance
2,880 feet
California Riding & Hiking Trail
.5 mile from North Entrance
Pine City
4,436 feet
Pine City Trail
1.3 miles north on Big Horn Road
Pleasant
Valley
3,280 feet
Fried Liver Wash Corridor &
Hexehedron Mine Trail
? miles south on Geology Tour Road
Porcupine Wash
2,450 feet
sand dunes & Pinto Mountain
8 miles from Cottonwood
Turkey Flats
1,791 feet
sand dunes & Pinto Mountain
13 miles from Cottonwood
Twin Tanks
3,900 feet
California Riding & Hiking Trail
7 miles from North Entrance
Travel and Camp on Durable Surfaces
Even the soil beneath your feet is fragile when you are traveling in the backcountry. By learning to recognize biological crusts, you can help preserve pockets of life that contribute nutrients and organic matter to desert soils and help absorb rainfall. Typical mature crusts are bumpy and dark-colored due to the presence of lichens, mosses, and bacteria. By walking around them, you will avoid breaking delicate filaments that may take years to heal. To reduce the damage of your passage through the desert, hike on trails, expanses of rock, or in washes.

There are no designated campsites in the backcountry but you are encouraged to select the most durable possible location. Sleeping and cooking areas should be on flat rocks, in sandy washes (except in the case of flash flood threat), or under trees.

Campsites must be at least one mile from any trailhead or road and 500 feet from trails or water sources (seeps, springs, oases). Camping is not allowed in caves or rockshelters.
Pack It In, Pack It Out
Trash
It is your responsibility to clean up after yourself. Pack out all trash, left-over food, and litter.
Excrement
Waste disposal involves pre-planning and some initiative in wildlands. Pack out excrement or bury it in "cat holes" six to eight inches deep and at least 200 feet away from water sources, campsites, and trails. Don't leave human waste under rocks or in alcoves where it decomposes slowly and is unsightly and unsanitary. Plan ahead to pack out used toilet paper in a plastic bag.
Water
Water sources in the park are not potable and are reserved for wildlife. Water containers for drinking and cooking need to be packed in and packed out.
Respect Wildlife
It is tempting to feed wild animals; don't do it! People food is not healthy for them and an animal habituated to begging can become aggressive and dangerous.

Pets are prohibited on trails and in the backcountry. The presence of carnivores, such as domestic dogs, impairs the feeding, travel, and reproductive cycles of animals struggling to survive in the wild. Even leashed dogs cause extra stress on wild animals and are only allowed in campgrounds and within 100 feet of designated roads.

Avoid making your camp near animal burrows or nesting sites.
Be Considerate of Others
Please maintain a low profile when hiking and camping in groups. Limit the size of your group to 12 people in wilderness areas of the park and 25 people in the backcountry. Taking rest breaks a short distance from the trail and breaking up into smaller camping groups will minimize the impact of your group.

Moving off-trail when you encounter horse riders (they have the right-of-way) and talking quietly will reduce the liklihood that the horses will be frightened by your presence.

Because we share park lands with people who have different recreational pursuits, a cooperative spirit is required. Radios, electronic games, and bright lights disturb those recreationists who wish to enjoy the dark night sky and listen to nature's sounds. Please minimize their use in the backcountry.
Weather
That old desert sun can damage eyes as well as skin. Wear a hat and sunglasses and use sunblocking lotion liberally.

Temperature changes of 40 degrees within 24 hours are common. Bring a variety of clothes that you can layer on and off as conditions change.

Although rain is relatively rare in the desert, when it does come it can really pour down. Even when it isn't raining where you are, rain in the mountains can run off so fast as to cause flash floods. Stay alert.
Caching food and water
Multi-day hikers are allowed to cache food and water for up to 14 days. It is important to tag your cache with your name and email or telephone number so that park rangers can contact you if they need to remove your cache.
Leave What You Find
Leaving everything just as we find it helps scientists understand the natural balance of the landscape and allows us to share the experience of discovery with those who follow. Visit cultural sites with care and respect. Let photos, drawings, and memories be your souvenirs. Collecting natural and cultural objects is strictly prohibited. All plants, rocks, wildlife, and historic and prehistoric materials are protected in the park including wildflowers.


Last updated: August 13, 2022