News Release
Joshua Tree National Park rangers win two national awards: The Tilden Freeman and The Excellence in Wilderness Stewardship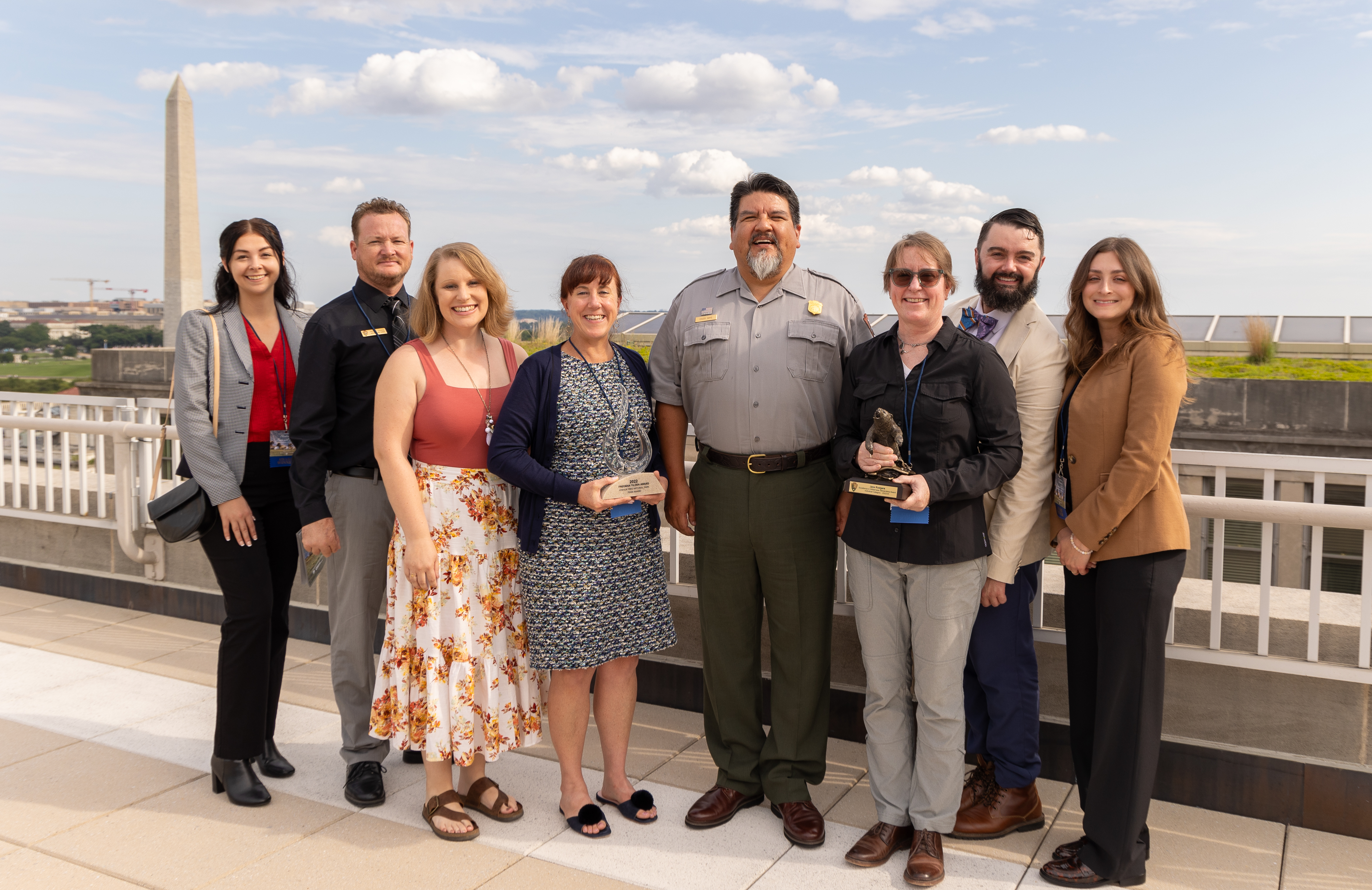 News Release Date:
August 24, 2023
Contact: Hannah Schwalbe, 760-367-5555
For their contributions to interpretation, wilderness stewardship, and volunteerism, five park rangers from Joshua Tree National Park received two separate national awards during a ceremony held in Washington, D.C. on Aug. 23.   
Four Joshua Tree National Park staff won the Freeman Tilden Award, which recognizes outstanding contributions to the practice of interpretation and education by an NPS employee. The award was created to stimulate and reward creative thinking that positively impacts the preservation of the parks and the visiting public.  
The winners of this award are Johanna Lombard, Mat Stevens, Ian Ferris, and Jen Kolm for their outstanding work on a new museum exhibit titled "Universal Threads." The exhibit is located in one of the park's visitor centers, The Joshua Tree National Park Visitor Center in Twentynine Palms. Visitors can choose their own path to follow through the exhibit to learn about the earth, sky, plants, animals, and people.   
"This award demonstrates what is possible with intense collaboration, conversation, and respect," said Jennie Kish Albrinck, program manager of interpretation, resource education, and volunteers at Joshua Tree National Park. "It is a project born of a passion to tell our important stories."   
While the Freeman Tilden Award is an award for national park staff, the park's 15 traditionally associated Native American communities also deserve recognition for their work on these beautiful and educational exhibits. The exhibits capture and communicate the voices and the stories of the Native American communities that call Joshua Tree home, and park staff worked with Native American partners from the beginning of the project through the end.   
Jane Rodgers, the park's superintendent, received the Excellence in Wilderness Stewardship Award. Rodgers is an advocate for wilderness both at Joshua Tree and throughout the national park system. While she served as the Program Manager of Science and Resource Stewardship, Jane trained multiple employees as Resource Advisors (READ) to help protect wilderness during major incidents like fires. She worked closely with interagency fire teams to ensure that READs were on-site and available to help protect wilderness resources in the park. Due to her leadership, READs have been deployed throughout the agency as a first line of defense in helping protect wilderness character during disasters.   
Rodgers also worked on a long-term strategy to protect wilderness areas from offroad vehicle use by implementing educational campaigns, effective signage, boundary demarcation, and immediate and expedited mitigation efforts to clean up illegal off-highway vehicle (OHV) trespass. She's created programmatic approaches to allow the park to respond quickly to trespass, clean up the damage, and discourage future trespass into wilderness areas.   
Last updated: August 29, 2023