News Release
Missing person search for Trammell Evans continues at Joshua Tree National Park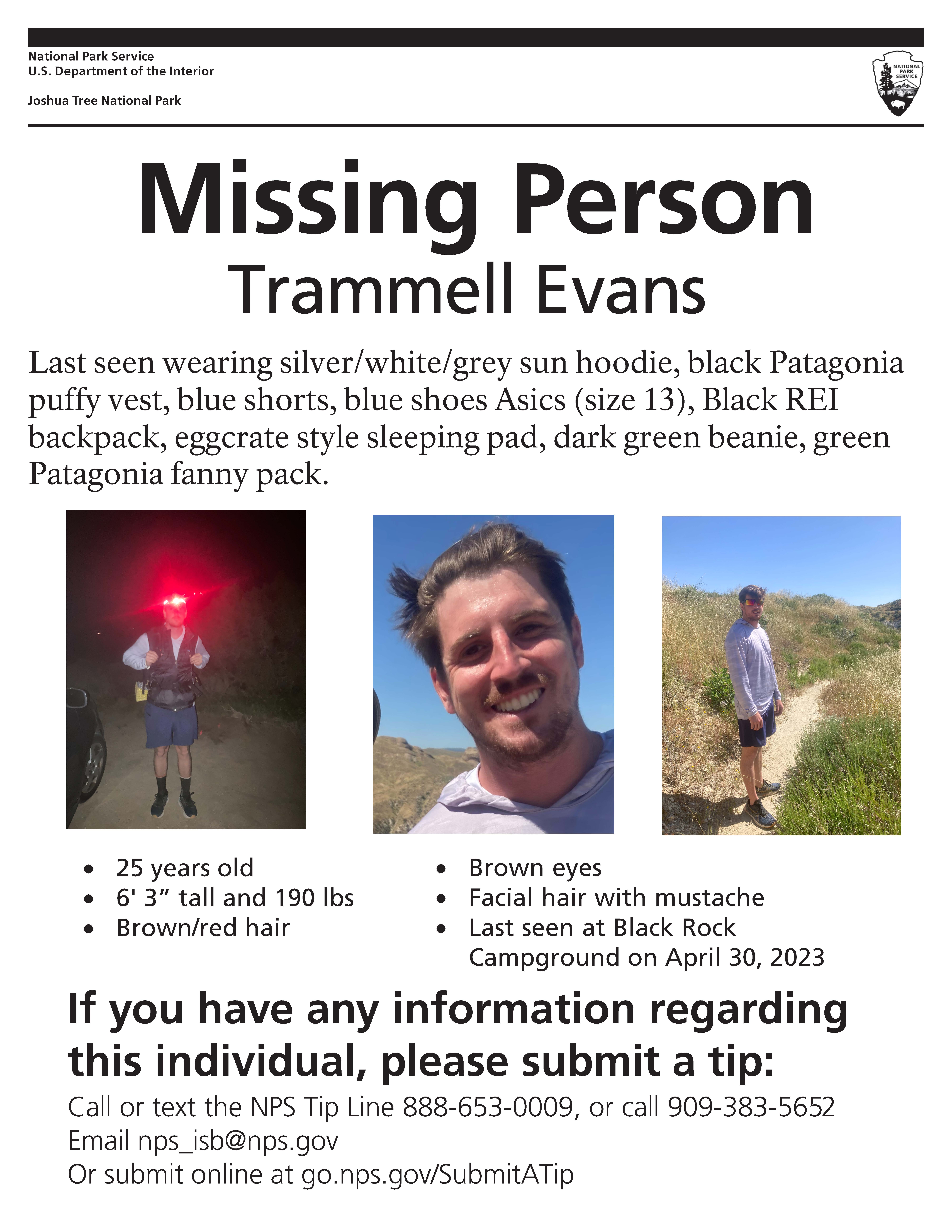 News Release Date:
May 8, 2023
Contact: Hannah Schwalbe, 760-367-5555
The Joshua Tree Search and Rescue team (JOSAR) continues to search for missing hiker Trammell Evans. Evans was dropped off at Black Rock Campground on Sunday, April 30, 2023, around 8 pm. Evans planned to hike from Black Rock to Geology Tour Road, then back to Black Rock via the California Riding and Hiking Trail. Evans was supposed to be picked up on Friday, May 5, 2023, at 11 am. Evans was reported missing at 1 pm on May 5, 2023, and park rangers and the JOSAR team responded immediately.
Evans is described as an athletic and experienced long-distance hiker that is familiar with Joshua Tree National Park. Evans did not register for a backcountry use permit. Rangers have contacted all 55 people that had backcountry permits in that location. His last known place of residence was Los Angeles, CA, but he moves frequently.  
The search for Trammell Evans is ongoing. The JOSAR team is comprised of highly trained trackers, searchers, and climbers who are all familiar with the high desert. In addition to JOSAR, Joshua Tree is currently working with the Bureau of Land Management and California Highway Patrol Helicopter.
Please do not self-dispatch to search for Trammell Evans on your own, and do not dispatch a drone to aid in the search efforts. The patrol helicopter cannot fly while drones are in the air, and any unplanned drones in the air may seriously impede aerial search efforts.  
Park rangers are asking anyone who may have seen or talked to Trammell Evans to please submit a tip: 
Call or text the NPS-wide Tip Line 888-653-0009 or call 909-383-5652 
Online go.nps.gov/SubmitATip 
Email nps_isb@nps.gov  
Last updated: May 8, 2023