News Release
Visitation to Joshua Tree National Park Creates $122 Million in Economic Benefits in 2020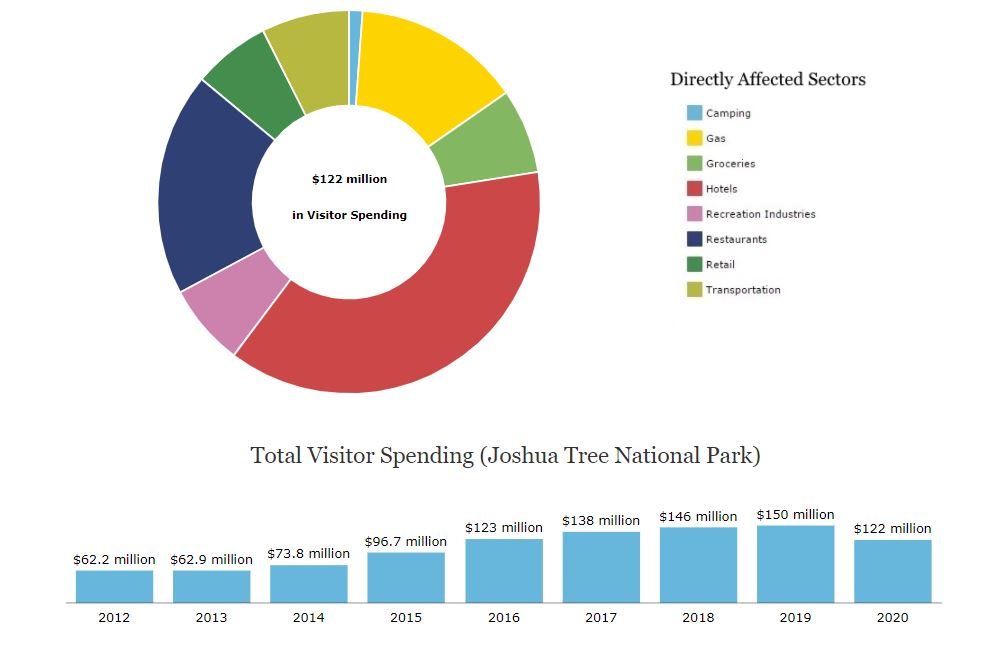 News Release Date:
June 29, 2021
Contact: Hannah Schwalbe, 760-367-5555
A new National Park Service (NPS) report finds that 2.4 million visitors to Joshua Tree National Park spent over $122 million in local communities in 2020. These expenditures supported a total of 1,510 jobs, $60.1 million in labor income, $102 million in value-added, and $164 million in economic output in gateway economies. Visitor spending in 2020 was slightly lower than the $150 million visitors spent in 2019.

"It's not surprising to see a decrease in visitor spending during 2020," said Acting Superintendent Jane Rodgers. "Both visitation and spending were lower than average. The park had over 50 days of closures in 2020 due to the COVID-19 pandemic. However, we were surprised to learn that in 2020, Joshua Tree National Park was the most visited park in California and the 10th most visited in the country. The park continues to be an increasingly popular destination, and we rely on our visitors to keep vehicles on park roads and park in designated parking spots, respect the wildlife, and leave the park in better shape than they found it."

The largest sectors of visitor spending are on lodging and restaurants, with $46 million on local accommodations and $18 million on local restaurants. Local economies are considered those within 60 miles of Joshua Tree National Park and include Yucca Valley, Joshua Tree, and Twentynine Palms.

The annual peer-reviewed economics report was prepared by economists from the U.S. Geological Survey and National Park Service. It includes information by parks and by states on visitor spending, the number of jobs supported by visitor spending, and other statistics.

The report has an interactive tool that enables users to explore visitor spending, jobs, labor income, value-added, and output effects by sector for national, state, and local economies. Users can also view year-by-year trend data. The interactive tool and report are available at the NPS Social Science Program webpage. Park managers predict that 2021 will continue to see high visitation.

In May alone, the park saw over 90,000 vehicles, 40% more visitors than the average visitation in May since 2016. Park leadership encourages visitors to recreate responsibly both in the park and in the local communities outside the park. Together we can protect and preserve the beautiful Mojave and Sonoran Deserts for current visitors, park neighbors, and future generations to enjoy. 
Last updated: June 29, 2021