Support Your Park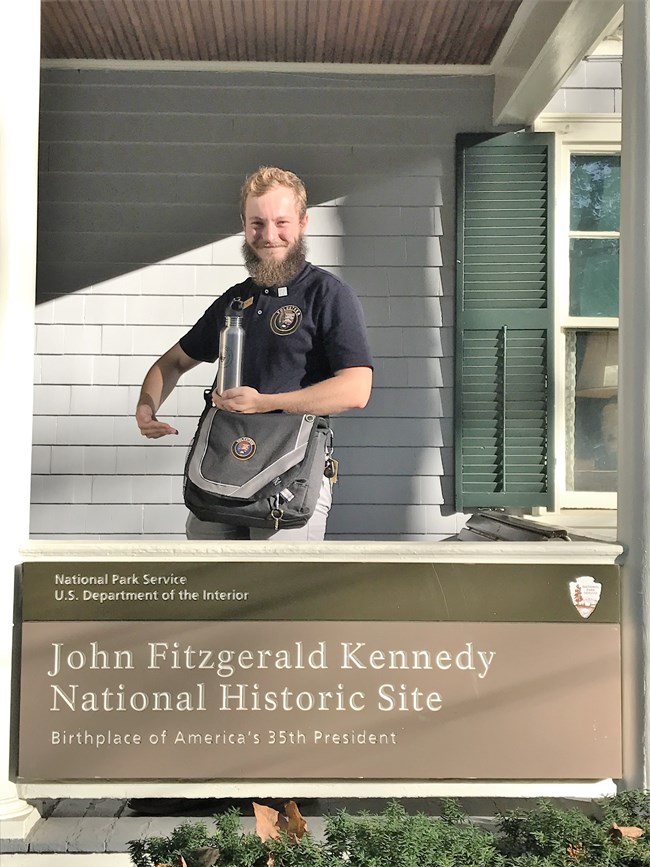 College Internships for 2019

15 Week Interpretation and Visitor Services Intern Position Description:
Interns working in interpretation and visitor services will perform a variety of tasks while assisting NPS staff in the day-to-day operations of the site. Duties include welcoming visitors, making tour reservations, answering phones, facilitating bookstore sales, keeping statistics, introducing and showing the site film, and providing information and orientation to visitors. Interns will also conduct formal and informal interpretive tours. Interns will receive training in interpretation and then create a 30-minute, guided tour of John F. Kennedy's birthplace based on original research. Those with fluency in a foreign language are preferred and encouraged to develop programming in a second language. Interns may also assist in the creation of interpretive media such as brochures, posters, and web features. We also encourage interns to create their own projects and plan special events. Interns will be provided with a volunteer uniform and may qualify for travel reimbursement.
~~~~~~~~~~~~~~~~~~~~~~~~~~~~~~~~~~~~~~~~~~~~~~~~~~~~~~~~~~~~~~
~~~~~~~~~~~~~~~~~~~~~~~~~~~~~~~~~~~~~~~~~~~~~~~~~~~~~~~~~~~~~~
~~~~~~~~~~~~~~~~~~~~~~~~~~~~~~~~~~~~~~~~~~~~~~~~~~~~~~~~~~~~~~

Dates: Mid May through late August; option to continue working through October
Time commitment: 2 days/16 hours per week minimum
Academic Credit: Available if interested and offered through school
Pay: Unpaid
Interested students should email his/her resume, cover letter, and contact information for three references (professional references preferred) to:
Jason Atsales, Lead Park Ranger
(617) 566-7937 ext.11

Volunteers-in-Parks
Volunteers-In-Parks are Very Important People (VIPs)! The National Park Service is fortunate to receive the valuable assistance of many generous individuals who volunteer their time and talents each year. The VIP program is a great way for those wanting to donate their time, energy, resources, and talents.
To volunteer at the John Fitzgerald Kennedy National Historic Site please contact:
Jason Atsales, Lead Park Ranger
(617) 566-7937 ext.11
or email Jason.

To view more NPS volunteer opportunities go to www.nps.gov/volunteer.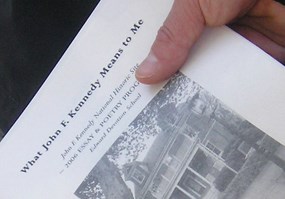 There are many ways to support John Fitzgerald Kennedy National Historic Site and to help preserve it for future generations.
Eastern National Bookstore
Purchase something from the Eastern National sales area of the visitor center. Eastern National is a cooperating association that offers books and other educational items relating to the interpretive themes of John Fitzgerald Kennedy NHS. A percentage of the proceeds from all sales are donated to the park's interpretive program.
Contributions to John F. Kennedy NHS
The National Park Service welcomes support from the private sector to supplement public funds appropriated by Congress. Donations come to the park from individuals, organizations, foundations, and corporations as expressions of support and enhance the ability of the National Park Service to carry out its programs and activities. Contact us for more information.
Work for the National Park Service
Click here to view jobs available at John F. Kennedy National Historic Site. To search for jobs in National Park Units, please visit www.usajobs.gov. Together, we can all take care of this and other National Parks.


Last updated: March 11, 2019