Guided Tours
Advance ticket sales are available at recreation.gov. Advance reservations are recommended, availability of walk-up tickets is not guaranteed. All cave access is by guided tour only.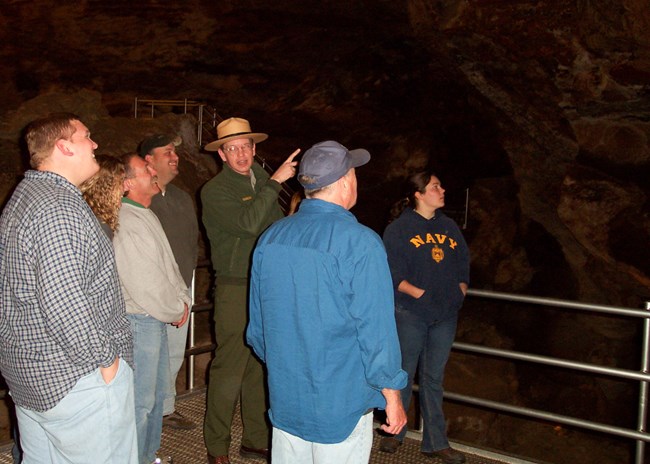 General Cave Tour Information



Ranger-guided tours are required to enter Jewel Cave, and the various tours are offered at scheduled times, which vary by season. Throughout the year, cave tours often book in advance. For this reason, visitors are encouraged to make advanced tour reservations through Recreation.gov.

In the summer months, if available, some tickets for Historic Lantern Tours, some Discovery Tours, and some Scenic Tours are sold on-site, in person, on a first come, first served basis. Please be advised that all cave tour tickets are limited by tour type and time, and if walk-up tickets are available they often sell out by late morning. Availability of walk-up tickets is not guaranteed. Again, advance reservations on recreation.gov are recommended to get on a cave tour.

Due to limited availability and capacity of tours, all ticket sales are final.
Refunds will only be issued for cancellations deemed necessary at the Park's discretion.

Prepare Yourself for the Cave Tours
Wear tennis shoes, sneakers, or hiking boots to participate in a cave tour. No hiking sandals with openings or any type of shoes with any openings (other than the one your foot goes into) are acceptable. If questionable, park rangers may ask that you change your footwear before taking part in the tour. If the visitor does not have appropriate footwear, they will be denied access to the cave tour.
There are NO REFUNDS for missed tours or late arrivals. Visitors are encouraged to plan their schedules carefully and be on-site at least 30 minutes prior to their scheduled tour time.
Know Your Limits! All cave tour participants (of all ages) must be able to navigate the tour routes unassisted. Cave tours are moderately strenuous and not recommended for anyone with health conditions, poor balance, mobility concerns, or those with physical limitations (i.e., climbing stairs, recent surgery, and illness).
The temperature inside Jewel Cave is 49 degrees F / 9 degrees C year-round. Visitors are encouraged to wear long pants and a sweatshirt, sweater, or light jacket.
Photography is permitted along the Scenic Tour and during Discovery Tours; however, visitors are encouraged to use small cameras and/or cell phones to avoid large lenses, bags, etc. Pictures are not allowed on any stairs within the cave.
Historic Lantern Tours / Tennis shoes, sneakers, or hiking boots are required on the Historic Lantern Tour. Open-toed shoes and sandals of ANY kind are not acceptable.
Historic Lantern Tours / Due to several steep stairs, large cameras and bags are not allowed on Historic Lantern Tours. If questionable, park rangers will ask that these items be left in the security of a personal vehicle.
Historic Lantern Tours / Tour tickets are purchased near the visitor center; however, the cave tour takes place at the Jewel Cave Historic Area, which is located about one mile west of the main entrance to the visitor center parking lot.
Wild Caving Tours / Specific guidance is provided to all participants before arrival to the monument. Visitors taking part in this tour are encouraged to review the guidance and follow the instructions carefully in preparation for the adventure.
To prevent the spread of White Nose Syndrome (WNS), which is a fungal disease that impacts bats, all cave tour participants will walk across a decontamination mat when exiting Jewel Cave. NOTE: Other cave sites may not allow visitors to enter their resource with the same boots, clothing, or personal devices that have been inside Jewel Cave.
Important Information Regarding Children
Children may NOT be carried on any portion of the cave tours. Furthermore - diaper bags and backpack carriers are not allowed in Jewel Cave. For this reason, the Discovery Tour is recommended for those with infants, toddlers, and young children (which does allow strollers).
Infants and toddlers can participate in the Scenic Tour only if in a front-carrier attached to their adult, and the child must remain in the carrier throughout the duration of the cave tour.
Children 15 years of age and younger must be accompanied by an adult while in the park and on a cave tour.
If you are unsure of the cave tours, the monument also provides a Junior Ranger and Pee Wee Ranger Program for kids of all ages, along with patio talks and ranger-guided surface hikes during the summer months.
What NOT to Bring
Do not wear shoes with with any openings, such as hiking sandals (like Chacos, Keens, Tevas), crocs, flip flops, etc - as these are not allowed on any cave tour.
Backpacks, purses, handbags, diaper bags, weapons, hiking sticks, and walking poles are not allowed inside Jewel Cave. For your safety, as well as the protection of the cave resources, these items need to be left in the security of a personal vehicle.
Food, gum, candy, drinks, tobacco products, monopods, tripods, Go-Pro sticks, large flashlights, and pets are not allowed inside Jewel Cave. These items need to be left in the security of a personal vehicle.


Last updated: April 28, 2023