Discovery Tour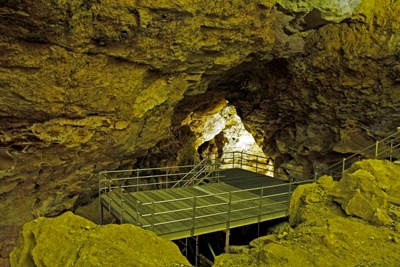 The Discovery Tour is an excellent short visit to Jewel Cave. For the current tour schedule go to Operating Hours and Seasons. Advance reservations are available on recreation.gov and are highly recommended. Availability of walk-up tickets is not guaranteed.
This 20-minute ranger tour is a brief introduction to Jewel Cave's natural and cultural histories. Participants view one large room of the cave. This cave experience enters and exits the cave by elevator in the Visitor Center. Visitors traverse 12 feet on a concrete surface and walk down 15 stair steps to a large aluminum platform with a metal surface. For people who have difficulty negotiating stairs or require wheelchair accessibility, this cave tour can be experienced from the upper platform crossing 37 feet of concrete. At the conclusion of the program, visitors will leave the cave in the opposite manner in which they entered.
During the Discovery Tour, you will see two types of calcite crystals commonly named nailhead spar and dogtooth spar, which are the "jewels" of Jewel Cave. You will also see manganese and paleofill, which are not cave formations, but are important to the geology of Jewel Cave. Visitors will learn the theory on how Jewel Cave formed as well as how the cave began being explored in 1900.
Children of all ages are allowed on the Discovery Tour. Families are encouraged to check the tour schedule before arriving to Jewel Cave. We encourage visitors with small children to maintain physical control.

Each Discovery Tour allows for a maximum of 20 participants. For ticket fees, please check out the Fees & Passes page.
Preparing for a Discovery Tour
Wear tennis shoes, sneakers, or hiking boots. No type of sandal is acceptable. If questionable, park rangers may ask that you change your footwear before taking part in the tour.
Wear a light jacket or sweater. The cave temperature is 49°F or 9°C. Wear appropriate clothing to spend twenty minutes in the cool temperatures
Infants and toddlers can be carried in a front-carrier only. Parents are not allowed to carry a child of any age on this tour without a front-carrier.
Service dogs trained to perform a task for a person with disabilities are allowed on the Discovery Tour only.
All visitors exiting Jewel Cave are required to walk across a decontamination mat to prevent the spread of white-nose syndrome (WNS), which is a fungal disease that impacts bats. All shoes, clothes, or gear worn in Jewel Cave may not be allowed in any other caves or mines. This includes private caves and mines within South Dakota and around the world. Furthermore, clothing and footwear used in Jewel Cave will NOT be allowed on the Candlelight Tour or the Wild Cave Tour at nearby Wind Cave National Park. The reason for this is because Jewel Cave has been identified as a WNS-positive site.


Last updated: June 21, 2022