Historic Lantern Tour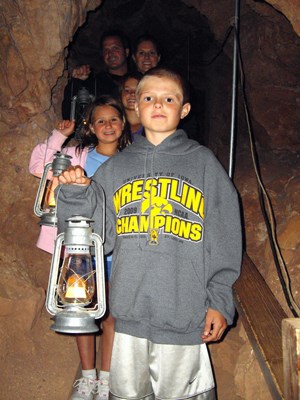 Historic Lantern Tours have resumed for the season. Advance reservations are available on recreation.gov and are highly recommended. Availability of walk-up tickets is not guaranteed. All cave access is by guided tour only.

The Historic Lantern Tour is an adventurous tour into Jewel Cave.
Step back in to the past on the Historic Lantern Tour where your Park Ranger is dressed in a 1930s-style uniform. This adventure gives you a sense of what it was like to tour the cave in earlier days. Visitors enter and leave the cave through the historic entrance using an unpaved trail. The only light is provided by a lantern most tour participants carry. This tour is considered strenuous and lasts about 1 hour and 45 minutes.
The tour route is approximately 1/2 mile long through low, narrow passages, and includes roughly 500 steep wooden steps (ladder-like stairs). This tour requires some bending, stooping, and duck walking along an unpaved, rocky trail. There is an age requirement, which is strictly enforced for safety reasons, youth must be 8 years old or older.

Each Historic Lantern Tour allows for a maximum of 20 participants. This tour is offered during the second full week of June through Labor Day Monday in September. A portion of the tour tickets are sold in advance on recreation.gov. If you purchase tickets from recreation.gov for this tour, please check in at the Historic Area. If staffing is available additional tour tickets are sold on a first come, first served basis on the day of the tour (same day tickets) at the ticket kiosk near the visitor center parking lot. These need to be purchased at least 30 minutes before tour time. Participants must be at the Historic Area, which is one mile west of the visitor center, at least 15 minutes before the tour time and prepared for the cave tour.
Preparing for a Historic Lantern Tour
For safety reasons: sturdy, low-heeled, rubber-soled shoes such as sneakers, tennis shoes, or hiking boots are required to take part in an Historic Lantern Tour. Due to the uneven, rocky terrain of the cave, open-toed shoes and close-toed sandals (including Crocs, Teva footwear, and KEEN hiking sandals) are prohibited.

If questionable, park rangers may ask that you change your footwear before taking part in the tour.

Wear a long pants and a light jacket or sweater. The cave temperature is 49°F or 9°C. Wear appropriate clothing to spend an hour and twenty minutes in the cool temperatures.

Persons who have heart or respiratory conditions, foot or lower joint problems, have recently been hospitalized, have a fear of heights or elevators should talk with a park ranger before selecting this tour. All tour participants must be able to navigate the stairs unassisted.

Due to the rugged nature of the cave and for personal safety, please leave large cameras, all bags, and other items secured in your vehicle. Cameras must fit in your pocket.

All participants are required to walk across a decontamination mat to prevent the spread of white-nose syndrome (WNS), which is a fungal disease that impacts bats. All shoes, clothes, or gear worn in Jewel Cave may not be allowed in any other caves or mines. This includes private caves and mines within South Dakota and around the world. Furthermore, clothing and footwear used in Jewel Cave will NOT be allowed on the Candlelight Tour or the Wild Cave Tour at nearby Wind Cave National Park. The reason for this is because Jewel Cave has been identified as a WNS-positive site.


Last updated: June 21, 2022