Scenic Tour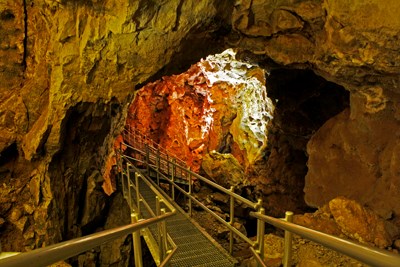 The Scenic Tour is the most popular tour of Jewel Cave.
The Scenic Tour route provides an opportunity to visit various cave chambers and passages decorated with calcite crystals and other speleothems. This tour is considered a modern day walking tour along a paved trail with electric lighting. The tour enters and leaves the cave by elevator in the Visitor Center. The Scenic Tour is moderately strenuous and lasts 1 hour and 20 minutes.
The tour route involves walking up and down 723 stair steps along a 1/2 mile loop, (equivalent to 40 flights of stairs). During the Scenic Tour, you will see two types of calcite crystals known as nailhead spar and dogtooth spar, which are the "jewels" of Jewel Cave. In addition, you can view boxwork, cave popcorn, flowstone, stalactites, stalagmites, draperies, and a long ribbon drapery called the cave bacon. With each visit, you will learn more about the cave formations, discovery and continuous exploration.
Come prepared: wear tennis shoes, sneakers, or hiking boots, and a light jacket or sweater. Sandals, flip flops, or other shoes that are not securely fastened to the foot are not allowed on any cave tour. If questionable, park rangers may ask that you change your footwear before taking part in a cave tour. The cave temperature is 49 degrees Fahrenheit or 9 degrees Celsius. Persons who have heart or respiratory conditions, foot or lower joint problems, have recently been hospitalized, have a fear of heights or elevators should talk with a park ranger before selecting this tour. All tour participants must be able to navigate the 723 stair steps along the tour route unassisted. It is recommended to take younger children on the Discovery Talk. Infants and toddlers can be carried in a front-carrier only and the child must remain in the carrier throughout the duration of the Scenic Tour. Parents are not allowed to carry a child of any age on this tour without a front-carrier.

All visitors exiting Jewel Cave are required to be screened for White Nose Syndrome (WNS), which is a bat disease. To prevent the spread of WNS, clothes, shoes, or gear worn in Jewel Cave may not be allowed in any other caves or mines. Jewel Cave has been identified as positive for WNS.
Each Scenic Tour allows for a maximum of 30 participants. It is common for all Scenic Tours to sell out before noon daily during the summer months and holiday weekends. Tour times vary by season (check the tour schedule before visiting).


Last updated: May 1, 2019