Operating Hours & Seasons
Due to an elevator renovation project, Jewel Cave National Monument is not providing normal cave tours at this time. A Modified Discovery Tour and Historic Lantern Tours are currently being offered. No advanced ticket reservations until further notice. More information can be found at Guided Tours. All cave access is by guided tour only.

During the summer, the visitor center, Park Store, surface trails, and picnic areas are open daily from 8:00 a.m. to 5:00 p.m. MT. Please be advised that the main entrance gate is closed promptly at 5:00 p.m.; visitors and hikers should plan their day accordingly.
Jewel Cave Historic Area is open daily from 9:00 a.m. to 4:30 p.m. MT. Please be advised the Historic Area gate will close promptly at 4:30 p.m.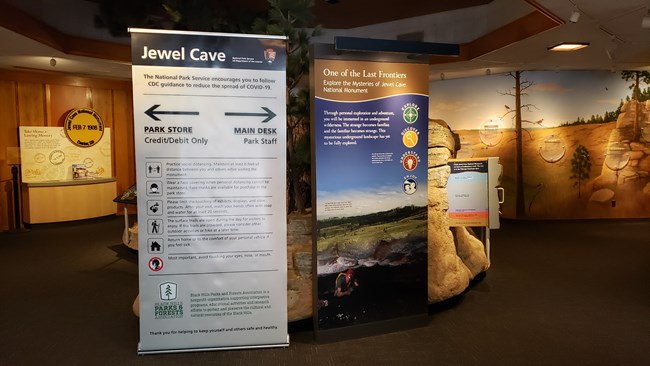 VISITOR CENTER HOURS AND TOUR TIMES ARE SUBJECT TO CHANGE due to staff availability, inclement weather, emergency situations, construction projects, and/or special events. In the event of inclement weather during the off-season, visitors are advised to contact the visitor center at (605) 673-8300 for updated information.

Summer Schedule – Limited Modified Cave Tours
Due to an elevator project, a modified version of the Discovery Tour is currently being offered while elevator repairs are completed. These walk-in/walk-out tours will involve a moderately-strenuous 1/2-mile trail hike to the cave, which includes 180 ft. of elevation loss. Pariticpants will meet the ranger at the cave entrance after hiking down the trail from the Visitor Center. Tours will enter the cave via a man-made portal for a 20-minute tour of a large cave room. Tours will exit the cave via the same route, concluding the ranger-led portion of the tour. Visitors can retrace their steps up the trail to the visitor center at their own pace, regaining 180 ft. of elevation in the process. More information can be found at Guided Tours.


Last updated: July 17, 2021