Operating Hours & Seasons
The visitor center and park store are open from 8:00 a.m. to 5:30 p.m. MDT. However, due to COVID-19, the facility has a one-way flow pattern in order to view the exhibits and displays, as well as to shop within the store. A one-way entrance and exit are also in place, with directional signs throughout the visitor center for guest awareness.

Ranger-guided tours are required to enter Jewel Cave, and the various tours are offered at scheduled times, which vary by season. Throughout the year, cave tours often fill to capacity by late morning. For this reason, visitors are encouraged to make advanced tour reservations by contacting our partners at Black Hills Vacations or by calling (605) 717-7629. Advanced reservations are only available for Scenic Tours and can be made up to 72 hours before your arrival date, or up to 90 days in advance. Reservations for Scenic Tours are available for the tour times on the hour, beginning at 10 a.m. and followed with 11 a.m., 12 p.m., 1 p.m., etc. NOTE: Due to a construction project currently happening inside the cave, all ranger-guided tours AND advanced reservations for the Scenic Tours are suspended until further notice. We apologize for the inconvenience and look forward to assisting with your vacation plans in the future.

Tickets for the Historic Lantern Tours, Discovery Talks, and some Scenic Tours are available on-site, in person, on a first come, first served basis; advanced reservations are not taken over the phone by park staff. Please be advised that all cave tour tickets are limited by tour type and time, and all tour options often sell out by late morning. During the late spring, summer, and early fall seasons, visitors are encouraged to arrive at the monument in the early morning for the most ticket options available.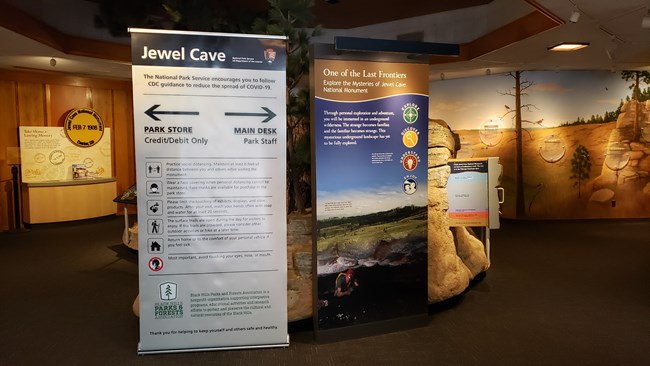 VISITOR CENTER HOURS AND TOUR TIMES ARE SUBJECT TO CHANGE due to staff availability, emergency situations, construction projects, inclement weather, and/or special events. In the event of inclement weather during the off-season, visitors are advised to contact the visitor center at (605) 673-8300 for updated information.

Summer Schedule – No Cave Tours
Ranger-guided cave tours remain suspended due to COVID-19. At present, the visitor center, Park Store, surface trails, and picnic areas are open daily for visitor enjoyment and recreation.


• Monument Hours (Trails and Picnic Areas) - Open Daily from 8:00 a.m. to 5:30 p.m. (Mountain Daylight Time). Reminder ... the main gate will promptly close at 5:30 p.m.
• Visitor Center Hours - Open Daily from 8:00 a.m. to 5:30 p.m. (Mountain Daylight Time).
• Jewel Cave Historic Area - Open Daily from 9:00 a.m. to 4:30 p.m. (Mountain Daylight Time). Reminder ... the entrance gate will promptly close at 4:30 p.m.


Last updated: June 30, 2020