Boat Fuel
Isle Royale Boating During COVID-19
Following guidance from the White House, Centers for Disease Control and Prevention (CDC), the Michigan Safe Start plan, and local public health authorities, Isle Royale is increasing recreational access to the park.
Beginning June 26, 2020, campgrounds, docks, and trails will be open

Exceptions: North Desor Campground and Minong Trail from Hatchet Lake Junction to East Huginnin Trail Junction.

Boaters must obtain an overnight permit in advance from the Houghton Visitor Center at 906-482-0984.
Please pay entrance fees in advance at www.pay.gov.
When recreating, follow state and local area health orders, practice Leave No Trace principles, avoid crowding, and avoid high-risk outdoor activities. The CDC has offered guidance to help people recreating in parks to prevent the spread of infectious diseases.
Please check out the park's COVID-19 Boating FAQ for clarification.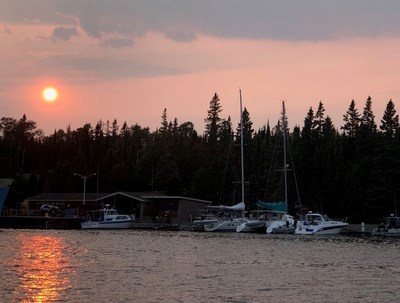 Fuel for 2020
Rock Harbor and Windigo have both gasoline and disel when supplies are available.

Please contact the park prior to your trip for the most up-to-date information regarding fuel availability and prices.
Vessels carrying spare fuel in portable containers must use legally approved containers. Fuel may not be stored on docks.
Pump-outs: Unavailable for 2020
Head pump-out service is available at Windigo and Rock Harbor when the concession operation is open. For 2020, it is unavailable.
Hours of Operation:
At Rock Harbor: Credit card and cash sales
July 1 - August 11, 2020: fuel sales will be on call every day from 8:00 am – 4:30 pm ET.
August 12 - August 25, 2020: fuel sales will be on call every day from, 8:00 - 10 am & 2:00 - 4:00 pm E.
At Windigo: Credit card payment only.
July 1 - September 26, 2020: Fuel sales will be available daily from 10:00 am - 12:00 pm ET (9:00 – 11:00 am CT).
September 26 - October 11: Friday - Sunday, 8:30 am - 3:30 pm ET (7:30 am - 2:30 pm CT) when staff are available. Hail the Windigo Ranger Station on marine radio 16.
Hours for fuel sales may change.
Last updated: September 25, 2020