Boat Fuel
Currently, diesel fuel is not available in Windigo. Diesel is only available for purchase in Rock Harbor at this time.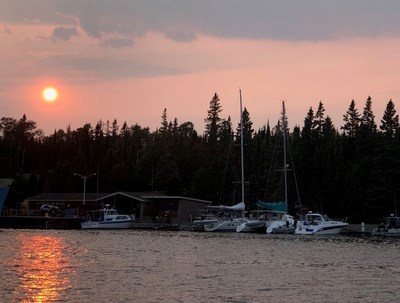 Fuel Types Available
Gasoline
Diesel (Rock Harbor only)
Fuel Schedule
Rock Harbor: May 26, 2023 through September 12, 2023

Windigo: June 6, 2023 through September 9, 2023
Fuel is not available prior or after these dates.

Contact the park for the most up-to-date information regarding fuel availability and prices.

Bring extra fuel in legally approved portable containers. Fuel may not be stored on docks.

Early and Late Season Fuel (Rock Harbor & Windigo)
Fuel is not available on-island during the early and late season (spring before Rock Harbor Lodge is open, and fall, after Rock Harbor Lodge is closed).

Tender Accepted
Rock Harbor Lodge Sales: Credit card and cash.
Pump-outs: Available
Head pump-out service is available at Windigo and Rock Harbor when the concession operation is open.
6/6/23: Windigo pump-out services are not available.
All the information you need to keep you safe and legal while visiting Isle Royale in your boat.

Boat-In Campgrounds & Docks

A table listing boat-in campgrounds and docks.

A boating permit is required for all private boaters that are overnight camping, docking, or anchoring out at Isle Royale.
Last updated: August 15, 2023