News Release
Two More Wolves Transported to Isle Royale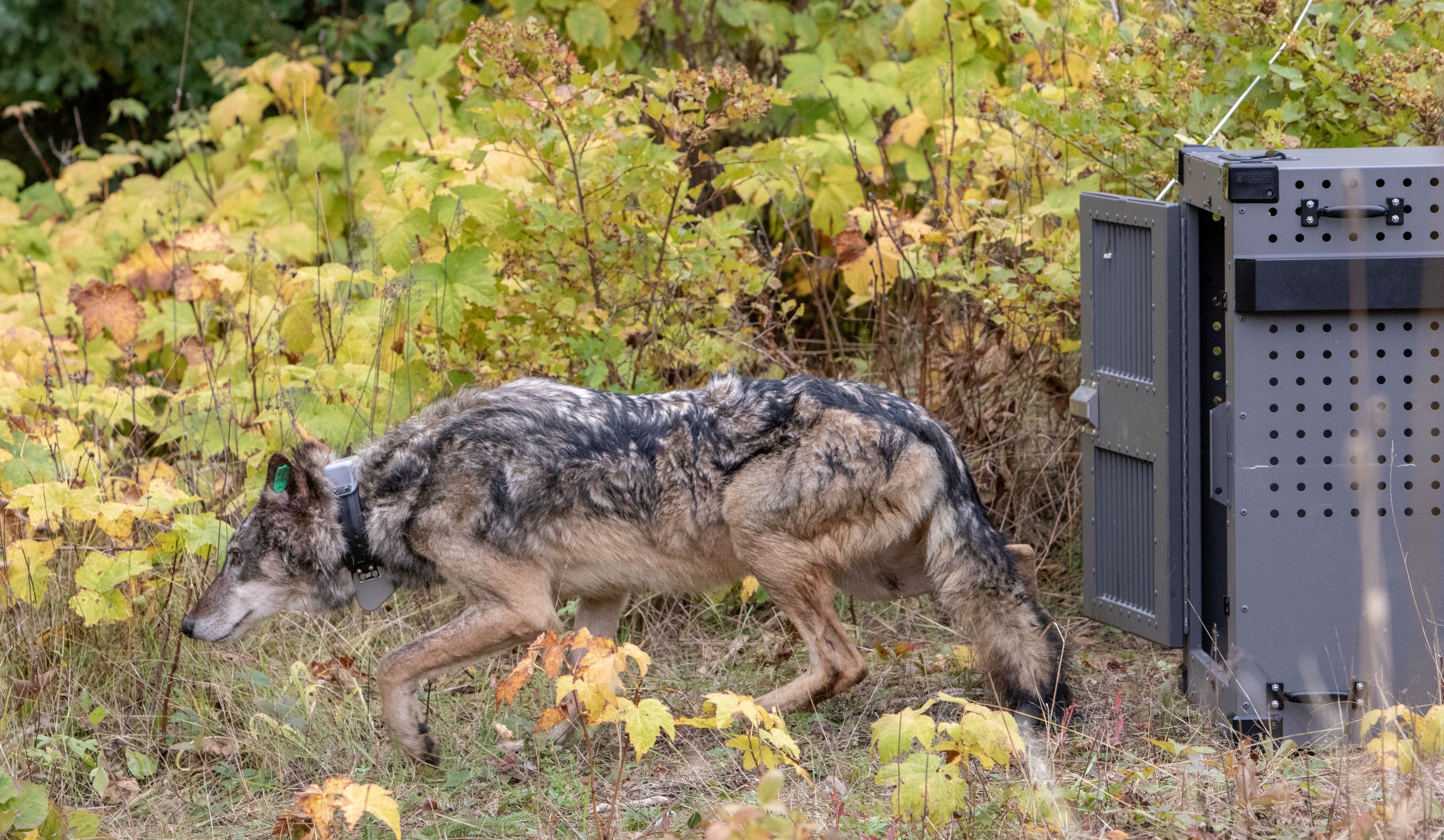 News Release Date:
October 5, 2018
Contact: Phyllis Green, 906-487-7140
Contact: Liz Valencia, 906-369-7146
Contact: Alexandra Picavet, 402-960-0688
HOUGHTON, MICH- The National Park Service and partners transported two more wolves to Isle Royale this week. On Tuesday, Oct. 2, a female wolf was transported by the NPS boat BEAVER from Grand Portage, Minnesota, and released in the park. On Thursday, Oct. 4, another female wolf was flown on the US Fish and Wildlife Service Kodiak airplane to the island and carried by park staff over a hiking trail to the release site. This brings the total number of wolves relocated since Sept. 24 to four. 
The wolf released on Tuesday weighs approximately 70 pounds and shows signs of having had pups in the past. The veterinarians estimate that she is 5 years old. Distinguishing her slightly, the fur across her back contained more black coloration than the previously translocated wolves. Once on the island, the wolf waited in the crate for less than an hour before walking away to her new home. Two days later she was seen on one of the park's remote wildlife cameras. 

On Thursday, an approximately 2 year old female wolf weighing 51 pounds was released. She remained in the transport crate until this morning before silently slipping away between monitoring checks by NPS personnel. The NPS hopes this young wolf will have years of potential to contribute to the island's wolf population over time. 
 
Capture, health exams, translocation and release of wolves has been a team effort involving numerous agency and university personnel. "The National Park Service is benefiting greatly from the professionalism of our partners and collaborators. It is truly a privilege to work with them all and see them in action" said Mark Romanski, project coordinator and Division Chief for Natural Resources at Isle Royale National Park, "Their willingness to work alongside the National Park Service is making the project a success and I am extremely grateful for all that they have done for us."
 
Trapping and relocation operations will continue in Michigan and Minnesota for the next two weeks.
Photos, video clips, interviews, updates and press releases are posted for the media on the Isle Royale National Park website, https://www.nps.gov/isro/learn/news/presskit.htm. Updates will be shared regularly on Facebook, and Instagram, @isleroyalenps.
About the National Park Service. More than 20,000 National Park Service employees care for the 417 parks in the National Park System and work with communities across the nation to help preserve local history and create close-to-home recreational opportunities. Visit us at www.nps.gov, on Facebook www.facebook.com/nationalparkservice, Twitter www.twitter.com/natlparkservice, and YouTube www.youtube.com/nationalparkservice. 
Last updated: June 23, 2020