News Release
Isle Royale National Park Delivers Handwoven Mats to Grand Portage National Monument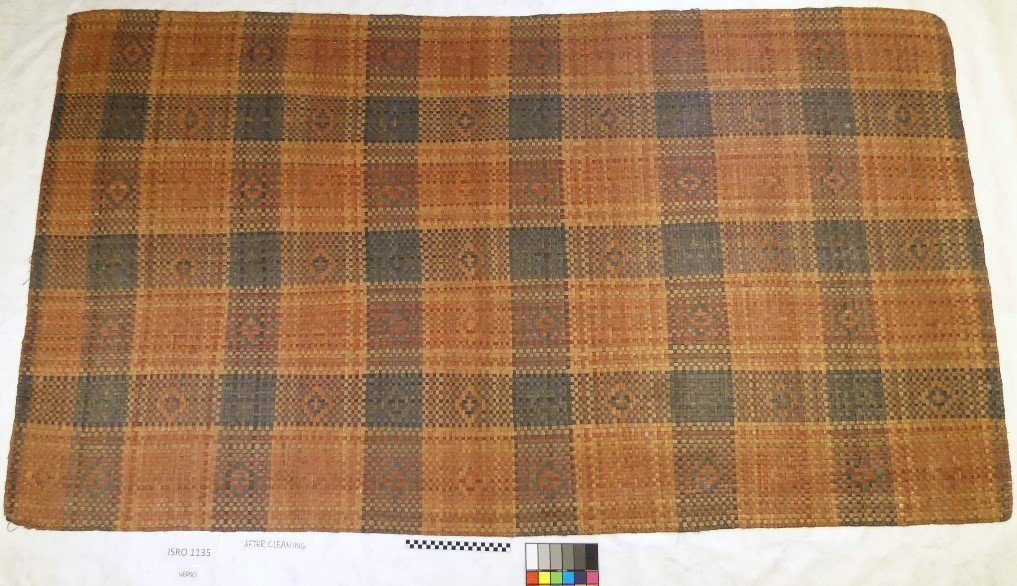 News Release Date:
October 14, 2020
Contact: Liz Valencia, 906-369-7146
HOUGHTON, MI – In September, a significant journey across Lake Superior from Isle Royale to Grand Portage, Minnesota, took place.  The cargo?  Five culturally significant woven mats (anaakanan) from the Isle Royale National Park museum collection.  The mats, four woven from cedar bark and the fifth made of sweetgrass, are now on long term loan to Grand Portage National Monument.  They joined twelve other mats in the Grand Portage museum collection; six from Grand Portage NM, four others from the Isle Royale collection, and two owned by the Grand Portage Band of Lake Superior Chippewa.  

At least two of the mats from Isle Royale and several more in the collection at Grand Portage, were made by Tchi-ki-wis, Mrs. Helen Robinson Linklater, an Ojibwe woman who lived on Isle Royale in the late 1920s and early 1930s with her game warden husband, John Linklater. She crafted mats and other items of cedar and birch bark and sold them to tourists and summer residents. The mats are a one-of-a-kind collection, representing what has been described by a researcher as the largest collection of Anishinaabeg cedar mats crafted by one artisan in North America. 

Packing and moving five fragile mats for an autumn trip on Lake Superior in a small boat was no easy task and required careful preparation and planning in advance by the staff of Isle Royale and the Lake Superior Collection Management Center based at Keweenaw National Historical Park.  Museum Curator Penelope Yocum, who organized the project, also called on the expert advice of a professional conservator from the NPS Harpers Ferry Center.  All supplies and materials needed for project had to be acquired in advance and sent to Isle Royale.  

Before shipment, the mats were removed from their storage crate at Mott Island and carefully cleaned.  Four of the mats were pliable and able to be rolled around large tubes, wrapped in muslin fabric, secured with cotton ribbon, and covered with plastic for the trip.  The final mat was brittle and unable to be rolled. A special cardboard folder was constructed so it could be transported flat.  The mats were loaded into the 22 ft. park vessel WOLF and transported the 60 miles to Grand Portage where the Grand Portage Band Tribal Council welcomed them home.   

The loan of the mats highlights just one of the many connections between the Grand Portage Ojibwe and Isle Royale.  In 2019, Isle Royale was designated as a Traditional Cultural Property (TCP) and listed on the National Register of Historic Places.  The TCP documents and celebrates the traditional and long-lasting use of Minong (Isle Royale) by the Grand Portage Band and identifies the unique relationship between Grand Portage and Isle Royale.  According to Isle Royale National Park Superintendent, Denice Swanke, "the park was honored to protect these mats over the years and appreciates the collaboration with the Grand Portage Band and Grand Portage National Monument to now host all seventeen mats together."
  
 
About the National Park Service. More than 20,000 National Park Service employees care for the 417 parks in the National Park System and work with communities across the nation to help preserve local history and create close-to-home recreational opportunities. Visit us at www.nps.gov, on Facebook www.facebook.com/nationalparkservice, Twitter www.twitter.com/natlparkservice, and YouTube www.youtube.com/nationalparkservice. 
Last updated: October 14, 2020