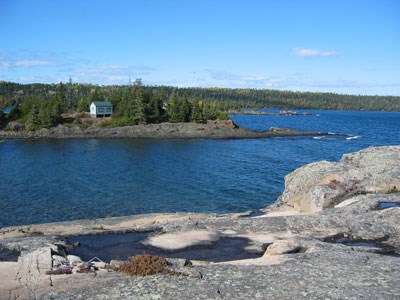 Artist Cabin
Your Island Assistants, Guests, Cabin Amenities, What to Bring,
Mice, Rock Harbor Amenities, Photo Gallery

The Artist-in-Residence program is based in the former summer cottage of the Dassler family from Leavenworth, Kansas (cir. 1905). It has housed over 100 artists since 1992. The cabin, located in Tobin Harbor, is two miles by canoe or trail from Rock Harbor. A small guest house at the site serves as a second quarters, studio, or storage facility. Accommodations are simple — pit toilet, no electricity or running water. The park provides furniture, water filter, cooking equipment, utensils, cooler, and a libary; the selected artist must supply campstove fuel, sleeping amenities, food, and art supplies.
Isle Royale is a remote wilderness and all visitors must be well prepared. The artist should be self-sufficient, in good health, and expect cool temperatures and simple facilities.

For photos of the Dassler Cabin, view the photo gallery.