Natural Resources Monitoring at Natural Bridges National Monument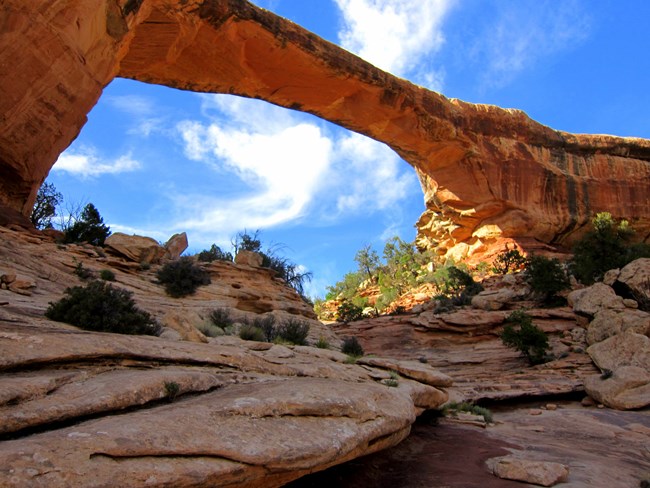 The Northern Colorado Plateau Network monitors air quality, climate, land surface phenology, landbirds, landscape dynamics, springs and seeps, and wadeable streams at Natural Bridges National Monument. The results of that monitoring provide park managers with scientific information for decisionmaking.
Natural Bridges National Monument is Utah's oldest national park unit, established by Presidential Proclamation in 1908 to protect "a number of natural bridges situated in southeastern Utah having heights more lofty and spans far greater than any heretofore known to exist, [and] . . . of the greatest scientific interest." The monument is best known for three extraordinary natural bridges, found in close proximity, that show three different stages of development, from youth (Kachina), to maturity (Sipapu), to old age (Owachomo).
Elevation varies from approximately 1,738 meters (5,700 feet) in the canyons to 1,951 meters (6,400 feet) on the rims. A high-desert riparian environment, combined with a year-round supply of standing water, creates a unique biological climate where relict species (Douglas-fir) remain and moist alcoves shelter hanging-garden communities. The vegetation is predominately pinyon-juniper woodland. Riparian vegetation occupies the surface water drainages, and small pockets of Douglas-fir and associated mesic vegetation grow in sheltered areas along canyon rims.
Increased visitation, trespass livestock, adjacent land-use impacts, and exotic plant species invasion are the monument's main natural resource management concerns.
Last updated: October 31, 2020