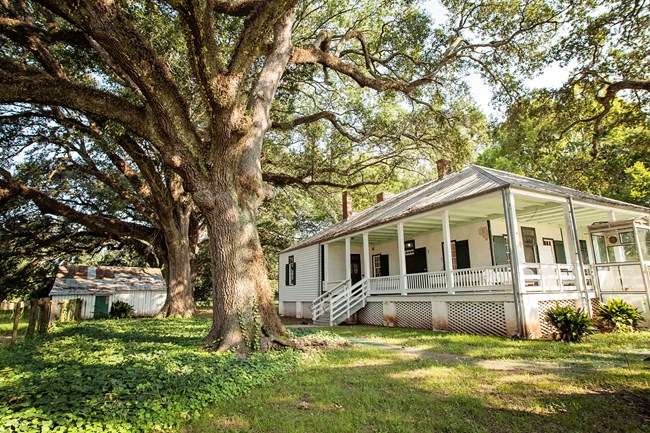 Magnolia Plantation was established by Ambrose LeComte II and his wife Julia Buard LeComte in 1835. However, Magnolia's early history is rooted in mid-1700s colonial Louisiana. In 1753, Jean Baptiste LeComte I received a land grant on both sides of the Cane River laying the foundation for a cotton plantation unrivaled in the Cane River region.

By 1860, Ambrose II owned multiple properties of over 6,000 acres. Cotton and other crops were cultivated and harvested by 275 enslaved persons housed in 70 cabins. As many as 24 of the Magnolia Plantation cabins were two-room brick structures, accommodating a family or group in each of the two rooms. Converted to single family tenant housing after Emancipation, eight cabins of the Magnolia Plantation Quarters have survived.

Two of Ambrose and Julia's daughters married into the Hertzog family, another prominent French Creole planter family. Ambrose gave part of Magnolia to his daughter Atala and son-in-law Matthew Hertzog in 1852, and they assumed the management of the plantation.

The Civil War had devastating effects for the plantation and the LeComte and Hertzog families. Many family members were killed or wounded in the conflict. According to Hertzog family tradition during the Red River Campaign of April 1864, retreating Union troops killed the Overseer and burned the plantation's main house.