Nāpau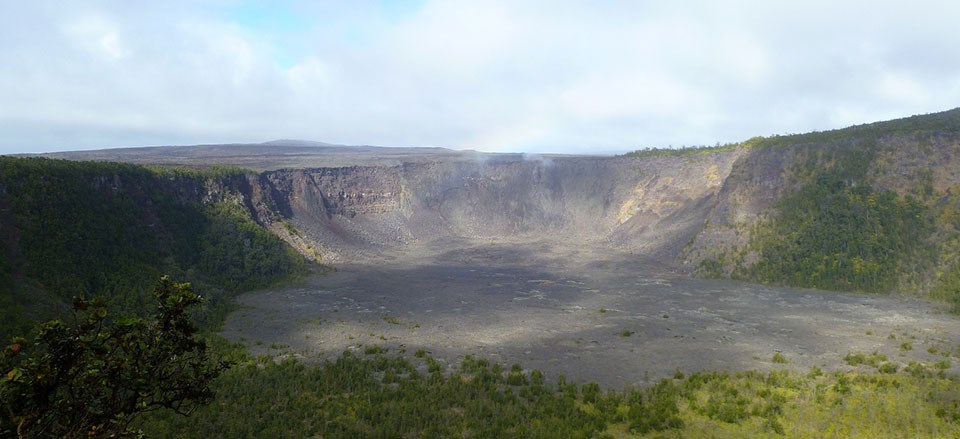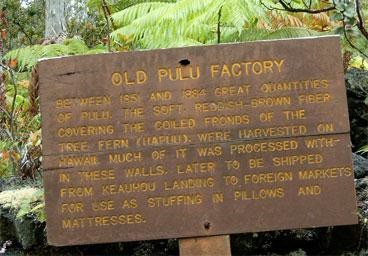 Following the East Rift Zone of Kīlauea, the Nāpau Trail provides opportunities for hikers to experience a diversity of environments in Hawaiʻi Volcanoes National Park. The hike is through varied terrain ranging from recent lava flows to dense tree fern rain forests.

The Nāpau Trail passes through lava flows from the Maunaulu eruptions. Maunaulu (Lit. growing mountain), a recently formed shield volcano, erupted from 1969 through 1974 and left an altered landscape of incredibly fascinating geologic features. Trekking over lava rivers and through lava channels you can appreciate the fragile beauty of lava trees, peer into pit craters, and imagine a time when molten rock once moved like water. Also along the trail is the "Old Pulu Factory." Learn more about these pulu stations from the 1800s.

Nāpau may be accessed from two trailheads:
The Maunaulu parking area (6.2 mi/10.0 km to Nāpau Crater)
The Nāulu Trailhead on Chain of Craters Road (5.2 mi/8.4 km to Nāpau Crater)
The Nāpau Trail begins at the Maunaulu parking area (approx. 3.5 miles down the Chain of Craters Road). The Nāulu Trail, which links to the Nāpau Trail, begins across the road at the Kealakomo parking area (approx. 9.7 miles down the Chain of Craters Road).

There is a campground and pit toilet near Nāpau Crater overlook. Stays are limited to 3 consecutive nights.

GPS Coordinates of Nāpau Crater: 19.37377, -155.14293
Register
All eight backcountry campsites (Ka'aha, Halapē, Keauhou, 'Āpua Point, Nāpau, Pepeiao, Red Hill Cabin and Mauna Loa Cabin) and all offsite/dispursed backcountry camping require a permit. See the Backcountry Hiking page for instructions on how to obtain your permit.
Be Prepared
Facilities
Neither trailhead has public telephones or public transportation. It takes about 20 to 30 minutes to drive from the Kīlauea Visitor Center via Crater Rim Drive and Chain of Craters Road to get to the trailheads. No drinking water is available at the trailheads or anywhere along the Nāpau, Nāulu, and Kalapana Trails. We do not have streams in this area so backpackers must bring in all their own water (recommended: 4 quarts/person/day).
The lower end of the historic Kalapana trail has been covered by miles of lava.The upper section of the trail is no longer maintained, densely overgrown and is extremely difficult to follow. DO NOT plan on using this trail.

Leave No Trace
Hikers are required to pack out everything they pack in. Do not bury or discard trash in pit toilets - Pack it out. Practice "leave no trace" camping
Hazards
Trail Conditions
Hiking over rocky terrain is strenuous. Hiking boots provide the best traction and protection when hiking on lava. Long pants afford some protection if one should fall on the sharp, glassy lava. The Nāpau and Nāulu trails traverse over rough, unstable ʻaʻā and pāhoehoe lava. There may be only a 200' elevation change on the Nāpau Trail and a 500' elevation change on the Nāulu Trail. Allow 1/2 hour per mile when hiking on these mid-elevation trails. Add additional time for scenic stops and breaks.
The ahu (stone cairn) trail markers can be difficult on first sight to distinguish from the surrounding lava. However, the trails are well marked and hikers soon become accustomed to spotting the cairns in the black lava fields. Sunlight may be intense. Hats, sunglasses, and sunscreen are preventive measures against sunburn. Start your trek early to avoid being on park trails during the hottest times of the day.

Health Hazards
The Nāpau Trail traverses a portion of the East Rift Zone of Kīlauea and follows the path that magma once took when it flowed underground from its source at the summit to Puʻuʻōʻō. Be prepared to treat injuries caused by falls on sharp, glassy lava. Pace yourself, drink plenty of water. Pack extra clothing and your sleeping bag in plastic for waterproofness. Raingear is essential. Stay warm and dry; hypothermia (low body temperature) is a killer.
Volcanic Hazards
Although Puʻu'ō'ō stopped erupting in 2018, volcanic eruptions are possible at any time. In the unlikely event of a lava outbreak along the trail, move uphill and upwind of eruptive activity. Earth cracks, thin crusts, and lava tubes are numerous.
Fire Hazards
Trails in the park traverse areas which contain very flammable grasses and brush. Open fires and smoking are prohibited!
Learn more about these remnants of a 19th century Hawaiian industry
Give us your feedback
Let us know about trail, cabin, or campsite conditions. Did you notice anything damaged or dangerous conditions that rangers should be aware of? File a
Trip Report
.
Last updated: June 5, 2023