Safety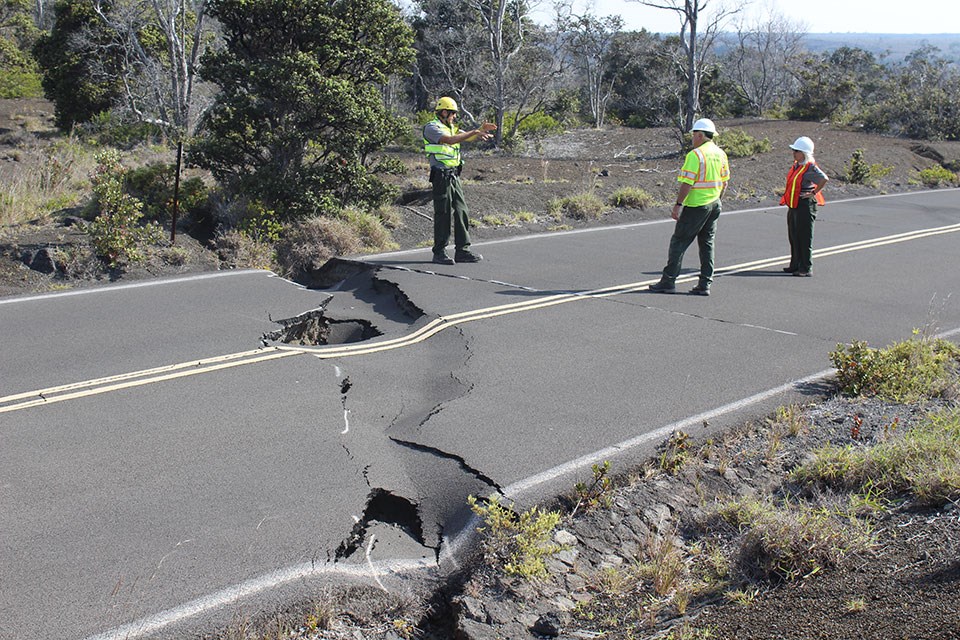 Safety of visitors and employees is our number one priority. Although there is currently no active eruption occuring in the park or anywhere on the island, visitors should be aware that volcanic activity can change at any time.
2019 Novel Coronavirus (COVID-19)
Hiking
Use only open trails and roads and stay on marked trails. Closed areas, trails and roads are dangerous, do not enter.
Stay away from cliffs, cracks, and steam vents; these unstable features may collapse or be slippery.
Wear sturdy close-toed shoes.
Lava fields are shadeless and hot. Wear sunscreen, a hat, and sunglasses.
Carry at least two quarts of drinking water per person.
Along the coast expect strong wings, steep cliffs, high waves, and unpredictable surf.
If possible, hike and travel with at least one other person and let someone know where you plan to visit.
Volcanic Eruptions
Volcanic eruptions can be hazardous.
Areas around erupting vents are closed to travel and even from a distance fumes and fallout (Peleʻs hair, cinder, and ash) can harm lungs and eyes.
Heed all ranger instructions and obey all signs.
Although sulfur dioxide is at the lowest recorded levels since 2007, air quality may change at any time. If the air irritates your lungs, smells bad, or you have difficulty breathing leave the area immediately. The Kīlauea Visitor Center offers updates on air quality, as does the park air quality monitoring website: https://www.hawaiiso2network.com/ .

Help keep our National Park Service staff safe. When unauthorized persons enter closed areas, they are not only endangering themselves, but also the NPS rangers who may have to rescue them. Monetary fines for entering a closed area are steep and trespassers may also receive up to six months of jail time.



Last updated: March 18, 2020