Safety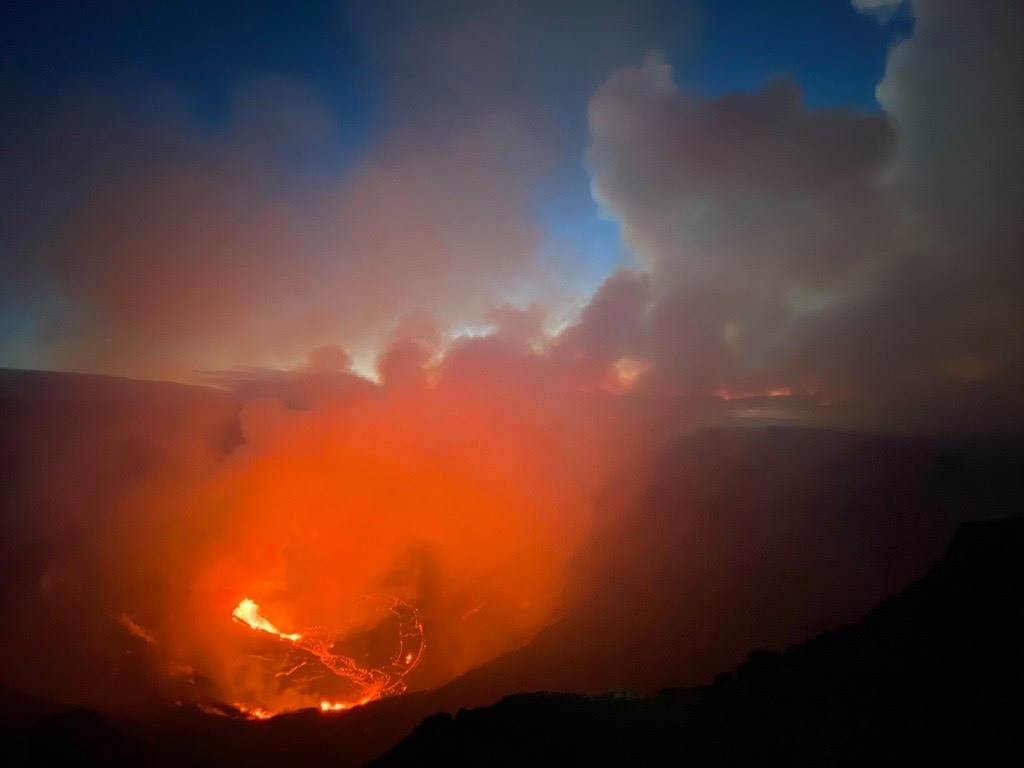 A spectacular new eruption at the summit of Kīlauea volcano is drawing hundreds of visitors to Hawaiʻi Volcanoes National Park. The park remains open 24 hours a day, and the public is reminded to stay safe by following these precautions:

Volcanic eruptions can be hazardous and change at any time. Stay on marked trails and overlooks, and avoid earth cracks and cliff edges. Do not enter closed areas.
Hazardous volcanic gases are billowing out the crater and present a danger to everyone, especially people with heart or respiratory problems, infants, young children and pregnant women. For more information on air quality visit: https://www.hawaiiso2network.com/
Slow down and drive safely. Expect long waits for parking spaces at popular vantage points like Kīlauea Overlook.
Maintain social distance of six feet from others and wear a mask to reduce the spread of COVID-19.
At 1,219 meters, (4,000 feet), the summit of Kīlauea can be chilly at any time. Bring a rain jacket, wear long pants and closed-toe shoes.
COVID-19
Even during the excitement of an eruption, the danger of COVID-19 remains the same. Visitors are urged to recreate responsibly by acting with care while in Hawai'i Volcanoes National Park:
Practice social distancing. Maintain at least six feet of distance between you and others.   
Wear a face covering when social distancing cannot be maintained.   
Wash your hands often with soap and water for at least 20 seconds or use your hand sanitizer.
Cover your mouth and nose when you cough or sneeze.   
Avoid touching your eyes, nose, and mouth.    
If you feel sick, please visit another day.  
Let wildlife be wild. Do not feed nēnē, the Hawaiian goose, and look out for them on roadways and in parking lots.
Hiking
Use only open trails and roads and stay on marked trails. Closed areas, trails and roads are dangerous, do not enter.
Stay away from cliffs, cracks, and steam vents; these unstable features may collapse or be slippery.
Wear sturdy close-toed shoes.
Lava fields are shadeless and hot. Wear sunscreen, a hat, and sunglasses.
Carry at least two quarts of drinking water per person.
Along the coast expect strong wings, steep cliffs, high waves, and unpredictable surf.
If possible, hike and travel with at least one other person and let someone know where you plan to visit.

Help keep our National Park Service staff safe. When unauthorized persons enter closed areas, they are not only endangering themselves, but also the NPS rangers who may have to rescue them. Monetary fines for entering a closed area are steep and trespassers may also receive up to six months of jail time.



Last updated: December 21, 2020