Safety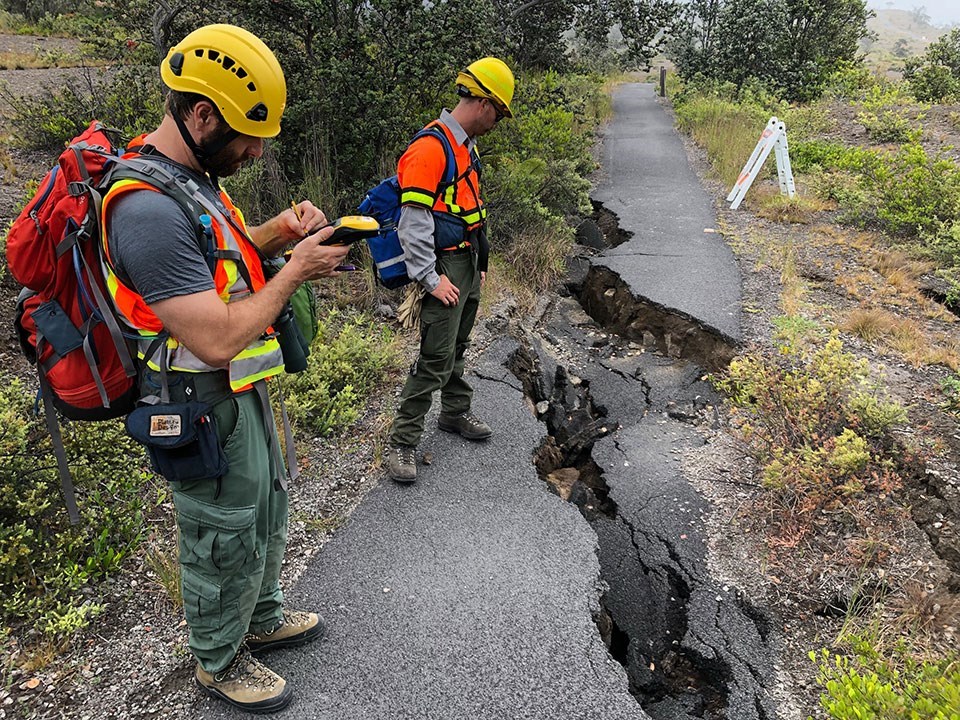 The park remains open 24 hours a day, and the public is reminded to stay safe by following these precautions:
Volcanic conditions can be hazardous and change at any time. Stay on marked trails and overlooks, and avoid earth cracks and cliff edges. Do not enter closed areas.
Hazardous volcanic gases are billowing out the crater and present a danger to everyone, especially people with heart or respiratory problems, infants, young children and pregnant women. People sensitive to poor air quality and should check the air quality alert before visiting.
Slow down and drive safely. Expect long waits for parking spaces at popular vantage points like Uēkahuna and Kīlauea Overlook, and Devastation and Puʻupuaʻi parking lots..
At 1,219 meters, (4,000 feet), the summit of Kīlauea can be chilly at any time. Bring a rain jacket, wear long pants and closed-toe shoes
Hiking
Use only open trails and roads and stay on marked trails. Closed areas, trails and roads are dangerous, do not enter.
Stay away from cliffs, cracks, and steam vents; these unstable features may collapse or be slippery.
Wear sturdy close-toed shoes.
Hiking on lava rock can be hazardous due to uneven, unstable, and sharp hiking surfaces.
Lava fields are shadeless and hot. Wear sunscreen, a hat, and sunglasses.
Carry at least two quarts of drinking water per person.
Along the coast expect strong winds, steep cliffs, high waves, and unpredictable surf.
If possible, hike and travel with at least one other person and let someone know where you plan to visit.
Stay out of closed areas. Visitors in closed areas put visitor resource protection staff at risk.
Know your limits. Be honest and ask yourself, "am I physically fit for the hike I want to do?" You won't miss out on the spectacular views if you choose an easier trail for your adventure. Overestimating your own physical abilities can have tragic consequences. Learn more about assessing your capabilities and how to hike smart here.
Driving
Stay alert. Scenic views, wildlife, the navigation system, your phone, passengers. These are some of the many things that can distract you while driving on a national park roadway.
Don't be in a rush to get from Point A to Point B when visiting. Roads are narrower, speed limits are slower, and curves may be sharp.
Buckle up! It's the law. Wearing a seat belt is the most effective way to prevent serious injury and death.
Always be aware of pedestrians, bicycles, and motorcycles. Check your mirrors and blind spots before merging, turning, or switching lanes.
Wildlife
Never approach animals. The animals at Hawaiʻi Volcanoes National Park are wild and unpredictable, no matter how calm they appear to be. The safest (and often best) view of wildlife is from a distance. Exercise caution when driving. Wildlife such as the nēnē and wild pigs may be around roadways.
A good rule of thumb is, well, "the rule of thumb." It is a technique to help ensure you are staying a respectful distance from wildlife. Hold out your arm, raise your thumb, and close one eye. If you cannot cover the animal with your thumb, you are probably too close.
Never feed wildlife. Animals that become dependent on human food may become aggressive toward people. Keep all food, garbage, or other smelly items packed away when not in use.


Last updated: March 20, 2023