Backcountry Hiking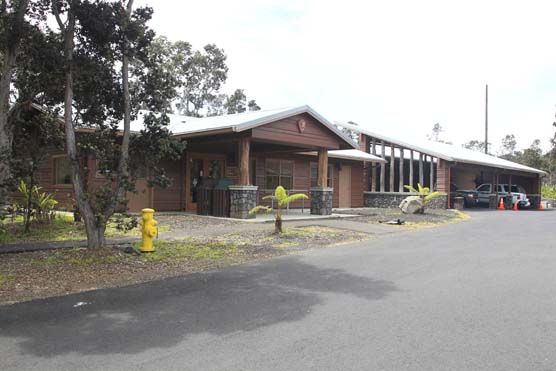 Register
All overnight backcountry hiking and camping requires a permit. Permits are free and must be obtained in person from the Backcountry Office at the Visitor Emergency Operations Center (VEOC) from 8:00 a.m. to 4:00 p.m. daily. The earliest you may obtain a permit is the day prior to your hike. We do not accept reservations or issue permits in advance.
Backcountry Office contact information:
Telephone - 808-985-6178
Email
Link to printable version of map and directions to VEOC (pdf 465KB)
(opens in new window)
Backcountry Water Catchment Tank Levels
Back Country Planner (pdf 2.5MB)
Hiking Tips (pdf 217KB)
---
Essential Backpacking Gear:
first aid kit
trail map
emergency food supply, cookstove, fuel, utensils (Open fires and smoking are prohibited)
flashlight & extra batteries
biodegradable soap, toilet paper
signaling device (mirror, etc.)
minimum 3 to 4 quarts/liters water per person/day
tent/bivy sack

broken-in sturdy boots, moleskin
sunglasses, sunscreen, hat
sleeping bag
rain pants and jacket
NOTE: There may be other equipment necessary for your particular destination. Check with rangers for specific campground, cabin, and trail recommendations!
Minimum Impact Camping
All hikers are required to pack out everything they pack in. Do not bury your trash or discard it in pit toilets - Pack it out. Practice "leave no trace" camping.
Water
We do not have streams in the park so backpackers must be self-sufficient and bring in all their own water. Some campgrounds have water catchment tanks (rain water collected from metal shelter roofs). Updates on their current water levels are available at the Backcountry Permit Office, 808-985-6178. Check with rangers when obtaining your permit!
Trail Conditions
Hiking over rocky terrain is strenuous. Hiking boots provide the best traction and protection when hiking on lava. Long pants afford some protection if one should fall on the sharp, glassy lava.
Allow 1/2 hour per mile when hiking on mid-elevation trails and more time as you gain elevation. Add additional time for scenic stops, and water breaks. The ahu (stone cairn) trail markers can be difficult on first sight to distinguish from the surrounding lava. However, the trails are well marked and hikers soon become accustomed to spotting the cairns in the black lava fields.
Sunlight may be intense. Hats, sunglasses, and sunscreen are preventive measures against sunburn. Start your trek early - avoid hiking during the heat of the day (10 a.m. to 2 p.m.)
Weather
Island weather is unpredictable. Visitors should be prepared for rain and wear layers of clothing to ensure their comfort while exploring the park.
At the 4,000' summit of Kīlauea, temperatures may be 12 to 15 degrees cooler than at sealevel. Coastal areas are often hot, dry, and windy with the possibility of passing showers.
Hiking on Mauna Loa (13,677') requires careful planning and preparation. Check the weather forecast before making this hike.
Health Hazards
Many hikes are through exposed lava fields and lush rain forests. Pace yourself, drink plenty of water. Pack extra clothing and your sleeping bag in plastic for waterproofness. Raingear is essential. Stay warm and dry; hypothermia (low body temperature) is a killer. Be prepared for treating injuries caused by falls on sharp, glassy lava.
Volcanic Hazards
Volcanic eruptions are possible at any time. In the unlikely event of a lava outbreak along the trail, move uphill and upwind of eruptive activity. Earth cracks, thin crusts, and lava tubes are numerous.
Fire Hazards
Trails in the park traverse areas which contain very flammable grasses and brush. Open fires and smoking is prohibited.
Natural Resources
Help us protect your National Park. All plants, animals, rocks and other natural and archaeological or cultural features are protected by law against removal, injury, or destruction.
Cultural Resources
Please respect all archaeological sites and artifacts left by ancient Hawaiians. Do not move any rocks, climb on or alter any rock structures, such as lava trees, walls, heiau (ancient temples), or petroglyphs (rock engravings). Entry into caves is prohibited.
Special Note:
Dogs and firearms are prohibited in the wilderness.
EMERGENCY PROCEDURES
Before you go, leave a trip plan with another person. Make sure they understand that should you be lost or injured on the trail, they are your only link to help and should report you overdue if you fail to contact them by a predesignated time.
If lost, stay where you are. Use bright colors and reflective materials to attract attention. Rangers will not start a wilderness search until 24 hours after they are notified that a hiker is missing.
To report a lost or overdue hiker, call Hawaii County 911 or Park Dispatch at (808) 985-6170.
Check Out of the Backcountry
At the completion of your hike, report out by stopping at the Backcountry Office or call (808) 985-6178. Permits are issued because of the dynamic nature of this volcano. In the event of an eruption, it is important for rangers to know who may be in danger.
Give us your feedback
Let us know about trail, cabin, or campsite conditions. Did you notice anything damaged or dangerous conditions that rangers should be aware of? File a Trip Report