Backcountry Hiking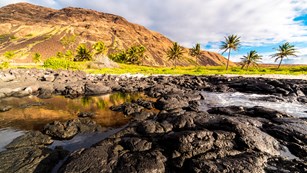 Halapē
Located on the southern seacoast of the park, a popular destination for hearty wilderness hikers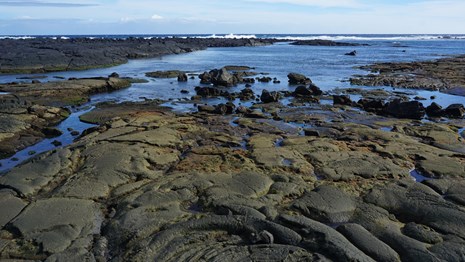 Kaʻaha
This remote coastal site with dramatic pali views is accessible via a steep downhill trail with many switchbacks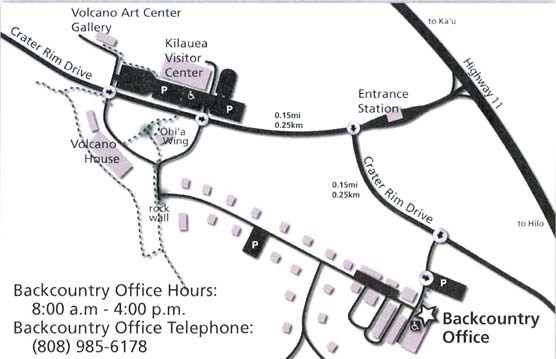 Register
For backcountry camping, there is a non-refundable $10.00 fee per trip, in addition to the park entrance fee. The fee is good for up to 10 people and 7 nights per permit. Failure to obtain a backcountry permit is a violation of 36 CFR 2.10(b)(8). Violators may be subject to fines up to $1000 and/or 6 months in jail. All eight backcountry campsites (Ka'aha, Halapē, Keauhou, 'Āpua Point, Nāpau, Pepeiao Cabin, Red Hill Cabin and Mauna Loa Cabin) require a permit, with a stay limit of three consecutive nights at one site. Campers can move to another backcountry site for the fourth night, but no more than 7 consecutive nights per permit. Stays longer than 7 nights require purchasing an additional $10.00 permit. Sites may be reserved up to a week in advance and are reserved upon receipt of permit fees. Fees for backcountry camping can be paid in person at the Backcountry Office by credit card, personal check, cash (exact change please), or online through pay.gov up to a week in advance of your departure. Physical permits must be picked up no more than 24 hours in advance from the Backcountry Office, open daily from 8 a.m. to 4 p.m. Payments made through pay.gov require obtaining a permit number in advance by calling or emailing the Backcountry Office. You will enter this number into the pay.gov online form.

Exceptions:
Permit requests for overnight backpacking trips on Mauna Loa from the Weather Observatory Trail may be done by phone.
Permits for campers using watercraft to access coastal camping areas may be done over the phone.
Off-site (dispersed) camping is allowed in the backcountry. Hikers must be at least 1 mile from a road or improved camp area and "out of sight and sound" of the trail.

Backcountry Office contact information:
Telephone - 808-985-6178
Contact Us Email Form
Map and directions to the Backcountry Office ( jpg - 784KB )
(opens in new window)
Backcountry Planner
page 1 ( jpg - 5.03MB )
page 2 ( jpg - 3.59MB )
Facilities
Ka'aha, Halapē, and Keauhou have three-walled primitive shelters where hikers may enjoy a respite from the sun. Water caught off the roofs of three-walled shelters or backcountry cabins (where applicable) are stored in adjacent catchment tanks (check with rangers when you obtain your permit for current water levels -- water is NOT always available and there are no streams in the area). TREAT water obtained from catchment tanks before drinking. Please use the composting toilet. Do not put trash in the toilet - pack all trash out.
Leave No Trace
Hikers are required to pack out everything they pack in. Do not bury or discard trash in pit toilets. You must pack it out and practice
"Leave No Trace"
camping.
Emergency Procedures
Before you go, leave a trip plan with another person. Make sure they understand that should you be lost or injured on the trail, they are your only link to help and should report you overdue if you fail to contact them by a predesignated time.
If lost, stay where you are. Use bright colors and reflective materials to attract attention. Rangers will not start a wilderness search until 24 hours after they are notified that a hiker is missing.
To report a lost or overdue hiker, call Hawaii County 911 or Park Dispatch at (808) 985-6170.
Check Out of the Backcountry
At the completion of your hike, report out by stopping at the Backcountry Office or call (808) 985-6178. Permits are issued because of the dynamic nature of this volcano. In the event of an eruption, it is important for rangers to know who may be in danger.
Give us your feedback
Let us know about trail, cabin, or campsite conditions. Did you notice anything damaged or dangerous conditions that rangers should be aware of?
File a Trip Report
Hazards
Weather
Island weather
is unpredictable. Visitors should be prepared for rain and wear layers of clothing to ensure their comfort while exploring the park.
At the 4,000' summit of Kīlauea
, temperatures may be 12 to 15 degrees cooler than at sealevel. Coastal areas are often hot, dry, and windy with the possibility of passing showers. Hiking on Mauna Loa (13,677') requires careful planning and preparation. Check the
high-elevation weather forecast
before making this hike.
Intense sunlight, wind, and high temperatures can lead to dehydration, heat exhaustion or stroke. Do not hike coastal trails during the heat of the day (10am to 2pm). Pace yourself, drink fluids, eat snacks, and avoid hiking during the hottest times of day.
Wear sun protection - sunglasses, sunscreen, and a hat. Plan ahead - hydrate the day before your trek and drink fluids along the trail. Carry and drink a minimum of 4 quarts of water per person per day. During the day, temperatures can soar into the high 90s or higher. On many trails there are NO trees to provide relief from the sun.
Trail Conditions
Trails may be steep and rocky. Watch your footing along the hot and windy trails. Maximum elevation change between trailhead and campsite is 3,000 feet (1000m). Stay on the trail! Do not cut across switchbacks as this accelerates erosion. Trails are marked by stone cairns (ahu) that may be difficult to see in the rain and mist, and impossible to find in the dark. Trails are rocky and uneven, and may be overgrown with thick vegetation.
Seismic and Volcanic Hazards
An earthquake can cause a locally-generated tsunami (seismic sea wave) at the coast. If you feel a strong earthquake, move to high ground immediately. Earthquakes can also produce large rock falls -- avoid potential rock fall areas.. Stay on the trail -- earth cracks, thin crusts, and lava tubes are numerous
Fire Hazards
Trails in the park traverse areas which contain very flammable grasses and brush. Open fires, fireworks, and smoking are prohibited.
Unexploded Ordnance
In the Ka'ū Desert and coastal areas west of Ka'aha, there may be unexploded WWII ammunition. If you should see any, DO NOT TOUCH IT. Report the location to rangers.
Pesky and Dangerous Animals
Centipedes, scorpions, and black widow spiders are common in stone walls and rocky areas. Sharks are sometimes seen in coastal waters. Beware of sea urchins (wana), tubeworm casts, and sharp rocks when wading or swimming. Mongooses, mice, and feral cats thrive on unattended food supplies. Store food securely and keep a clean camp. To keep out insects, tents with fully zipable screens are recommended.
Protect Plants, Animals, and Archeological Sites
It's a Good Idea and It's the Law

Turtles - Endangered hawksbill sea turtles nest and threatened green sea turtles rest on park beaches. Do not camp in areas posted as turtle nesting areas at `Āpua, Halapē, and other beaches. Federal and state laws protect all sea turtles from harm. Submit reports of honuʻea (hawksbill sea turtles) sightings (PDF- 167 KB)

Archeology - Respect and help protect Hawaiian archeological sites. Do not climb on or alter any rock structures, such as walls, house platforms, pits, and mounds. Avoid walking on or making rubbings of petroglyphs.

Fishing - Fishing along the coastline from the park's eastern boundary to a point midway between Keauhou and Halapē is restricted to Native Hawaiian residents of the Kalapana area. It is your responsibility to understand and obey all fishing regulations.

Swimming - There are very few sheltered swimming sites along the coast. Rough seas, high surf and strong, unpredictable currents are typical of the park's coastline. Avoid entering the open ocean. Help protect the rare plants and animals that live in tidepools and brackish ponds - rinse off all soap and sunscreen before entering them.

Pets and Stock Use - Dogs (except service animals) and other pets are not allowed on park trails or in wilderness areas. Horses, donkeys, and mules are allowed in the backcountry with a valid backcountry permit (limit of 6 animals per site). Tether livestock at least 100 feet from campsites in an area that presents no hazard or sanitation problems to other campers. Hikers encountering horse parties should quietly step off the trail and allow the animals to pass.
Last updated: November 18, 2022