Leave No Trace
With increasing visitor use it is important to minimize our impacts and Leave No Trace during our visits to this special place. Minimum impact practices conserve natural conditions of the outdoors allow others the same enjoyable experience.
The Leave No Trace Seven Principals
Leave No Trace
is a national program which promotes the protection of our nation's wildlands through education, research, and partnerships. Leave No Trace teaches minimum impact hiking and camping skills and wildland ethics and builds awareness, appreciation, and respect for our public recreation places.
© The Leave No Trace Center for Outdoor Ethics:
www.LNT.org
. To reprint the Leave No Trace Seven Principles, include
copyright language
and please do not alter them without review from the Leave No Trace Center for Outdoor Ethics.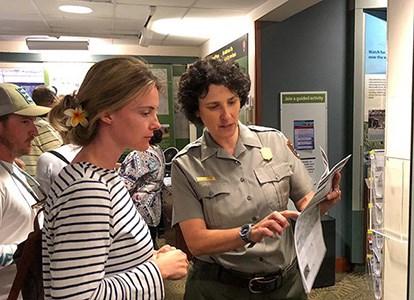 Plan Ahead and Prepare
Know and obey the regulations and special concerns for the area you'll visit.
Schedule your trip to avoid times of high use.
Be informed of current weather conditions and other area information.
Become an environmental and cultural steward of Hawaiʻi by taking the Pono Pledge.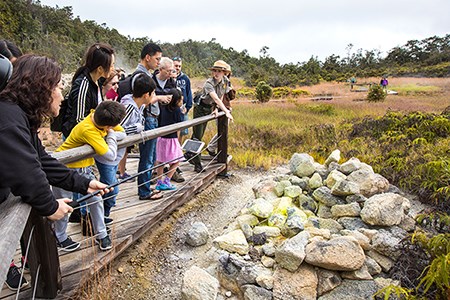 Travel and Camp on Durable Surfaces
Stay on designated trails and hike single file in the middle of the trail, even when the trail is wet or muddy. Never shortcut switchbacks.
When traveling choose the most durable surfaces available.
When you stop to rest, be careful not to step on vegetation.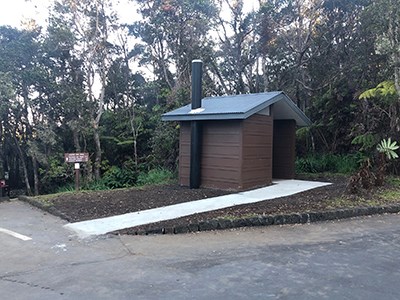 Dispose of Waste Properly
Use portable and vault toilets, or restrooms at your nearest location. Restroom locations are indicated on your map.
Refrain from using the bathroom in non-designated areas (forests, lava-fields, etc). Walking off trail can be hazardous.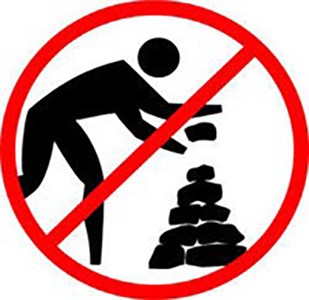 Leave What You Find
Treat our natural heritage with respect. Leave plants, rocks, and other natural objects as you find them.
Avoid introducing or transporting non-native species.
Park staff may use ahu (stacked rocks) to mark some trails and keep visitors safe. Please do not create new ones. The stacking of rocks can be culturally offensive, disorienting to hikers, and potentially against the law.
Let nature's sounds prevail. Turn off cell phones, no amplified music in the wilderness, speak softly, and allow for others to enjoy the peace and solitude.
Preserve the past: examine, but do not touch, cultural or historic structures and artifacts.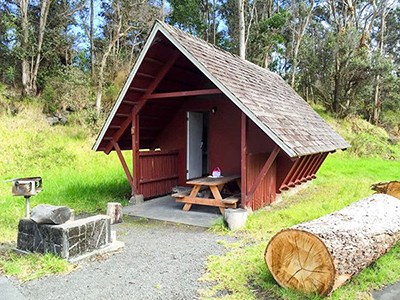 Minimize Campfire Impacts
Fires are only allowed in the firepits and BBQ grills at the Nāmakanipaio campground and the Kīpukapuaulu picnic area. Fires are not allowed in any backcountry area.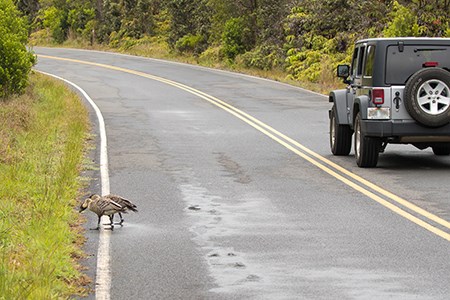 Respect Wildlife
Enjoy wildlife at a distance. Do not follow or approach them.
Never feed wildlife. Feeding wildlife damages their health, alters natural behaviors, and exposes them to predators and other dangers.
Cars are the leading cause of adult nēnē deaths in the park. Make sure to follow the speed limit and to drive cautiously. If parked for a long period of time, make sure to check under your vehicle for nēnē seeking shade.
Be Considerate of Others
Respect other visitors and protect the quality of their experience.
Avoid popular areas during times of high use.
Let nature's sounds prevail. Minimize noise. Avoid loud voices and noises.
Last updated: June 16, 2022